---
Mohamed Salah has been able to see the funny side of Sergio Ramos' suggestions that injections could have seen him continue the Champions League final.
The Egyptian's night in Kiev was cruelly cut short when he suffered a suspected dislocated shoulder after locking his arm beneath Ramos during a tussle for the ball.
It marked a defining moment in the game, with his withdrawal disrupting Liverpool's dominant start and paving the way for Real Madrid to assert their authority on their way towards a third successive European crown.
Ramos was subsequently criticised by some fans for his role in Salah's exit, whilst also coming under suspicion for an alleged elbow on Loris Karius – which was later confirmed to have given the German goalkeeper a concussion.
Laughing off Ramos' injection claims, Salah told Marca: "My comment is that it's always okay when the one who made you cry first, then makes you laugh. Maybe he could also tell me if I'm going to be ready for the World Cup?"
"He sent me a message, but I never told him it was 'okay.'"
SEE MORE:
New theory revealed on Nabil Fekir's delayed £53m switch to Liverpool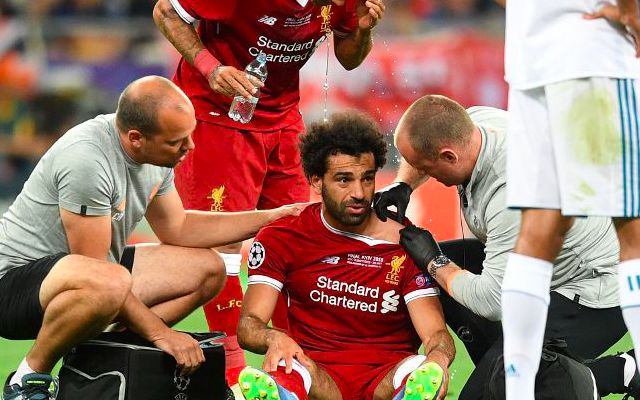 He added: "When I fell to the ground, I had a mixture of physical pain and a lot of worry. Also anger and sadness for not being able to continue playing the Champions League final."
A European showdown that promised thrills proved to be an anomaly in an emphatic individual season glossed with 44 goals and a PFA Player of her Year award for Salah.
It also raised fears over the forward's availability for this month's World Cup finals, which he booked his nation's place at with an injury-time winning-penalty against Congo in the qualifiers.
Such concerns have since been quashed, although it remains to be seen whether he will be fit to start Egypt's opener against Uruguay.
In light of all that has happened, it's hard not to want a draw against Real Madrid in next season's Champions League for the sole purpose of seeing Salah and Ramos go at it in round two.