---
The number 23 shirt at Liverpool resonates as a beacon of the club's pride and integrity with high standards for any player fortunate enough to wear it.
For Xherdan Shaqiri, the chance to sport the 23 marks an immediate reminder of the work ethic and dedication he has been trusted to inject.
Jamie Carragher has handed over the baton in admirable and typically light-hearted fashion, setting a rather modest goals tally for Liverpool's third summer signing.
The Anfield legend took to Instagram to welcome Shaqiri following the completion of his £13million move from Stoke City.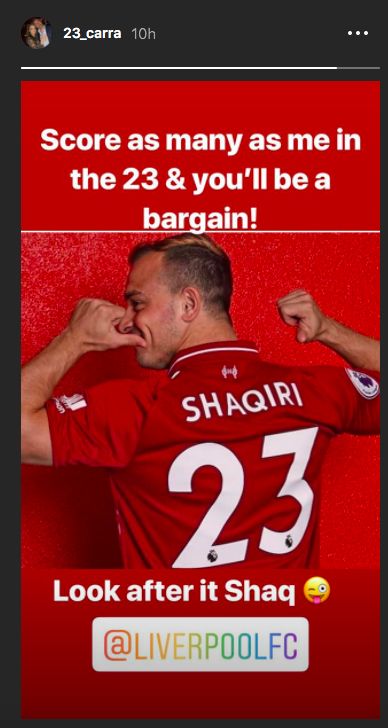 SEE MORE:
Thrilled Jurgen Klopp uses 'English phrase' to label Xherdan Shaqiri signing
Carragher notched five goals in 737 appearance for Liverpool, leaving Shaqiri with a rather feasible first target to surpass.
The forward's arrival serves as Jurgen Klopp's efforts to bolster his strength in depth in preparation for a Premier League title charge.
His eight goals for Stoke last season previewed an ability to chip in with the spread of goals that saw Liverpool build a glowing reputation as one of Europe's top attacking forces over the 2017/2018 campaign.
The high-intensity nature of Klopp's attacking approach has always required additional options from the bench, most recently evidenced by lapses in fitness over the concluding months of the season.
Liverpool now have something they have fared exceptionally well without during Klopp's reign – a proven threat from the bench with the capacity to push for a starting spot.