---
The excellent Stephen Drennan – known as BabuYagu on Twitter, will be producing lengthy tactical analysis pieces for EOTK this season – this is the first! Enjoy!
(Gifs courtesy of Sky Sports)
I realised some time ago that there was a lot lacking in how pundits often analyse events in games. Often they only look for the most obvious or last involvement in a move and tend to be very ball-oriented. Plus, they tend to overstate how good a chance is to the extent you almost expect every forward to be walking away with a hat trick every game given the amount of chances they had where they 'must be scoring that'. Also, a lot tends to be what I call hindsight analyse: looking back from the perspective of already knowing the outcome rather than judging what you see in isolation on its own merits. For example, a keeper is wrong to come off his line as he didn't get the ball. Then next week in identical circumstances they are bemoaning a keeper being rooted to his line.
So I wanted to try something different with you all on EotK for this season. I will analyse all goals and what Opta deems "big chances". I will do so by breaking down every action and movement on a tactical & technical level. I will include a breakdown of each shot in terms of location, placements and its expected goals (xG) value – which is essentially how often similar chances in the data set of 100,000+ goals were scored on average.
I will also provide a gif of the goal including all (if possible) of the build-up play to the goal as well as providing a time stamp from the game for you to follow the goal with me should you have a recording of the game.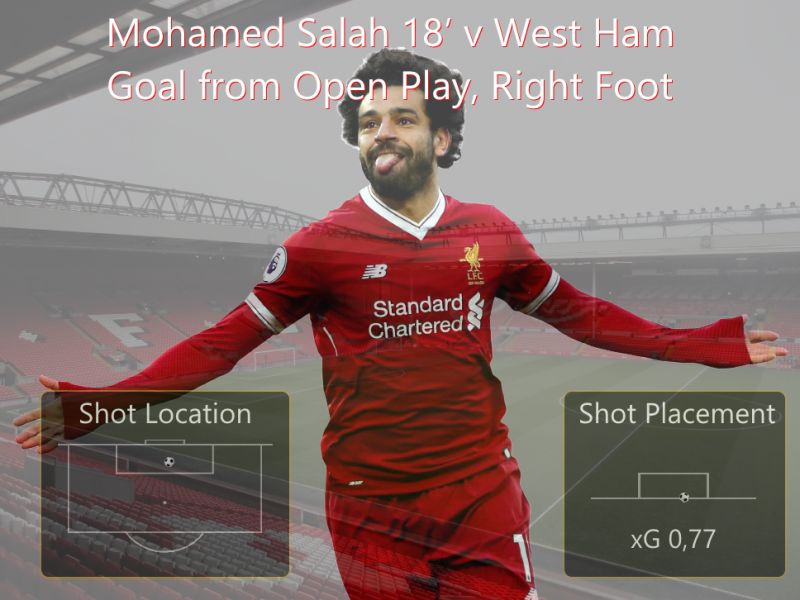 Liverpool's first goal of the 2018/19 was, of course, scored by Mohamed Salah. It all seemed so obvious, right? The question of course is how did we open up this West Ham side from front to back?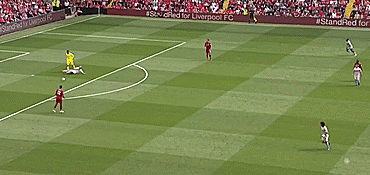 18'00  Alisson sweeps up wide in his box collecting a flicked on Fabianski long ball. Gomez showing his upper body strength to hold off Arnautović.
18'11  Alisson decides to play out from the back given the proximity of Arnautović with the intention of drawing him up the pitch onto him and passes the ball to Virgil.
18'12  van Dijk returns the ball quickly to Alisson under pressure from Arnautović who now begins closing down the Brazilian #1.
18'13  Alisson quickly sorts his feet out and passes the ball to Gomez under a lot of pressure from Arnautović who slides past him just after the ball is played.
18'14  Arnautović has now removed himself as the first line of the press which means Gomez could step forward with the ball and draw the West Ham midfield up the pitch. Instead he opts to pass to Alexander-Arnold. Meanwhile Gini is directing Virgil to move onto the left flank. He steps up the pitch dragging Wilshire with him in line with Gomez. This creates a huge hole in the West Ham midfield.
18'16  Alexander-Arnold returns the ball to Gomez as Felipe Anderson shapes to press him. Milner is now retreating from Gomez on the ball which is pulling the West Ham midfield line away from Gomez to give him space once more to step into.
18'22  Gomez holds the ball while Felipe Anderson moves back to mark Milner. Wilshire sees the space in front of Gomez and decides to leave Wijnaldum and press Gomez. Firmino has dropped deep into our half now pulling Noble up the pitch also. This means West Ham's midfield three are not compact and completely detached from their back four now. With space to attack, Liverpool quickly move from consolation to penetration football. Gomez passes to Alexander-Arnold.
18'25  Milner makes a run onto the right flank dragging Rice with him which means West Ham now effectively has no midfield. Keita is making a run from the left half-space on the half way line into the space centre behind noble. The movement of Milner has also created a nice angle for Alexander-Arnold to find him with the ball, which he does.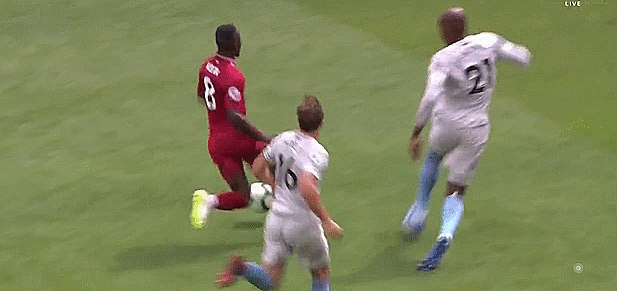 18'31  Keita receives the ball behind the West Ham midfield and immediately starts running at the retreating West Ham back line.
With no pressure on the ball, coupled with Liverpool's elite movement, it will be very easy to make space and pick them off from here. Mané makes a run from outside to in from the left collapsing West Ham's left flank. Robertson makes a run down the left flank attacking this space he has created. Salah is making a run from out to in from the right angled to get in behind the full back. Milner is attacking the space being created by this movement of Salah. Firmino is motoring to get into the box from deep.
Once Robertson gets level with the edge of the box, Keita plays the perfect ball for him to run onto in our left half space deep in the penalty area.
18'33  Robertson passes the ball across the box to the back post.
18'34  Mohamed Salah taps the ball into the empty goal.
I like the brave play by Alisson to invite West Ham up the pitch onto him. Not all sides will take the bait of course and step up into our half, but it's good to know that we are ready for those who do and we have recruited well in the summer with more press resistant midfielders. It is no coincidence that in both major finals we have lost, when the opponent's midfield began pressing our own, we seemingly had no answers. Regardless of all else happening in those games, you cannot have such a tactical vulnerability and wish to remain competitive as once a top side can impose their will on you, the game will tend to slip away from you pretty quickly.
The key moments in this goal for me was the movement by first Gini, then Milner and finally Firmino to drag the entire West Ham midfield out of position and open up a huge space for Keita to attack. Trent was excellent in finding him with the pass and Robertson made an excellent run on the left. The ball from Keita though had me excited. All too often I see the ball played down the flank in front of the advancing full back to get to the by-line. Here, Keita plays the ball tight to and behind the last defender encouraging Robertson to come into the box onto the ball and play a simpler ball across the box.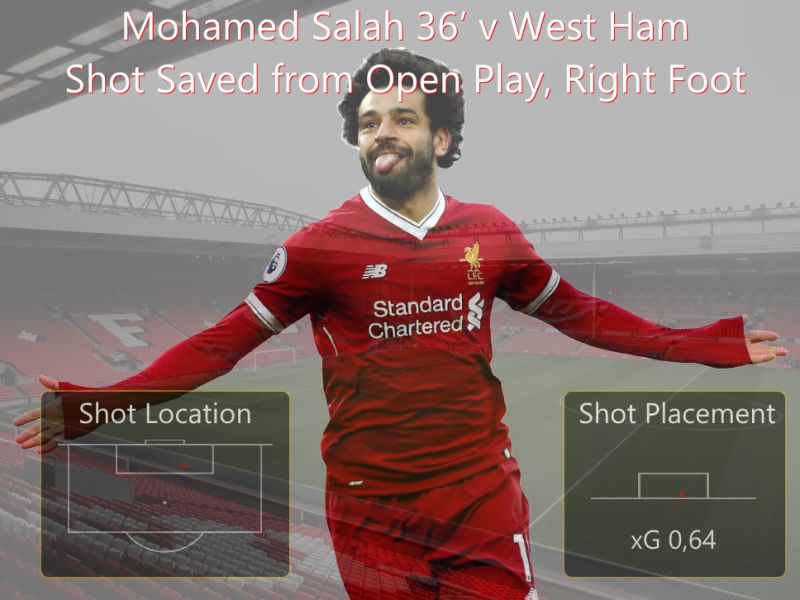 Liverpool created their second big chance of the game, again for Salah, in the 36th minute. However, this time his shot was right at Fabianski as you can see in the placement graphic above. How did the chance come about though?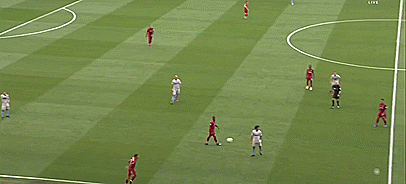 36'38  Alexander-Arnold takes a throw-in to Milner. The West Ham setup here isn't great. As you can see right away, Firmino has come dropped very deep and is making Noble decide now between marking him or Keita.
36'39  Milner stretches to pass first time into Firmino. Noble moves across to pressure him which leaves Keita as our free man now in centre midfield. Felipe Anderson also now has the problem of having both Gini & Trent to mark. Salah's movement also drags Rice away from Milner so we have a six v three overload here on this flank at the moment.
36'40  Roberto Firmino turns under pressure from Noble to play the ball back to Gini who has escaped the attention of Felipe Anderson by walking around his blindside. Keita has begun to move into the huge space vacated by Noble.
36'41  Wijnaldum cuts the West Ham midfield apart with a pass into Keita.
36'45  Keita again receives on the turn and charges at the retreating West Ham backline similar to the first goal. Mané is making a move outside Fredericks to prevent them narrowing their back four and compressing the spaces between their defenders. Salah makes a run between Ogbonna & Masuaku. Robertson is making up ground on the left to provide an overlapping run behind Mané.
Keita plays the ball to Mané just inside the West Ham box and continues his run to attack the penalty spot for a return pass.
36'49  Mané decides instead to turn out with the ball and move it onto his right foot shaping to shoot far post. West Ham rush out to close down the shot. However, Robertson's overlapping run drags Antonio behind their defensive line to play the whole Liverpool team onside should he play the ball into Keita or Salah.
36'51  Instead, he plays it across the front of the box to Roberto Firmino whose first touch is outstanding to take him round the outside of Masuaku. Mané, Keita & Silva are now attacking both posts and the centre of the goal for a cross.
36'53 Firmino plays the ball across to Salah who adjusts his feet well to play the shot from slightly behind him. It is straight at Fabianski who saves. Unfortunately the rebound falls to neither Kieta nor Mané and is cleared. However, those attacking instincts will see rebounds aplenty fall their way in future I am sure.
Once again, there is a lot to like here about the penetration we have from midfield now. Roberto Firmino coming deep is a problem. Following him gives our two main goal scorers in the system more space. Leaving him creates overloads in deeper positions which we can ultimately use to create space and a free man in midfield in a dangerous position, typically Keita. This is the type of movement, intelligence and vision that should see the system cause all sorts of problems for opponents this season.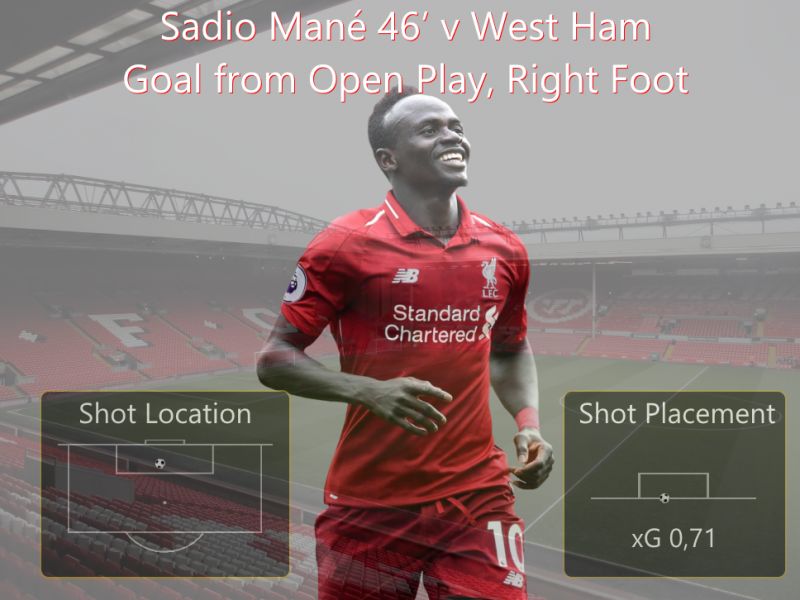 Liverpool's second goal of the game arrived on the stroke of half time courtesy of Sadio Mané. It was an interesting goal as it seemed West Ham had recovered their defensive shape and position well to snuff the counter attack only to be quickly opened up by Liverpool. Let's look at precisely how.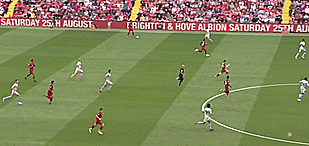 45'22 A West Ham corner from our right is headed clear by Gomez and collected by Salah on our left flank. Noble backs off him as he carries the ball up the pitch while Liverpool break forward at pace with Robertson and Keita leading the charge.
45'29 Sadio Mané runs into space in the centre circle and receives a pass from Mohamed Salah on the half way line. Milner is now making a run towards the right flank to offer an option to stretch the play horizontally.
45'34 Mané checks inside onto his right to avoid the tackle from Arnautović.  Then plays the ball wide onto the right flank to Milner. Keita moves up the left flank also to create an option on that flank.
45'38  Milner is tackled by Felipe Anderson but manages to come out of the duel with the ball.
This is excellent play by West Ham so far. The first principal of defensive play is delay, then depth. First Arnautović, then Felipe Anderson, manage to halt Liverpool's forward momentum. Now with 10/11 players between Milner and goal, they now have good depth to prevent the counter attack which has now broken down and Liverpool move back into the Consolidation phase.
Therefore instead of trying to move the ball forward and attack the spaces left by West Ham having moved forward for an attacking set-piece, Liverpool will slow the tempo and circulate the ball probing West Ham's shape while using movement to create space. The attacking team will largely avoid taking risks until the opportunity exists to create or exploit space, then the tempo increases once more.
45'39  Milner, under pressure from Felipe Anderson, passes back to Alexander-Arnold.
45'41 Alexander-Arnold exchanges passes with Wijnaldum under pressure from Rice. Wijnaldum plays the ball in front of Alexander-Arnold encouraging him to step into the space in front of him. Salah has now drifted unmarked onto the left flank and signals to Gini. Gini is scanning the pitch to assess where the spaces are.
45'46 Alexander-Arnold has now dragged Rice away from Wijnaldum as a result who becomes our free-man in attack. Alexander-Arnold returns the ball to him.
45'48 Seeing this, Wilshire steps up to confront Wijnaldum out of the low-block, as does Arnautović. Mané steps up into this space. Wijnaldum switches play onto the left flank drawing Noble out towards the left to confront him.
45'51  Mané is now in the hole that has been created behind West Ham's midfield and calling for the ball to feet. Keita is dropping into the space between their right back and centre halves while Salah moves even wider. This will force the full back to choose between surrendering the half space to Keita, or flank to Salah. He rightly choses the latter.
Robertson plays the ball to Mané exactly where indicated.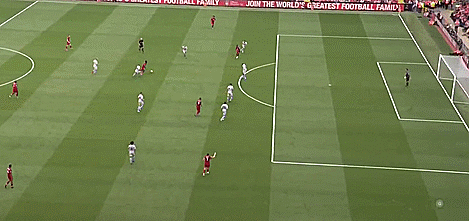 45'55  Mané drops his hips and shifts his body onto his back foot to receive on the half turn putting his body between Wilshire and the ball, who is trying to make a recovery run. Noble also notices the threat and moves back in from the left flank. Keita is moving inside too dragging Fredericks off the left flank. This all leaves Salah now in oceans of space on our left.
Mané turns, feints a pass to put Noble off balance, then passes to Salah.
45'57  Fredericks quickly gets out to close down Salah. Keita and Firmino are attacking both posts. Mané begins a run to attack the penalty spot. Milner moves into space back post. Mohamed Salah's first attempted cross is blocked by Fredericks.
46'00  Robertson collects the ball and plays a first time cross back post to the unmarked Milner. West Ham try to step up to catch Liverpool offside but get it completely wrong.
46'02  Milner attacks the ball outside the far post and managed to slide and cut the ball back to where both Firmino & Mané are waiting.
46'03  Mané turns and managed to score from a ball that was behind him. This is a remarkably complicated finish to pull off.
The eventual goal was scored by Mané here but Firmino, Keita and even Salah were all positioned to score from that cutback. Once again, I liked the movement and penetration we displayed for this goal. Keita & Mané look like two who will combine to devastating effect to cause real problems for sides in our left half-space this season.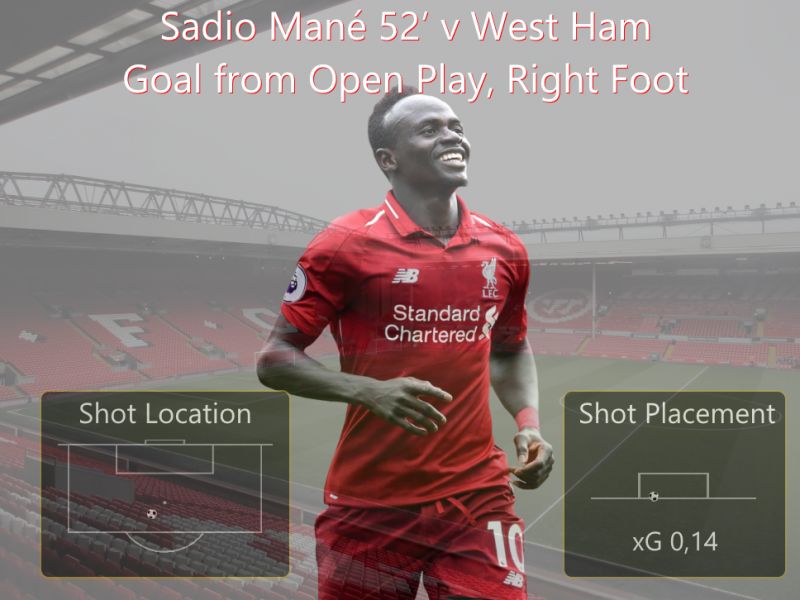 I mentioned on twitter while watching the game that it seems with Keita in the side able to carry the ball from deep and offer penetrating passes, Sadio no longer will be needed to drop so deep to help in the build-up play and was staying much higher and attacking the box more.
Mané's second and Liverpool's third is a good example of this, although comes with more than a hint of offside. Once again, things start from the back with Alisson with Liverpool playing the ball through West Ham with far too much ease before Firmino cuts them apart with a cute, short through ball splitting their defence for Mané to receive, swivel and score in one movement. A move that involved six players, seven touches and just 19 seconds from start to finish.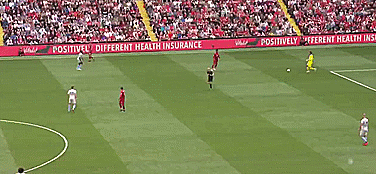 51'44  Alisson takes the free kick short to Gomez. Wijnaldum moves around Gomez in the pendulum movement I have mentioned before. This drags Snodgrass up the pitch and away from Gomez opening up the lane in front of Gomez to drive into with the ball.
51'50 Realising this, Snodgrass then starts closing Gomez but he already has a good angle for a pass into Keita.
51'52  With Wilshire pressing up Keita and Snodgrass also nearby with Wijnaldum as our last man in his cover shadow, Keita returns the ball to Gomez quickly. However this quick passing has moved Wilshire out of the lane in front of Gomez also. Firmino is coming short for Gomez which has also dragged Noble up the pitch opening up that space once more in front of the defence. Milner has also drifted wide leaving Noble alone trying to mark both players. Wilshire notices and begins a movement towards Firmino.
51'55 Gomez passes the ball into Milner dragging Noble wide. This now leaves Firmino completely unmarked centrally.
51'57  Milner receives and plays a quick pass into the path of Firmino who is now charging at the retreating West Ham Line. Both Salah and Mané are playing on the should waiting to be slipped in.
52'02  Roberto Firmino carries the ball across the front of the defence feinting shots and through balls to encourage the defence to step out and give our attackers more space. Robertson makes a great run wide left opening up the whole left flank and is available for a simple pass similar to that for the first goal. However both Balbuena and Fredericks step up to challenge Firmino and he slides a nice reverse pass into Mané.
52'03  Mané swivels and fires past Fabianski with his first touch.
Great play from the back by Gomez to see the space in front of him and have the confidence to step into it and play a good vertical pass into Milner. Also excellent movement by Gini & Keita to open up the lane in front of him to do so. Firmino and Milner do a good job overloading Noble on the right. Robertson makes a nice run on the left despite being unused. For me, the main credit here though goes to Gomez for linking the play and Firmino for his movement and penetrative pass that takes the West Ham defence out of the game.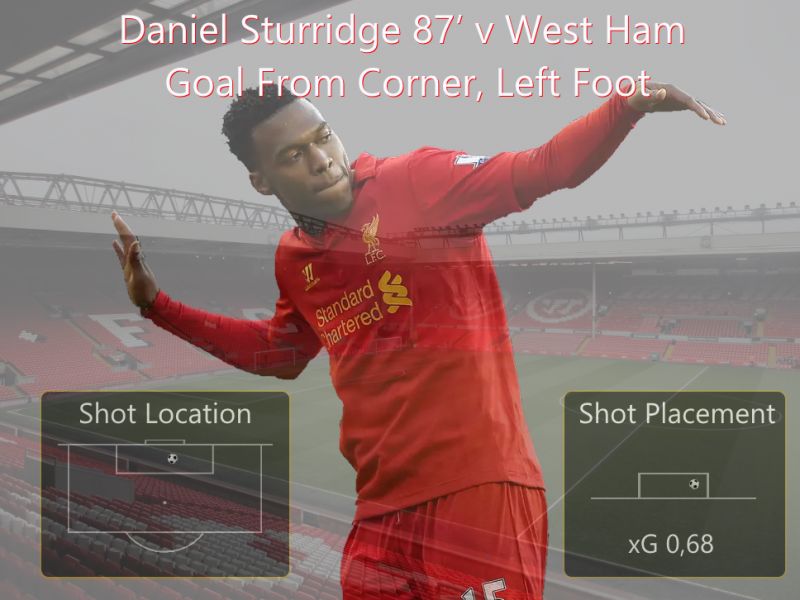 We finish off the game with a simple goal from a corner that needs almost no analysis whatsoever. It was delightful though to see the Sturridge dance once more back at Anfield.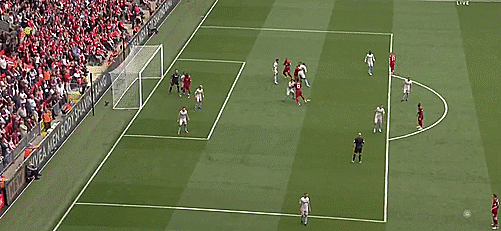 87'14  Milner takes the corner kick from the left.
87'17  Snodgrass attempts a headed clearance near post, but only managed to flick the ball on. Meanwhile Sturridge uses a nice double movement to find space at the back post.
87'20  Sturridge scores with a simple finish back post. Not sure Fabianski's movements in the goal does him any favours in terms of remaining ready to the shot.
It was an excellent performance and win for Liverpool. In particular I liked how we created a lot of big scoring chances by opening West Ham up with excellent movement, dribbling, through balls and short-range crossing. This is a feature of Pep Guardiola sides who tend to grind up the bottom 14 teams in whatever league he is managing better than anybody due to the focus on needle players (small, agile, creative) and a penetration focused approach with his system and coaching methods.
With a lot of the interviews I see and hear from Pepjin Ljinders, I believe Buvac leaving may prove a blessing in disguise as Ljinders may be aiming to add a more penetration based approach in possession on top of the gegenpressing system that Klopp is famed for.
This could finally be the season where we get the balance right between turning over sides who come at us and tearing apart those who want to park the bus!