Liverpool have reverted to a familiar training technique to prepare Alisson for Monday night's clash away to Crystal Palace.
The Reds have been keen to introduce the Brazilian shot-stopper to the physicality of the Premier League in set-piece and crossing scenarios since his arrival from Roma.
Roy Hodgson's men remain leading advocates of the value of aerial power and mark a tough first away trip for the club's summer signing.
Palace promise to hand Alisson a much busier outing than his league debut against West Ham and provide an insight into the assertiveness Liverpool hope to have invested in between the sticks.
Goalkeeping coach John Achterberg has again used tackle bags as a means of getting Alisson accustomed to being roughed up whilst coming out to deal with balls into his box.
Jurgen Klopp told Liverpoolfc.com: "When Loris [Karius] came he did it and, of course, Alisson is doing it as well. It is normal goalkeeper training. It makes sense to do it because the six-yard area is not a safety box for a goalkeeper."
"We have these situations in training constantly when we do set-pieces and the box is full with 22 players. Maybe 22 is a bit much, but certainly 15."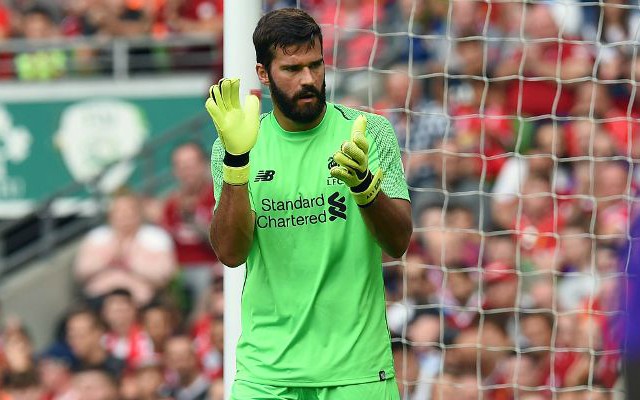 SEE MORE:
Xherdan Shaqiri sends glorious gift to Gary Neville – makes special plea to pundit
Christian Benteke looms as a notable threat in the air and enters the contest with a record of seven goals in 10 appearances against Liverpool across his spells with both Aston Villa and Palace.
The occasion marks not only a significant test for Alisson, but also for Joe Gomez as he looks to secure a run in the team at centre-back alongside Virgil van Dijk.
With the Dutchman likely to be tasked with stopping Benteke, Gomez will be responsible for picking up one of James Tomkins or Mamadou Sakho upon their arrival into the penalty area.
As Palace have shown since their resurgence under Hodgson last season, however, they are far from being a one dimensional attacking force.