In part three of my in-depth analysis of the key attacking moves for Liverpool, this time versus Brighton, we have only the one big chance (Firmino, 8th minute) to analyse and one goal (Salah, 22nd minute). However, I will also include Trent's shot against the bar and the goal line clearance from a Wijnaldum shot near the end of the game for completeness. I have also been challenged by DM by one of you to make it more visual to try and demonstrate even further the events I am highlighting.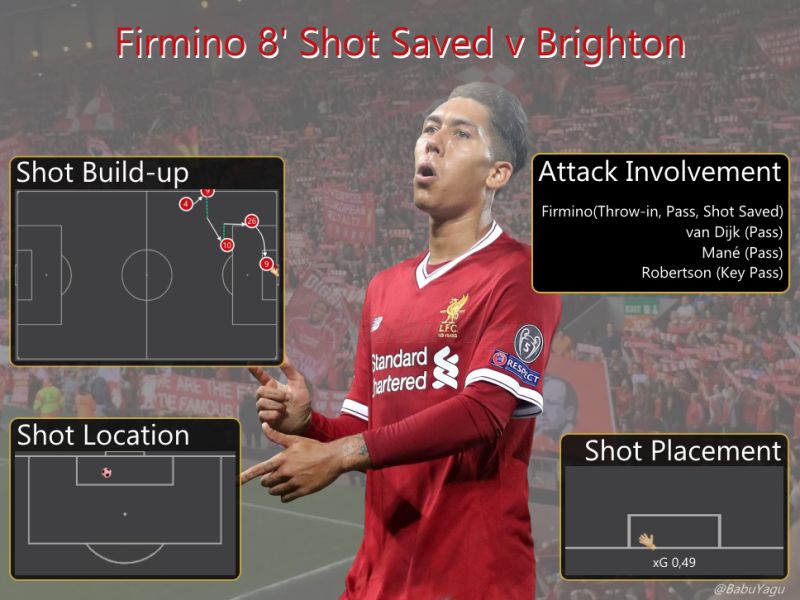 The news that Liverpool had hired an expert throw-in coach this week really interested me. There was some concern that we were looking to add long throws into the mix but I don't think that is the intention at all. I think it's merely an aspect of the game that is often overlooked where teams can gain an advantage. By doing this quicker, more precise, better movement, better dummy runs, etc. A little advantage that results in a few goals could mean 5+ points over the course of a season that ends up making a huge difference in the end.
So it was therefore very interesting that the first attack I asses from the game began with a throw-in restart. While I have no idea whether this is a particular move that was planned or rehearsed, the speed, precision and timing of the execution made it incredibly hard to defend.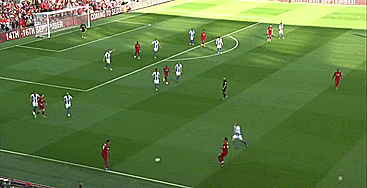 08'36 Roberto Firmino takes a quick throw-in for Liverpool.
08'37 van Dijk returns the ball to him after the throw. Keita quickly makes a move towards his own goal hoping to draw defender(s) with him, but it is ignored.
08'39 Firmino escapes the attention of Murray and passes the ball into Mané at the edge of the box.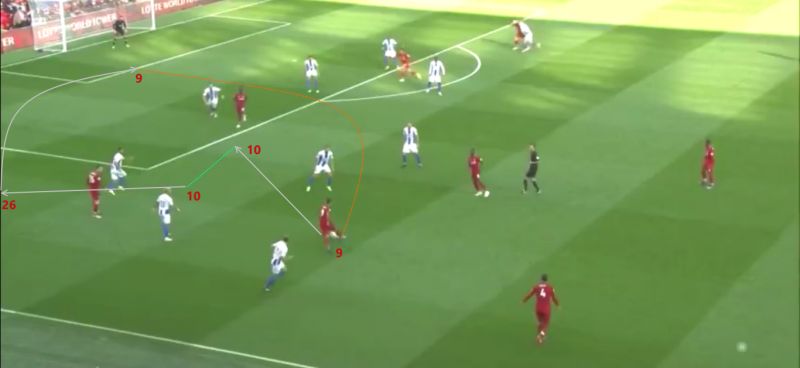 I want you to pay attention here to the decisions Brighton defenders need to make when faced with movement. As mentioned above, they ignore Keita stepping outside their shape rather than track him up the pitch leaving holes in their formation – something we saw Wilshire & Nolan do a lot for West Ham in the first home game.
Next they need to deal with Mané. He is marked by Duffy and needs to decide how far outside of his position he will track him. If he sticks with him, it will create a hole right in the heart of their formation. If he leaves Mané, he is free on the ball at the edge of the box. Two bad situations. He decides there are enough people to deal with him so he backs away.
However, a consequence of this movement, and him needing to focus on Mané to make a decision, he wasn't paying attention to the run of Firmino and positioning himself to prevent him winning the ball later in the move. Therefore he is reacting to Firmino's run rather than anticipating it.
08'41 Mané plays the ball to Robertson on the left flank. Propper notices Firmino trying to run off the blind side of both Stephens and himself and tells Stephens to track him. Salah notices Firmino's run and begins backing away towards the back post which pulls Balogun with him.
08'42 Robertson plays a cross into the near post. Firmino has suddenly curved his run to attack the small space left between Duffy and Balogun.
08'43 Firmino's close range header is saved.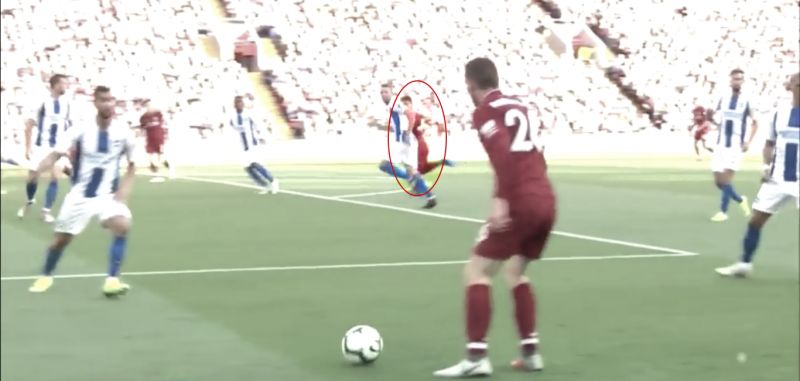 I also wanted to highlight Robertson's view of this to really appreciate first how good Firmino's idea and run are. Moreover, how does Robertson know in an instant from looking up where Firmino will attack? All this leads me to believe this may all be a rehearsed move, although we cannot know for sure of course.
This is an excellent, well crafted, chance that we are unlucky it didn't result in a goal. What I particularly liked is how it highlights the strengths of a low-block and the difficulty you face in breaking one do.
Their players aren't going to wander far off the centre point of their ideal position to follow someone. Instead they just hand them off. However, by moving several players to the limits of their position while also attacking the small space this can create between players with a run from a surprising position and angle – in this instance curved behind the two central midfielders into the blind spot of Duffy who is focused on Mané & the ball – you can have some success. We are dealing with fine margins of course. The run and cross had to be timed to perfection, as did the movement to slightly destabilize the block just beforehand.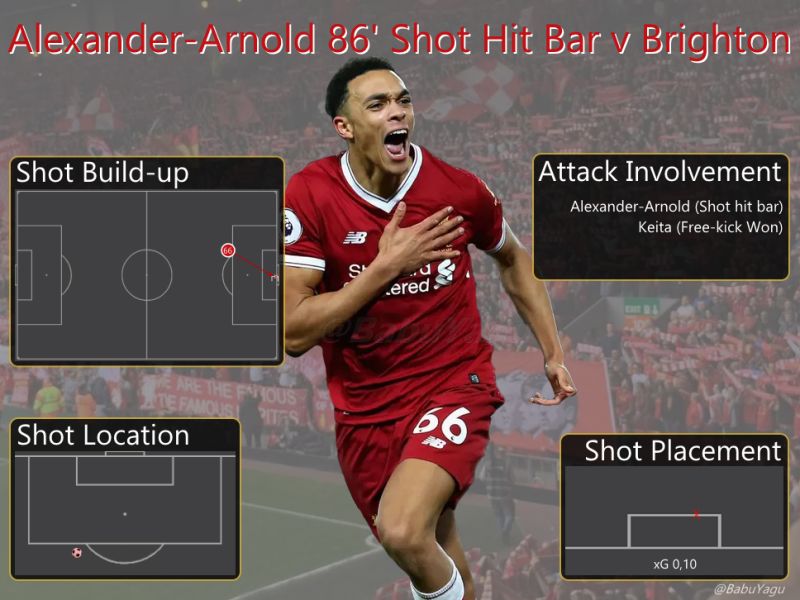 Little to analyse with a direct freekick. However, I would like to mention quickly how the free-kick comes about. Virgil heads away an attempt to chip it over our defence. Keita recovers the ball and quickly advances up the pitch behind the Brighton midfield line. Their defence is retreating, Mané is making a run on the left to prevent their defence narrowing too much and Firmino makes a run across the backline to try to drag players towards him to create space for Salah to attack.
The defence has no interest in closing Keita down to leave gaps to exploit or get dribbled around. Luckily Stephens makes it back and cynically fouls him not even attempting to play the ball. It highlights though how that extra burst of pace and aggression in midfield, the instinct to get turned and attack a retreating team, will be so vital to us in such games.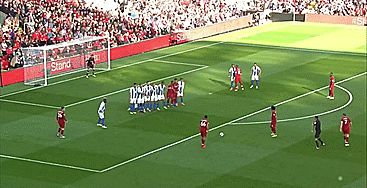 12'57 Naby Keita wins a free-kick for Liverpool 19 yards from goal slightly left of centre.
14'08 Trent Alexander-Arnold's excellent free-kick cannons off the crossbar.
As mentioned before, committing defenders is one of the crucial ways to break down a low-block. Here the defence had Stephens to take one for the team and dig them out of a hole. However, in situations such as this where the midfield protection is gone, the ball carrier will either unlock a retreating defence with a pass (Keita v West Ham for Salah's 1st goal), pull a defender towards him creating space/angle for a pass through the defence, or get fouled winning free-kicks and penalties in dangerous positions.
Having someone who is a threat from set pieces is going to be crucial for us in picking up a handful of goals from such positions during the season. It seems given how Klopp ordered Trent to take this one from the bench, he is the man Klopp has faith in for such situations. Hopefully he repays that with a few more like the Hoffenheim strike last season.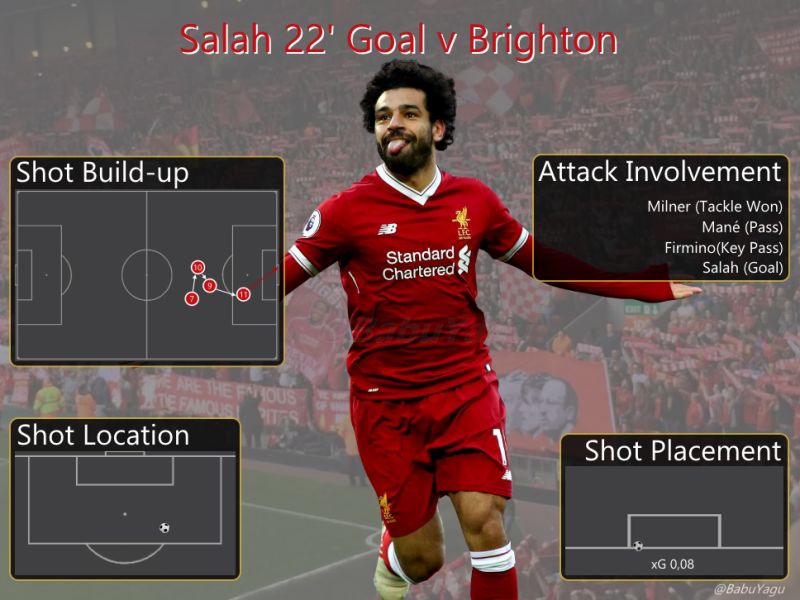 I enjoyed Salah's goal at the weekend as it highlights how difficult we can be to play out against. On Monday, I attempted to demonstrate how difficult each of the top 6 midfields are to play through by comparing them in terms of tackles and amount of times they are being dribbled past.
Continuing on from what I was saying about central midfield today, I thought I would look at how easy CM's are easy to play through from the top 6. pic.twitter.com/M0GjKC35Ms

— Stephen Drennan (@babuyagu) August 27, 2018
Liverpool have an interesting setup at the moment. They have Gini at #6 who is one of the hardest midfielders to dribble around in Europe – he ranks 16 out of 503 midfielders in my data set in terms of lowest dribbled past per 90. Therefore, Keita and Milner can be incredibly aggressive in diving in to break up play to try and regain possession high up the pitch knowing that they have a player providing that depth behind them who excels in delaying attacks and making his zone hard to play through.
As a result, Milner (6) & Keita (5) are currently two of the top 3 central midfielders in the Premier League in terms of being dribbled past per 90 whereas Gini has been dribbled past just once in 3 games.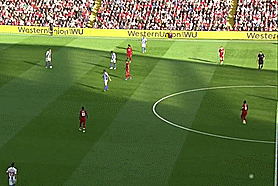 22'00 Milner wins the ball back with a tackle on Yves Bissouma.
22'01 Sadio Mané recovers possession and quickly passes the ball to Firmino.
22'02 Roberto Firmino plays in Salah with a ball down the side of the centre back into the half space.
22'03 Mohamed Salah hits the shot first time right into the corner for the opening goal.
So much to like here. Firstly, I want to take this back a little further to show the freekick we conceded.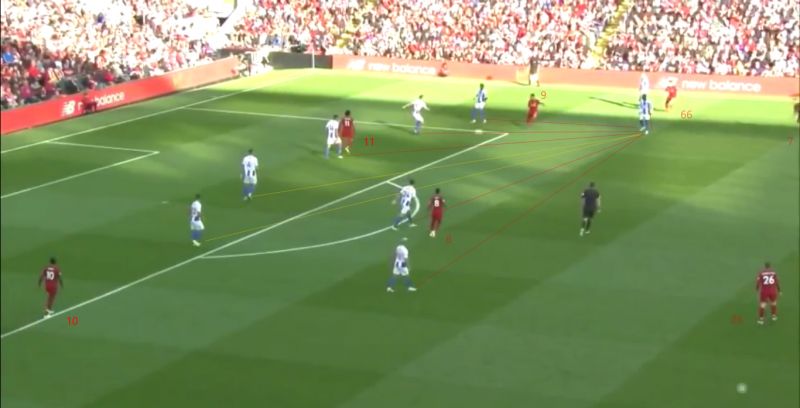 Here Brighton have 9 players inside their own third of the pitch trying to play out. Liverpool have five in the same space. Liverpool lose possession and, rather than retreat into shape to defend a counter attack, we think about where the ball could go to.
So before Bissouma receives the ball, as per the above image, he has no safe passing angles. All the angles marked in red either have a Liverpool player in close proximity (e.g. Trent on Solly Marsh) to the receiving player or are able to intercept the path the ball would take (e.g. Keita on Knockeart).
Stephens (on the ball), will soon be pressed by Firmino and needs to make a quick decision to find a Brighton shirt. Does he clear it behind the press and let Murray fight it out with Gomez & VVD on the half way line for an aerial ball? Or does he pass to Bissouma who appears free. When a player has the ball like this and needs to make a quick decision, their risk assessment can be off. So instead of seeing that he is passing into a pressing trap where Bissouma can be pressed from all sides, he takes the easy out ball that Liverpool are offering him.
Now if you are Bissouma here, you need to find an out ball. Firmino & Salah are effectively preventing any pass going backwards. You know you are about to be pressed from 3 directions simultaneously so you probably cannot escape with the ball. Your best options appear to be Duffy & Montoya – marked with yellow lines. Even those passes are not without risk as you are playing the ball first time, under extreme pressure and both Keita & Mané are in close vicinity to immediately press two defenders who may not be technically capable to deal with it.
He decides his only option really is to try to escape pressure alone. He takes a good first touch to do so and Milner takes him out. However, I guarantee you that in those situations with a trap that well executed, the usual outcome will be the defence crapping themselves and either losing the ball to you, giving you the ball or just aimlessly hoofing it. Even if he escape from the trap there and Milner doesn't foul him, he is then running towards Gini with the ball. Outlook = not good.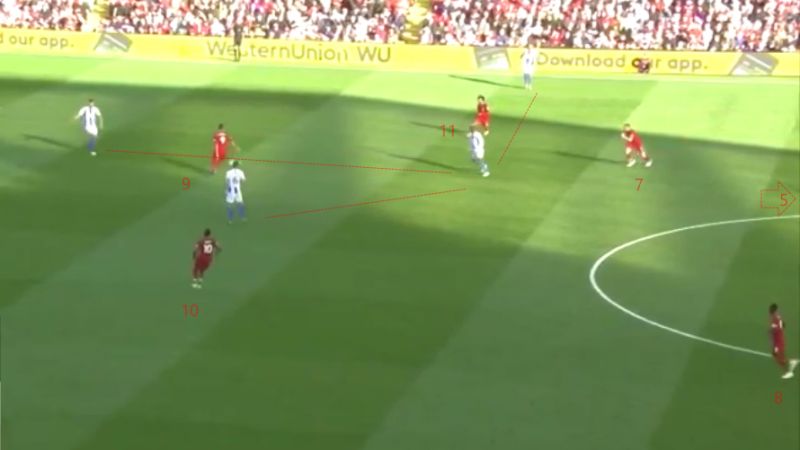 So they escape the trap with a free-kick and what do they do? Why they play the ball straight back into the exact same trap of course. In the above you can see Balogun has just assessed his options, thought Bissouma has a bit of space more than the rest once more, and plays the ball to him. Immediately the trap closes on him from all sides and this time he loses the ball to the Milner tackle. Now you have 6 Liverpool players in this area of the pitch to Brighton's 3 and the goal feels inevitable.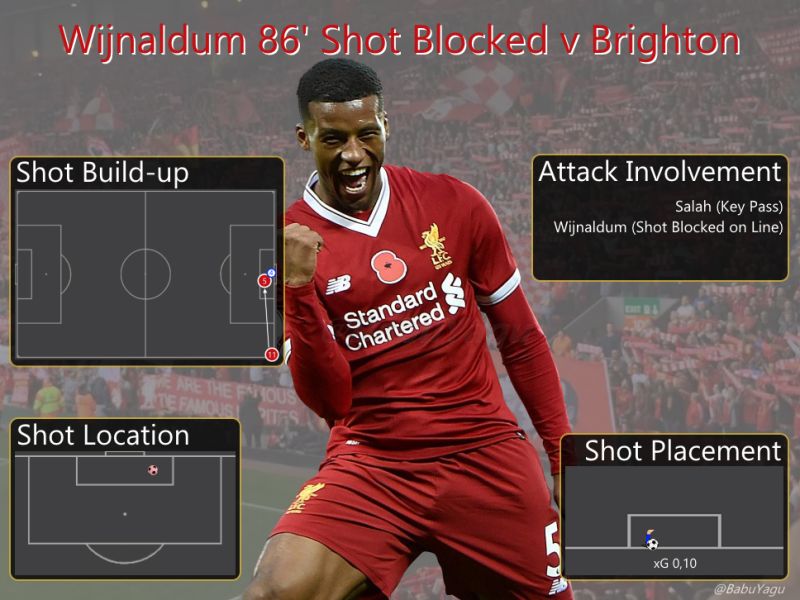 The last shot I want to look at was the goal line clearance that prevented Gini opening his account for the season.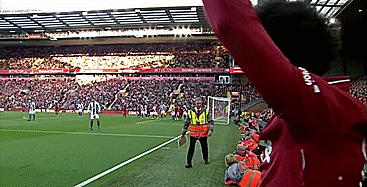 86'32 Mohamed Salah plays a low, driven corner towards the near post.
86'34 Wijnaldum flicks the ball on with his heal.
86'34 Shane Duffy blocks the ball on the line and it's cleared.
We often criticise the set pieces, and particularly corners, at the club for being largely ineffective. However, I remember last season, particularly in Europe, seeing well-rehearsed routines open sides up. We saw two identical goals in one game against Sevilla from corners, for example.
Whilst I am still unsure if Firmino's header in the 8th minute was a rehearsed move, this corner routine almost certainly is. Milner is near to the corner of the box which sees the Brighton player worry about the short corner and step up the pitch a little. This gives Salah more space to get the ball in low & hard to Gini near post. Gini flicks it on and Firmino is attacking the space in front of the goalkeeper should the ball go loose.
We were incredibly unfortunate that it didn't result in a goal but it is clear the club are working hard on set piece routines to add a few extra goals where we can.
In total at the weekend we had 22 shots of which 8 were on target, one hit the crossbar and another was cleared off the line. While we can (and will) do more against such sides, particularly in the second half which was quite flat, we did create enough chances to deservedly win the game and at this point of the season, simply picking up the points every week while new players are bedding in and others recover from the world cup is paramount.
If you enjoyed this write-up, please also check out my articles on the first two games of the season below.
Part 1 – Liverpool v West Ham (12 Aug 18)
Part 2 – Crystal Palace v Liverpool (20 Aug 18)