---
The release of a new kit is now a major event for any football team. Prior to the official launch, fans will speculate and design their own mock-ups, while supposedly leaked images will be met with extreme reactions on forums and social media.
And on the day of the launch, many clubs, including Liverpool, arrange public events featuring players to unveil the new strip. And if a player is missing from a photo shoot, fans will take that as a signal they might be leaving the club.
But how many fans still buy replica kits? And what do they think about the prices?
A recent study by Betting.net showed that many fans still think shirts are overpriced. In fact, only 9.33% of those surveyed purchased their favourite team's replica shirt every year and 55.88% said that price was the driving factor behind not buying a shirt.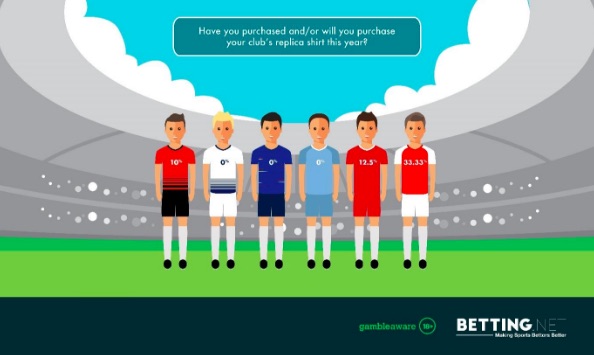 Amongst the Liverpool fans questioned, 12.50% purchased the club's shirt every year (compared to 22.67% amongst all fans) and of those that didn't, 57.14% cited price as the reason.
The survey also showed that 85.71% of all fans that purchased shirts did so on release. This indicates there is a strong desire to own a new shirt as soon as possible after the official launch.
So how much do Liverpool fans think a shirt should cost? The survey showed 57.14% of Reds' supporters felt shirts should be priced between the £21 and £40 bracket with half of those not willing to spend more than £30. While only 14.29% would be willing to spend more than £50.
Overall, the most popular price range among football fans was £31 to £40 with 35.14% selecting that range. Another 28.38% identified £21 to £30 as the optimum price range. This is significantly lower than the £55 the Anfield club are charging for the 2018/19 shirt.