---
Joe Gomez admits there is a fierce competitiveness behind Trent Alexander-Arnold's quiet demeanour.
The Liverpool defender is enjoying the opportunity to play beside the teenager having shared the workload at right-back in the absence of Nathaniel Clyne last season.
It was Alexander-Arnold who eventually earned a prominent role as he flexed his attacking influence to make the position his own following the turn of the year.
Gomez's involvement was hampered by injury in March, which also saw his hopes of earning a place in England's World Cup squad dashed.
He has since produced an outstanding start to the new campaign at centre-back for Liverpool, translating his relationship with Alexander-Arnold off the pitch into a valuable understanding on the right-hand side of defence.
Discussing his teammate, he told FATV: "You think he's quiet but he wants to win, all the time."
 "Top player, he's obviously got a joke of a delivery and it's great playing alongside him obviously. Last year we were both playing full-back, I think we pushed each other a lot."
"Obviously it was good to get the opportunity in the games we did, but this year as well, playing alongside him."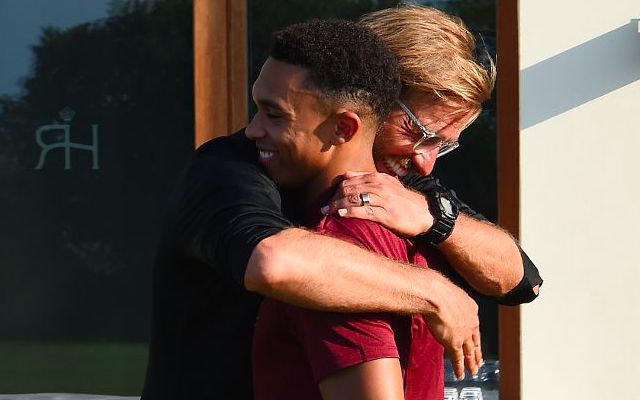 SEE MORE:
'Monstrous' – one Liverpool star has seriously impressed for his country
Alexander-Arnold's lasting impression has left Clyne facing a difficult and, right now, unlikely route back to Jurgen Klopp's first team.
With every game he plays comes more confidence, assertiveness, and the natural hunger to win that Gomez alludes to. To see him giving out orders to more senior players on the pitch is testament to how far he has progressed over the past 12 months.
Whilst Gomez's injury dropped him out of World Cup contention, Alexander-Arnold was handed a landmark and by all means deserved call-up to Gareth Southgate's squad for the trip to Russia.
Both are now back in the senior setup, with Gomez expected to start in Saturday's UEFA Nations League clash with Spain.