---
Vincent Kompany admits has always remembered Andrew Robertson since the Liverpool star handed him a programme as a young ball boy.
The Manchester City captain has hailed the left-back as something of a perfect ambassador for the attitude required at the top of professional football.
Robertson finds himself in the middle of a remarkable surge to stardom following his summer 2017 move from relegated Hull City.
A deal that many Reds evidently struggled to get excited by at the time has since evolved into one of the club's most inspired bargains.
The defender has been instrumental to Liverpool's defensive improvement and played a starring role on route to last season's top-four Premier League finish and Champions League final spot.
Kompany told the Daily Mail: "Most of us in football have come from humble backgrounds. Whatever way you get there, it is just great to see him doing well."
"Andy is now playing to such a high level with Liverpool and now he is captain of his country. He has come a long way in a short space of time. If you have work rate and desire and ability like him, it is not so much of a surprise. It is natural progress."
"A few people over the years have mentioned the fact he handed me that programme. I don't know why, but I just remembered him"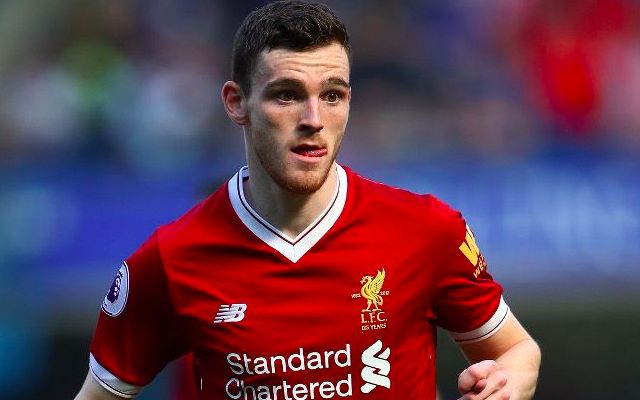 SEE MORE:
Liverpool open talks with early season star over new contract – report
Having played understudy to Alberto Moreno over the opening months of his debut campaign, Robertson was given his route into the first-team when his teammate was resigned to a spell on the sidelines across the festive period.
It was an opportunity he never looked like squandering, with the 24-year-old producing the consistency that made him impossible to dislodge from Jurgen Klopp's first eleven.
Besides playing a key role in reducing the amount of goals Liverpool shipped, he also emerged as a valuable attacking outlet on the overlap of Sadio Mane.
His bursting drive and energy was completed with a crisp and perfectly-directed delivery for his front three to feed on.
Fast forward a year from his arrival and Robertson now finds himself both Scotland captain and a vital member of Klopp's team.
Few could have predicted such an upward trajectory.