---
A lot has been said in the wake of this game about Liverpool's attacking players. Mané apparently has a pathological hatred of Salah and won't pass to him – despite four of his eight key passes this season so far being to the Egyptian King. Cyclops Bobby won't be as effective for Liverpool – despite the club and player both stating there will be no lasting damage to his eye. Keita is struggling with the Premier League, despite us dominating the midfield in all the games he has played and his role clearly being very different to that at Leipzig.
Ultimately though, there is an awful lot to like about the performance at the weekend and a few little things to get hung up on. We can each chose what we would like to focus on. There are negatives there, but it feels like the amount of attention they're given is disproportionate to their importance in the big scheme of things. If your side travels away to one of the top sides, dominates the game, creates three big chances and gives up zero and pretty much dominates the midfield battle, this has to be a potential situation you are delighted with going into the game. So why aren't you happy afterwards?
So let's look at Liverpool's four main scoring chances in the game: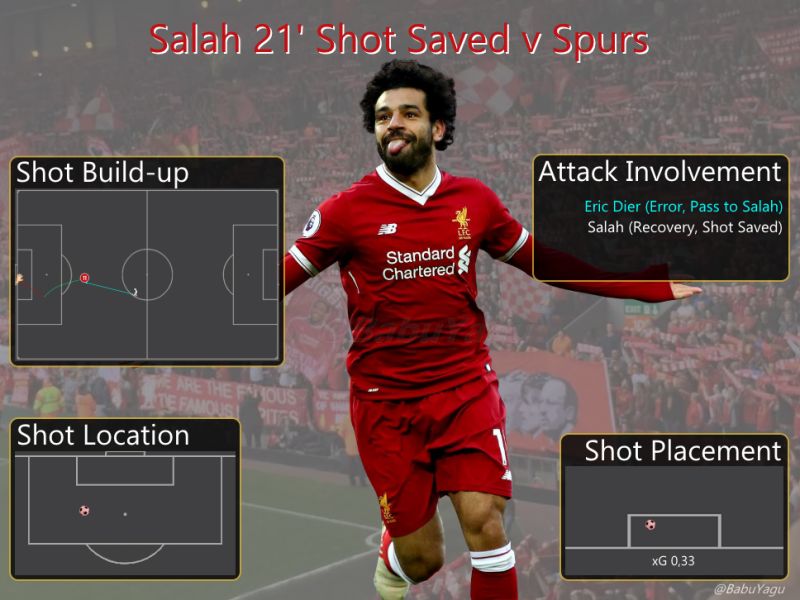 Our first goal demonstrated perfectly one of the signatures of Jurgen Klopp's system – the Pressing Trap. Liverpool left Eric Dier in the middle of the pressing trap in this instance. We saw a similar tactic successfully used on Fernandinho last season and here the result was no different.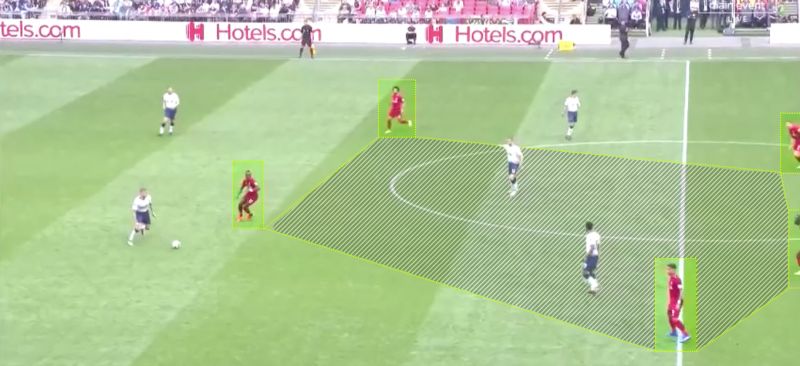 Liverpool's front 5 are compact horizontally only here. This leaves spaces at both sides of the pitch but also between the two lines. As moving the ball forward vertically is preferable to moving it out wide, we hope the Spurs players will take the bait of playing the ball into Dembele and, ideally Dier.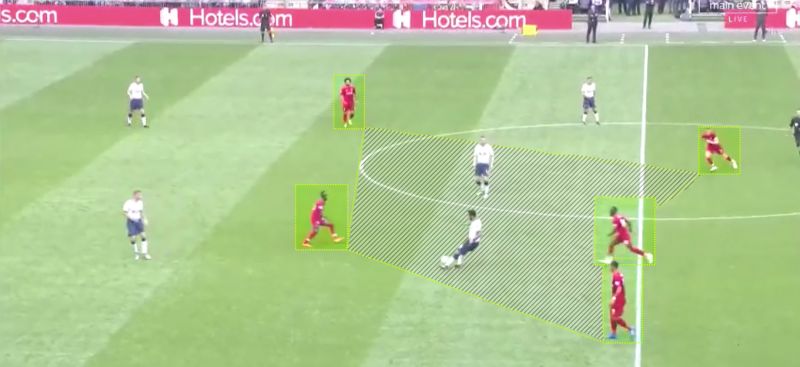 The ball is played into Dier and already you see the space they have between the lines rapidly decreasing in size. If your central midfielder has good awareness here, he will know that Trippier is the easiest 'safe' pass that he can likely make. However, he would need to probably take a touch and turn out towards that side to do so and he is reluctant as he is closed down. Dier is where he can dump the ball to escape pressure himself but also plays perfectly into our hands and is merely handing off the 'hot potato'. The best, but technically difficult pass here is to chip the ball out to his left flank in the space in front of Winks where Rose is also in space further up the field. He decides to wash his hands of the problem and put Dier in it.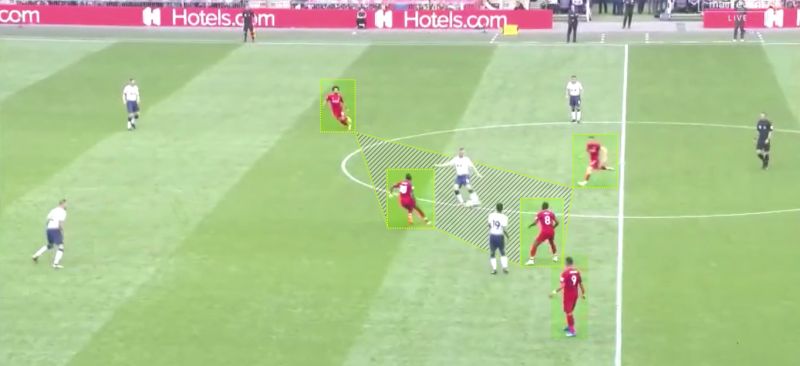 Dier believes he has no good options here – compounded by the fact he hasn't been scanning and believes Salah has closed him down to complete the trap – which, of course, he hasn't. He plays a lazy pass between the centre-backs and Salah is onto it like a flash.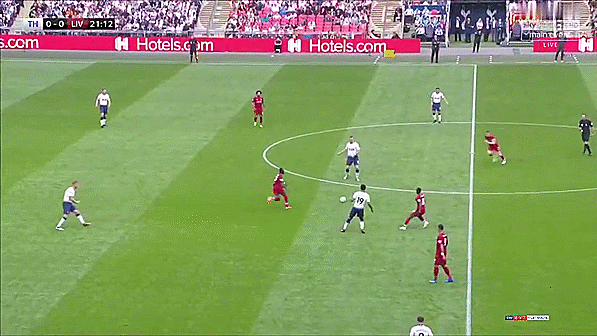 There was so much to like about this passage of play. The pressing from Mané is excellent in keeping constant pressure on the ball carrier from the front to rush their decision making preventing them from properly assessing the field of play. Also from Milner & Keita in particular for quickly closing that space behind Dembele & Dier to prevent them turning on the ball. Salah for anticipating the play and getting onto the ball. However, by shooting high, he perhaps made Vorm's job easier. As we saw with Pickford at the weekend, if you hit those shots low and hard either side of the keeper, getting down for shots is much harder than sticking a hand up either side of your head.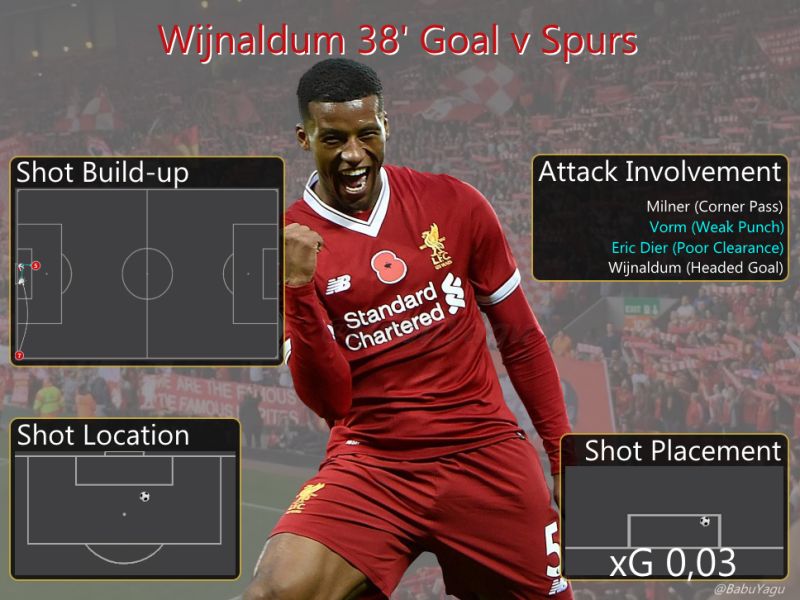 Liverpool's opening goal came from an unexpected source in Gini Wijnaldum. Unexpected as he never scores away from home. Except against AS Roma of course in the European Cup Semi Final for us just a few months ago. Or against Brazil in the Maracanã in the 2014 World Cup. Or throughout his career in the Netherlands. If we exclude those thirty-nine other times he has scored away from home so far in his career, it is true that he never scores away from home.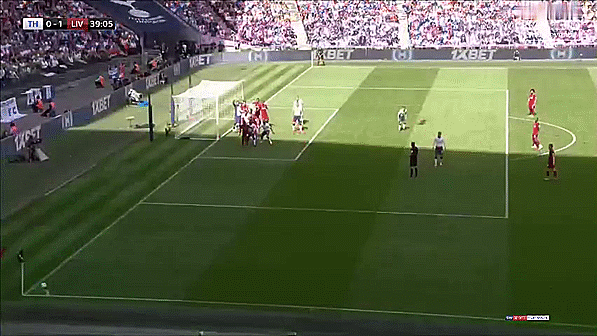 What interests me most about this goal is the role of Vorm. He was all over the place this game in the instances where he needed to command his box, but it all started here with this moment.
Lloris has actually been the most commanding keeper, in terms of dealing with crosses at least, in the Premier League so far this season. This information will probably leave Spurs fans wondering what might have been with the more commanding Lloris in this situation.
Hugo Lloris has dealt with 12,5% of the crosses he faced so far this season. That is 3,5% more than the next highest on the list (Alisson with 8,93%).

Would he have have fluffed that cross that Vorm did for the first goal? I doubt it.

— BabuYagu ✍️⚽ (@babuyagu) September 15, 2018
The appeal that van Dijk obstructed Vorm and therefore the goal would not have stood if VAR use is also an interesting one. As you can see on the gif above, Vertonghen is clearly hugging van Dijk the whole time preventing him from moving even if he wanted to. Should VAR come into use, this foul would gain the attention of the referee before anything else as it's the first infringement.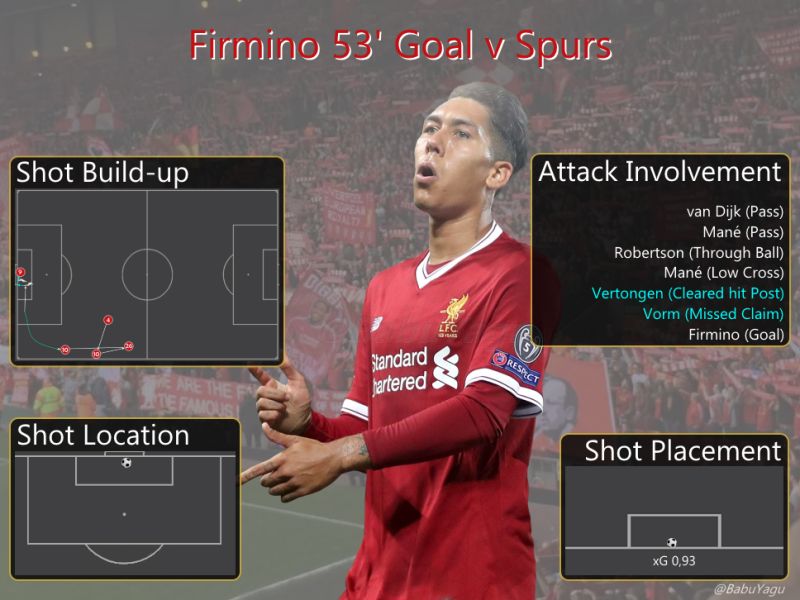 The second goal of the game actually came at the end of the fifty second passage of play starting with a Robertson throw-in on the halfway line. Rather than go through every touch in the move, let's instead focus on the two key moments that open up spaces on the pitch.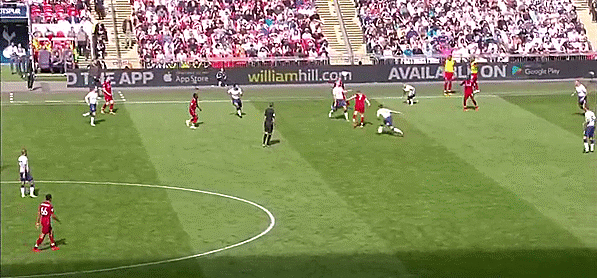 This is something we see a lot of in possession football in the consolidation phase and have discussed before in more detail. The attacking team wants to create and then attack space. At the moment, all that space is ball-far-side with Trent as Spurs have compressed all the space ball-near-side. Gini moves in the blind spot of Moura & Erikson into a large pocket of space, calls for the ball, then switches it to Trent in space.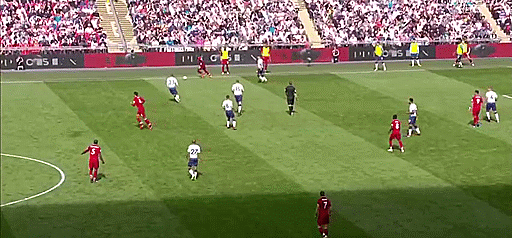 When the ball is moved back across the pitch, the Spurs shape isn't nearly as compressed now and can be played through – or in this case over – by Robertson. It's a beautiful one-two by Mané who destroys Tripper by spinning in behind him.
Vertongen is unlucky. Vorm is clumsy. Firmino has the pistolas out.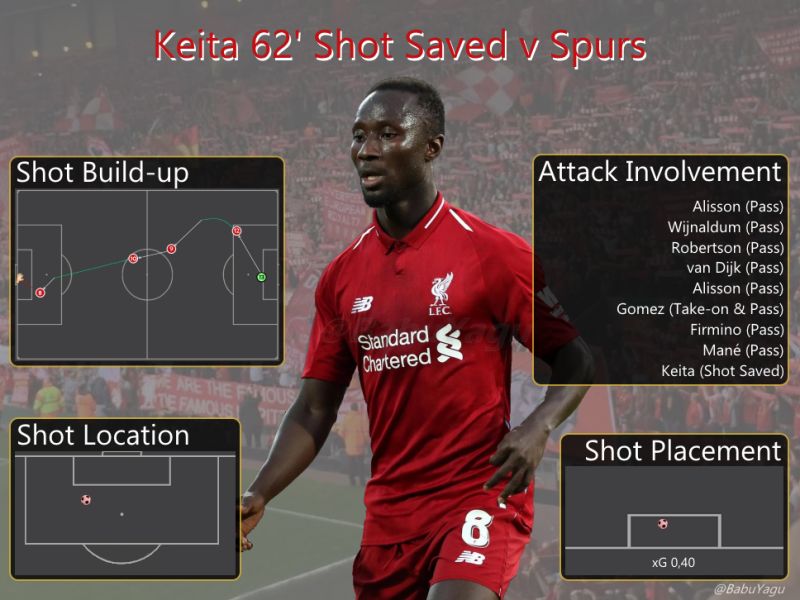 If the first big chance we created against Spurs was a textbook Jürgen Klopp pressing trap, then the last big chance we created was classic Bielsa playing through pressure.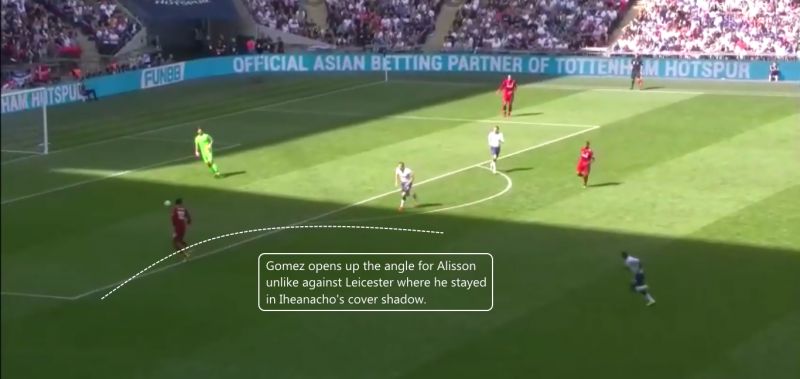 In the aftermath of Alisson's gaffe against Leicester, the excellent David Preece highlighted how the actions of other players contributed to Alisson making a risky decision in the absence of a short passing option.
I see @davidpreece12 getting a lot of stick for this. From a coaching perspective, you don't highlight the biggest/most obvious fault, apportion blame and then put your feet up – you look at things tactically and ask what errors were made that contributed to the poor decision. https://t.co/ZWN99uv1pm

— BabuYagu ✍️⚽ (@babuyagu) September 2, 2018
What is interesting is how Gomez both points, then very quickly moves out to create a passing angle for Alisson which suggests to me we have indeed been looking to make tactical changes to reduce the need to take risks at the back to create a passing angle.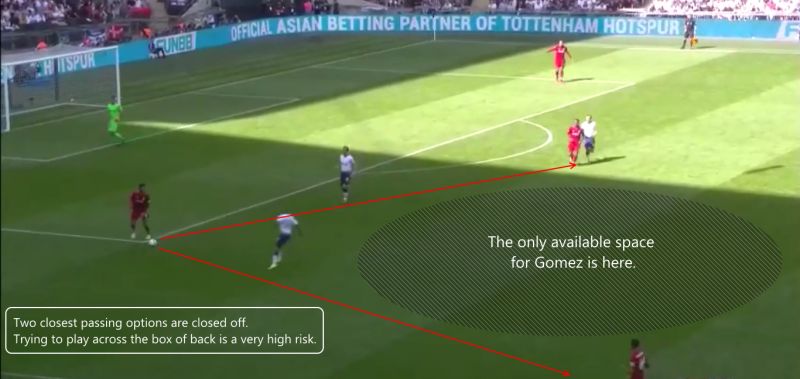 Gomez quickly assesses the situation and realises the best option is getting past Moura and attacking the space that he is running out of. This is why press resistance is so vitally important throughout the side, if possible, if you aim to be a side competing for the very top trophies. Thankfully, Joe Gomez's press resistance is outstanding. Here, he feints the pass into Trent putting Moura off balance, then attacks the space where he momentum is moving away from.
One thing this also highlights nicely is why you should never drop vertically towards the player in possession. Milner rarely does this, and here he believes Gomez is in trouble and is rushing to make an angle between Moura & Kane. Even still, he almost closes up the one space Gomez has in the process.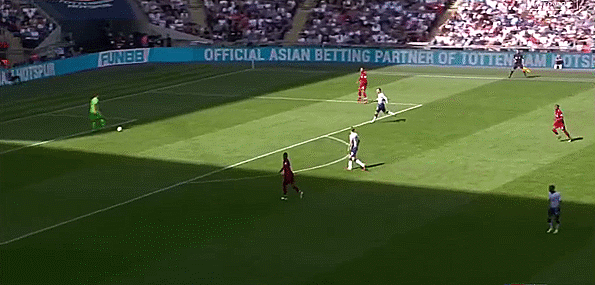 Two delicious touches of the ball from Firmino to also escape the pressure and play a through ball before Spurs can get tight to him. This perfectly highlights the value of his false 9 role as more often than not, he is a midfielder first, attacker second.
Now Liverpool are away though in a 3-v-2. We rehearse such situations a lot. There is even a video of this from 2017/18 pre-season on Liverpool's official youtube channel. So where do we go wrong from here?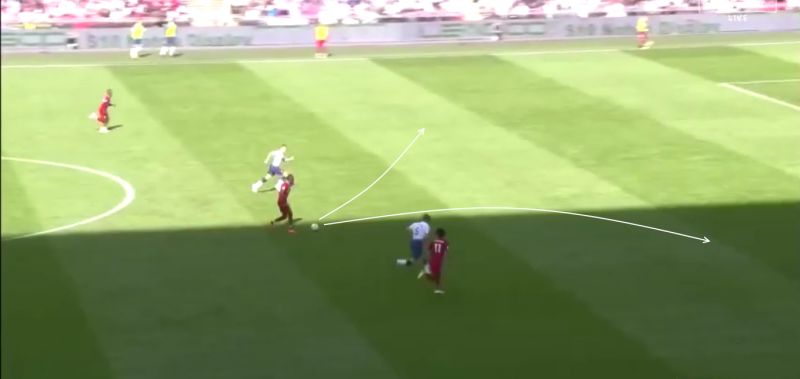 This is Mané's first assessment of the situation and his two options. At the moment, Salah is well marked by one of the fastest centre-halves in the league. Any pass to him or Keita at this point would be a foot race. Therefore Mané actually tries to make space for Salah by drawing his marker away from him. He does so firstly by slowing down, thus allowing the defenders to move in front of him, then curving away from Salah to move play, and therefore both defenders, towards the left side of the pitch.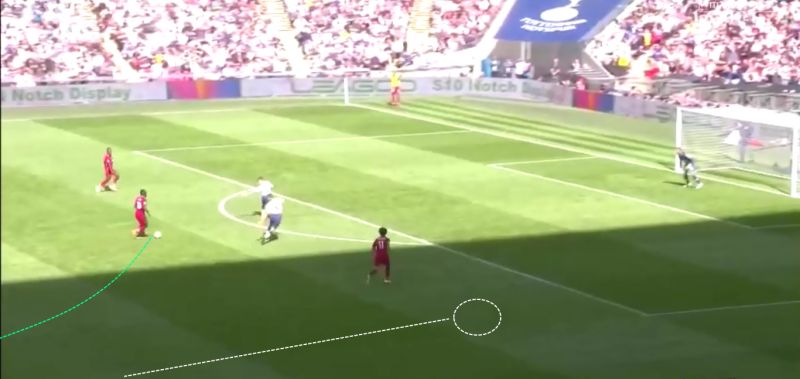 As you can see, it works and now Salah is unmarked. However, Vertonghen does a brilliant job of blocking the passing lane to Salah. Perhaps Salah could have stayed wider to give more of an angle but that would just be hindsight analysis in now knowing what Vertonghen would do. It is simply very good defending. With a defender closing Mané from behind, he cannot check onto his right to make a better passing angle himself – which makes Keita the best passing option.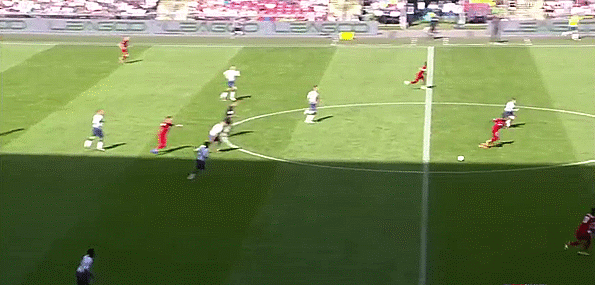 So while initial reaction to this was that Mané was selfish or should have passed to Keita instead, it seems this was actually Mané's intention also but good defending simply prevented him from doing so.