---
Roberto Firmino has been blowing up on social media this season for being the first pirate to score for Liverpool football club.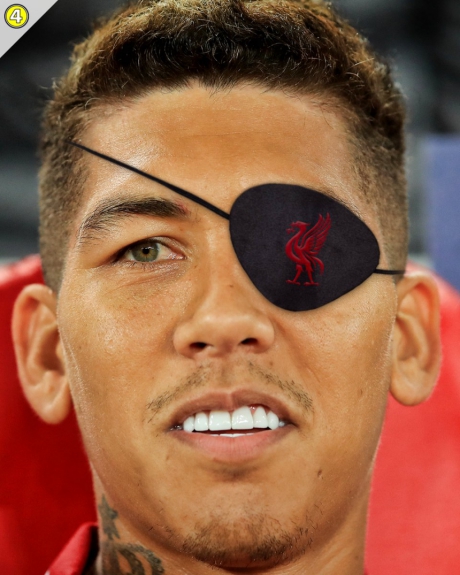 However, what has somewhat slipped under the radar was the fact that his goal against PSG marked the third consecutive game where he scored the winning goal for the Reds.
His header on the stroke of half time to put Liverpool 2-0 up at Leicester was ultimately the winning goal of the game. Ghezzal scored in the 63rd minute following Alisson getting caught on the ball to cancel out Mané's opening goal. Then, his tap-in after good work down the left by Mané to put Liverpool 2-0 ahead against Spurs was ultimately the winning goal of that game also. Lamela nicking a late consolation goal for the away side cancelling out Gini's header which opened the scoring. And of course the dramatic low drive into the bottom corner by the one-eyed Brazilian to put Liverpool back ahead 3-2 against PSG completed his trio of game winning goals.
But which current Liverpool player has the most Game Winning Goals (GWG) for the club?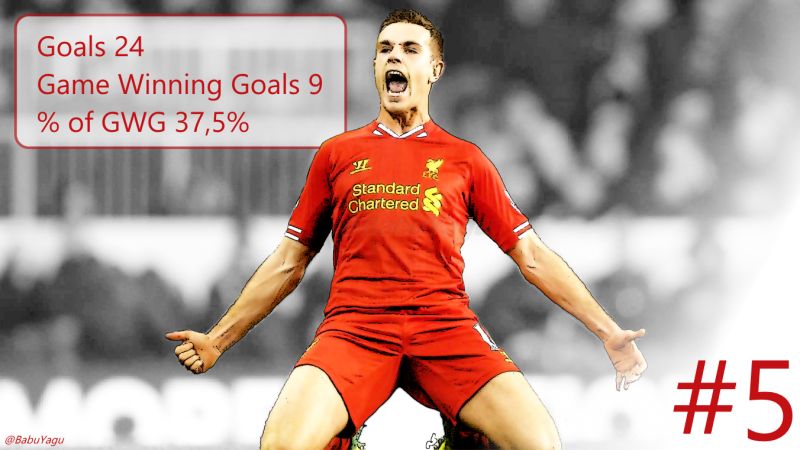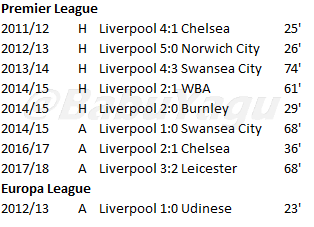 Captain Henderson is number five on our list. Interestingly, he is also the player with the highest ratio of game winning goals to his name of all the players at the club who have scored more than a couple of goals. So while he doesn't score often, he likes to make them count when he does it seems.
A particular highlight from this list is perhaps this goal against Chelsea in 16/17. Look at the technique on this!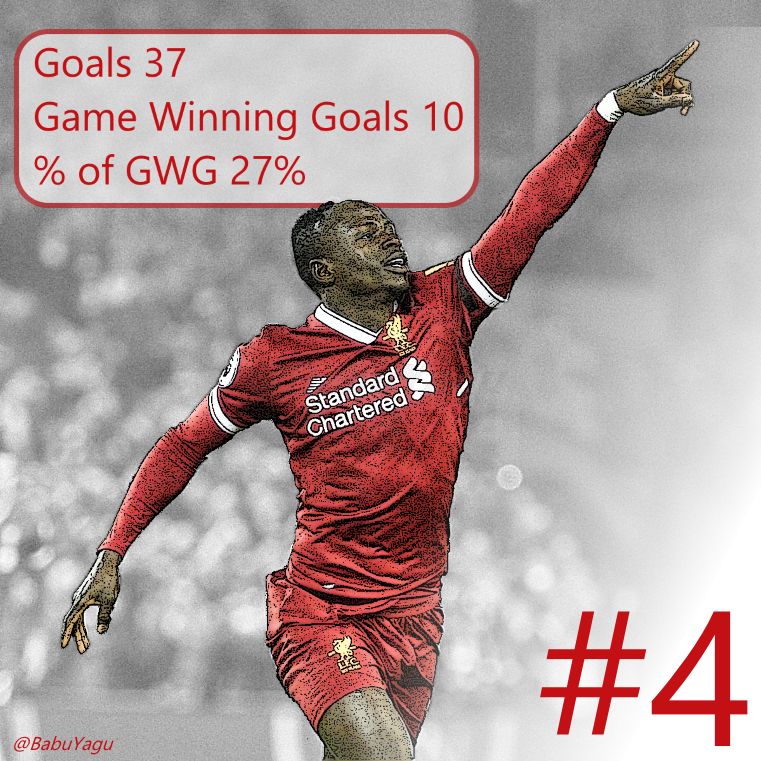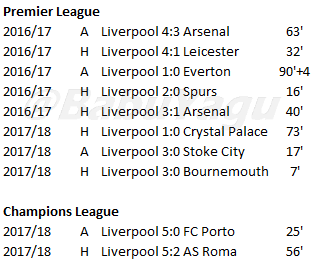 Mané is number four on our list. A lot of people seemed unsure of his signing at the time but he put the doubters firmly in their place early in his Liverpool career with this absolute screamer against Arsenal on his debut. The celebration. Jürgen's reaction. This goal couldn't be forgotten if you worked me over with mind-rubbers.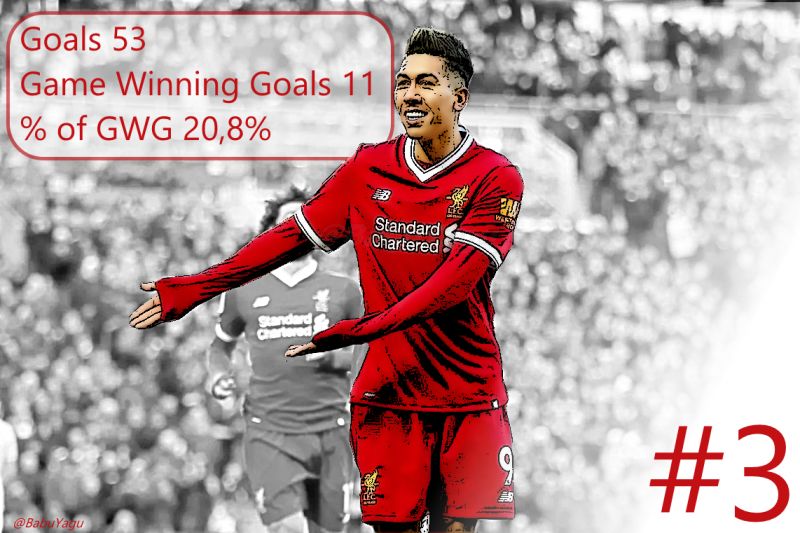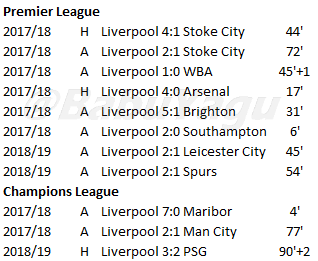 If you don't love Firmino, you don't love football. Bobby Firmino is number three on our list – the man who is everything that is good about the game. A unique blend of outrageous flair, extreme hard work and that little bit of madness that makes him feel like a special player and individual.
It is hard for this not to feel like an example of the availability heuristic, but so much about his recent winning goal will leave this one sticking in the mind of many regardless of what is to come this season. Firstly, it was a genuinely good goal in its own right. Secondly, the timing of the goal – goals in injury time at the end of the game just tend to burn longer in the memory. Thirdly, the fact that many felt he wouldn't participate at all in the game – and if he did, not at his usual level – following a horrific eye injury just days before. Lastly, the celebration – that craziness that makes Firmino hard not to love.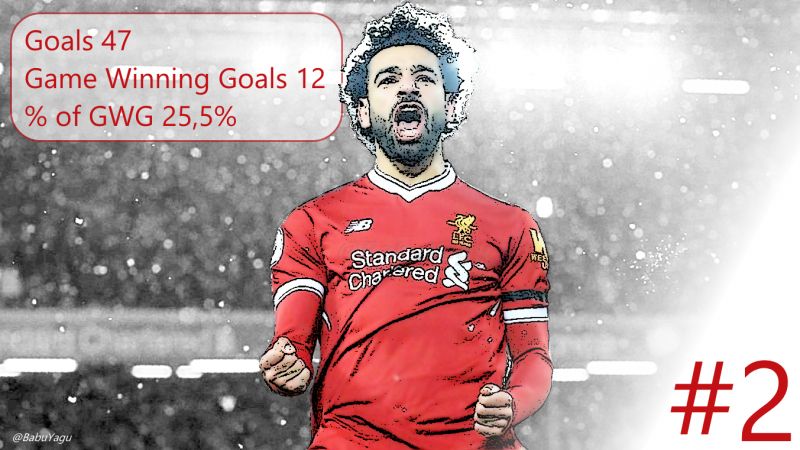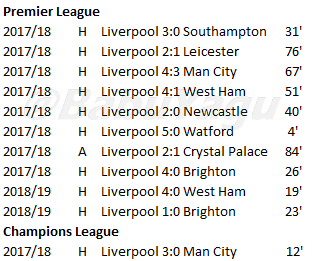 As first season's go, Salah's was a bit special. He arrived at the club with 'Chelsea Reject' being a tag that many felt would burden him. And while he was involved in the goals immediately, it wasn't until October when he went up a gear or two and started destroying sides on a regular basis.
While it was a season full or memorable moments and goals from the Egyptian King, including scoring from Ederson's poor clearance to put the Reds 4:1 ahead, or scoring that first important goal at Anfield in the Champions League Quarter Finals, it is the Watford goal from this list that seems the most immediately memorable as it was the first goal of what would be his first hat-trick at club. Not a bad goal either.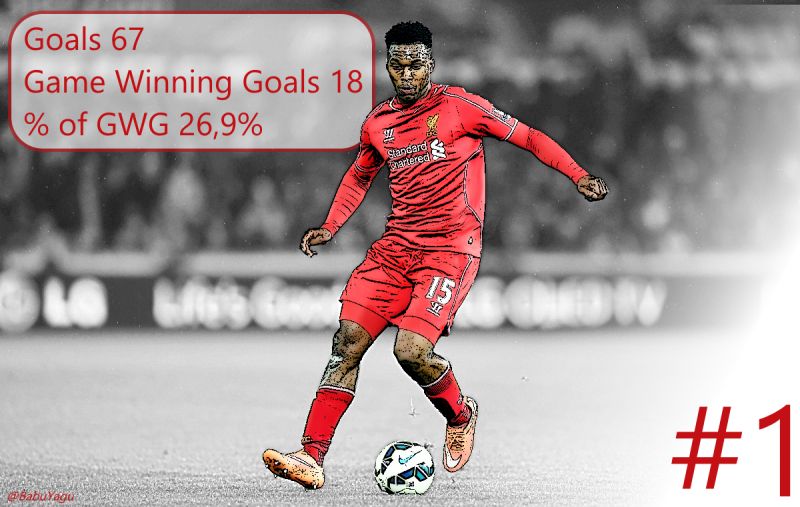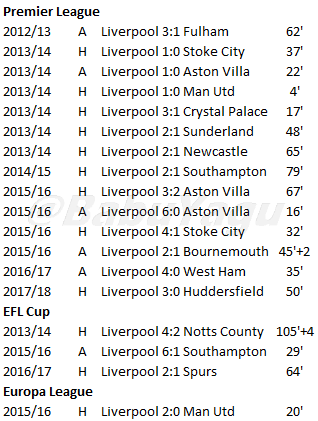 While Salah has been breaking records for fun since he joined the club, one record he is still falls some way short of is Sturridge's record of most game winning goals from a current player, which stands at eighteen – for now.
For Liverpool fans, Daniel Sturridge's name will always take them back to that 2013/14 season and the SaS partnership with Suarez. Sturridge's bagged the game winning goal on six occasions that season, the most memorable of which was this quality piece of goal thievery to win us the game Manchester United at Anfield.
Disagree with the choice of most memorable game winning goals above? Let me know your choices & why in the comments below or come at me on twitter.