---
With reports that Arsenal have withdrawn their contract offer to Aaron Ramsey, news that Liverpool are waiting in the wings to try to prise him away from the Emirates, as well as pictures this week showing agent Oxlade-Chamberlain is on the case at the Ryder Cup, it feels time to ask what would the Welshman offer that would encourage Klopp to add him to his harem of central midfielders?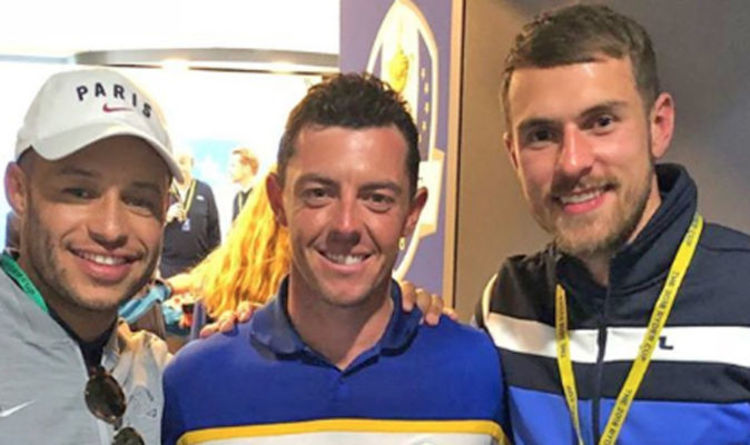 Aaron Ramsey was first linked to Liverpool during the Rafa Benitez era before finally signing for Arsenal in 2008 amid rumours our board would not back Rafa financially to complete the deal.
In that time, he has shown himself to be something of a goalscoring midfielder as well as a creator and regularly seems involved in the build-up to Arsenal's big chances when watching them play. In terms of end product, his eleven goals and twelve assists last season were more than Henderson, Can & Wijnaldum combined – being the three who played most minutes in midfield for Liverpool last season.
How Does He Compare to the Top Midfielders in the League?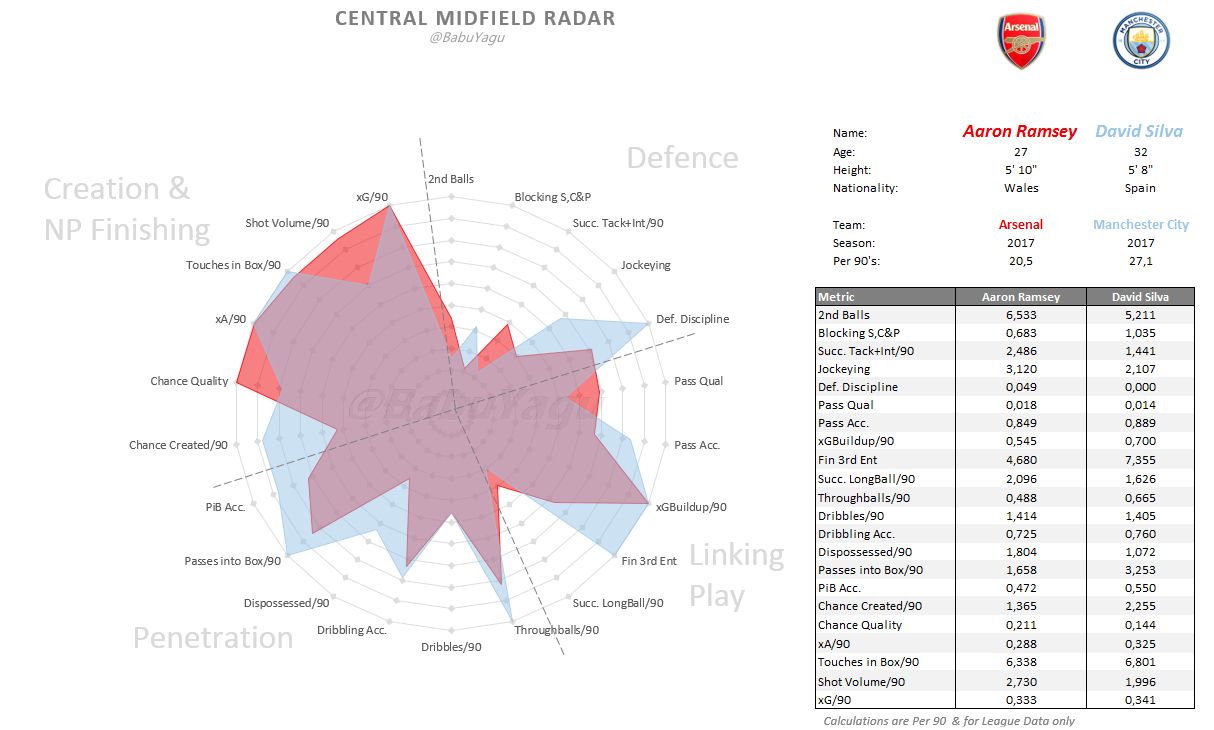 In terms of his all-round game, his radar is quite similar to that of David Silva for Manchester City. That isn't to say they are similar to watch, stylistically. More that the end result in terms of data is similar. David Silva is clearly the better player of the two here, and is perhaps the player with the highest involvement in all phases of play that we have data for. So, anybody with a remotely similar radar shape to Silva's is someone to get excited about.
In the defensive phase of the game, Ramsey looks a lot more combative and seems more determined to win the ball with higher numbers in tackles, interceptions & second balls. Although this may be at the expense of something tactically as he perhaps dives in a little too often getting taken out of the game or conceding a foul.
In early build-up play, they are both putting up elite numbers in terms of xGBuildup (their involvement in their clubs attacking passages of play). Silva is more involved in moving the ball into the final third which perhaps suggests he gets on the ball deeper whereas Ramsey tends to stay higher to play between the lines and receive more in the final third.
In terms of penetration, again things look similar although Silva is just a little more effective at everything. It is his work in the final third, and particularly his end product, that is the main part of Ramsey's game though. Across the board he is putting up elite numbers in terms of the number of assists you can expect from him based on his passes (xA), the quality of the chances he created, the number of touches he is getting in the box, the number of shots he is taking and the number of goals you can expect based on those shots (xG). He is in the top 5% of all midfielders in the top European leagues in our data set here.
So this is clearly the part of his game that we are most attracted to in this signing. Similar to Fekir, he offers elite end product from midfield. While our other, more attacking, options in midfield offer a mix of penetration, high involvement in the build-up play and high defensive output, none of them support the attack at an elite level the way Ramsey would.
What Type of Chances Is He Creating?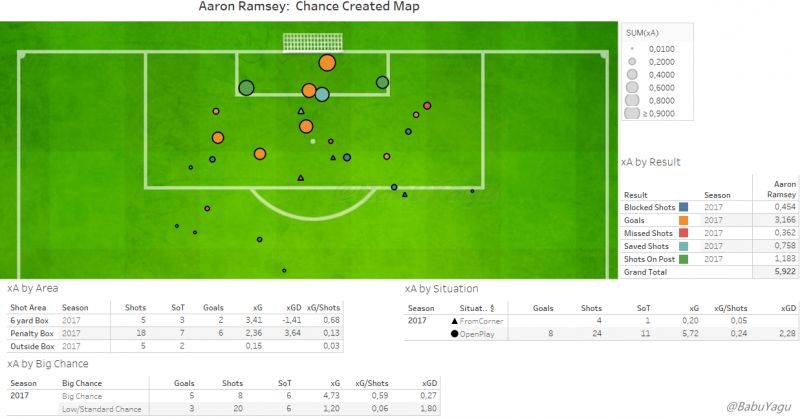 Looking deeper at what he is doing in the final third in terms of creating chances, we can see a large ratio of the chances he creates are what Opta deem "big chances". These are usually chances that are created with a player free of the defence, usually one-on-one with a goalkeeper. Also, all but four of the chances he created were from open play and all but five were inside the penalty box.
So he is looking to get the ball into dangerous areas and looks adept at taking defenders out of the game with his passing in the process to create higher value chances for team mates.
Where is he Shooting From?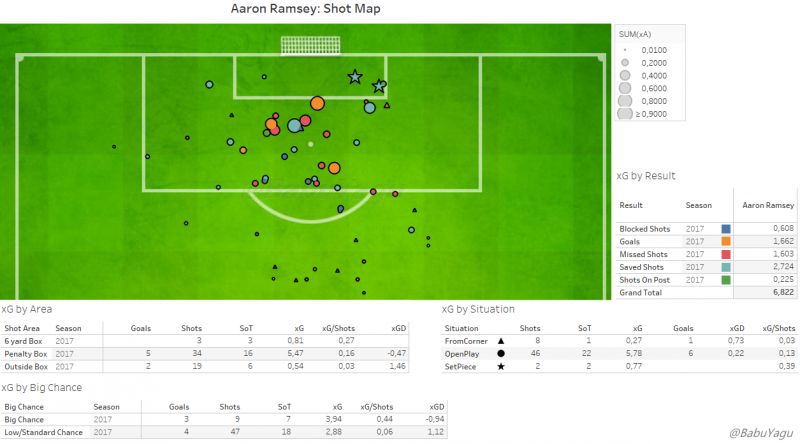 In terms of shooting, his map looks more like that of a striker than a typical midfielder. Almost everything is very central which means we see little waste from taking shots at difficult shooting angles and he is attacking the box well to get into good scoring positions rather than lurk outside the box for long shots. He appears to be attacking from the right half-space into the centre here. This suggests he may partner well with Keita who prefers to operate in the left half-spaces to cut onto his right foot.
Who Could He Replace?
As mentioned, he likes that right half-space, typically occupied by Milner in our system so far this season. With rumours that Milner may be interested in moving to Leeds United should they get promoted this season, he would be someone who could replace, maybe even improve, on Milner's chance creation numbers while also adding goals from open play on top.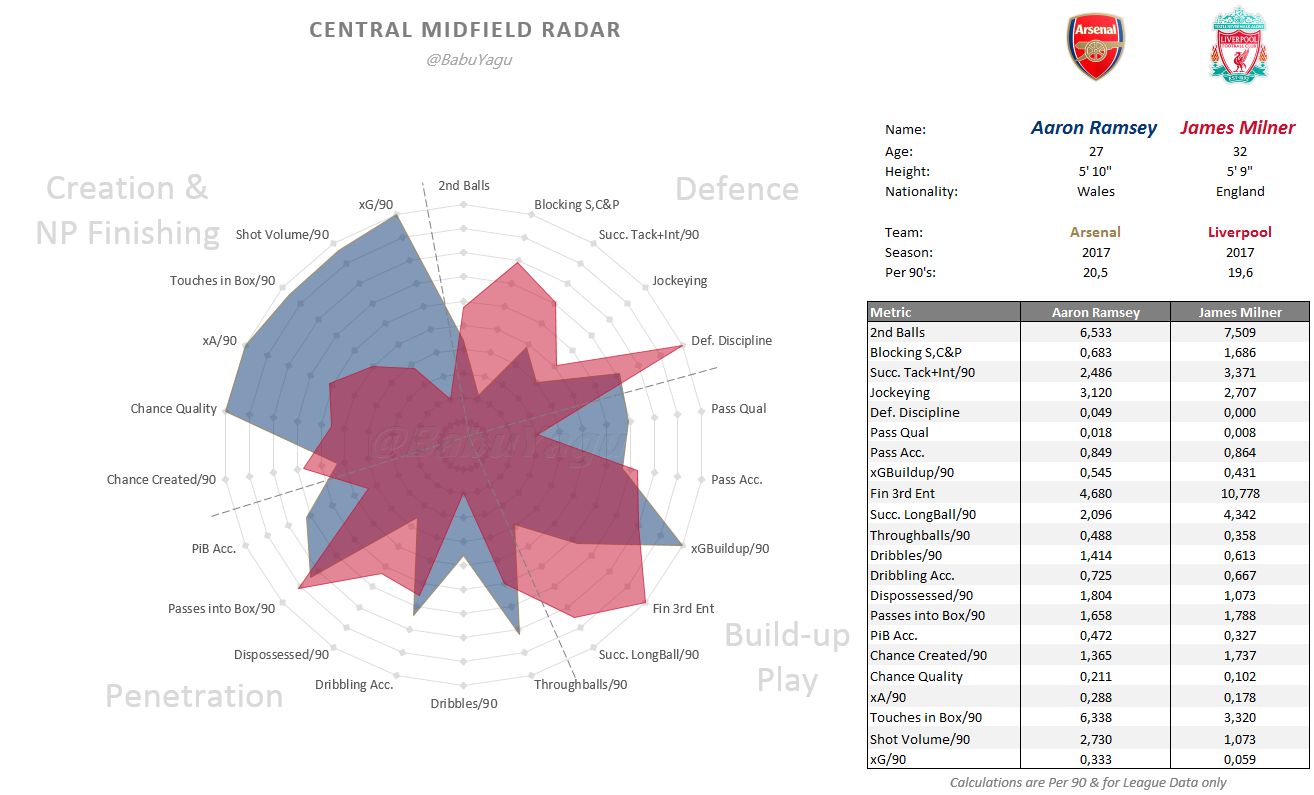 While he is nowhere near as combative as Milner (who is?), this may not be a bad thing. Milner has a tendency to dive into tackles and gets dribbled past or fouls quite a lot. Ramsey would need a period of time to adjust to the system, as with most players Klopp signs, and perhaps his defensive output increases in a more aggressive system compared to that of Wenger.
Milner is also more involved in moving the ball into the final third than Ramsey. This is likely down to Milner being uncomfortable as an interior midfielder. He tends to step out of midfield to get on the ball. Therefore he tends to be move involved in progressing the ball into the final third than being the receiver there.
They are quite similar in terms of penetration, with perhaps Ramsey's added dribbling being useful against a packed defence. Again, where the main difference lies is in the final third where Ramsey's elite numbers here really shine through.
Conclusion
As with Chamberlain before, there seems to be some apprehension about picking up an Arsenal player whose motives are in question. If Ramsey is looking for a big payday then Liverpool would be a poor choice. The initial contracts we offer to players tend to be heavily incentivised and then renegotiated once you have proven yourself in our Red – as we have seen only recently with both Salah & Robertson. So I don't feel any interest in joining Liverpool would be similar to the Sanchez situation at all.
Any player wanting to come here to likely train and work harder than before will do so believing in the project. If the interest is genuine, then it seems likely based on the above that Klopp intends to add a new dimension to our attack with goals from midfield – something it has failed to produce much of in recent times. But will he get past the most difficult obstacle of all? Needing to prove to Klopp you want to be here more than anywhere else.