---
Is This the End of the Creative Slump?
We all remember how we started the season. How we carved open West Ham time and again. The movement of Wijnaldum creating space and angles to break the first line of their press. Firmino dragging their #6, Mark Noble, out of position to create a space to attack in front of their defence.
It was beautiful to watch and a week later we were at it again. First we opened them up with a brilliant turn on the ball deep in our half, followed by a chipped through ball to set Salah away. Twice more we opened them up by using lateral passing to stretch them horizontally to find spaces in the middle, once resulting in a penalty. Then a counter attack late on by Mané finished them off.
We were creating big chances; four per game at the time. This is something that almost every dominant side in a domestic league does. They find a way to break down the sides who 'park the bus' against them by creating a few clear chances per game and putting at least one away.
Who are the Big Chance Creators in Europe?
Coming into the weekend's games, and looking around Europe, it is clear to see how important being able to create big chances is to amassing points in the league.
In the Premier League, Manchester City had created thirty going into the weekend's game; 40% more than any other side at a rate of 3,3 per game.
Serie A leaders, Juventus, are joint top in big-chances with twenty-one; a rate of 2,3 per game.
Bundesliga leaders, Dortmund, had twenty-three; a rate of 2,9 per game and 26% more than Bayern.
La Liga leaders, Barcelona, had twenty-six, which equates to 2,9 per game and 35% more than Real Madrid.
Ligue 1's dominant side, PSG, had a whopping thirty-seven.  That is 3,7 per game and more than double the nearest side, Lille, who had just seventeen.
So it's quite clear that being able to create big chances is key to opening up sides and, in turn, amassing points by ensuring you turn draws into victories against sides who turn up playing for a point. So it was incredibly worrying that since those opening two games, we had created just seven big chances. That is an average of just one per game and three of those came in the draw against Chelsea – and came from counter-pressing rather than breaking them down.
Big Chances for Liverpool per Game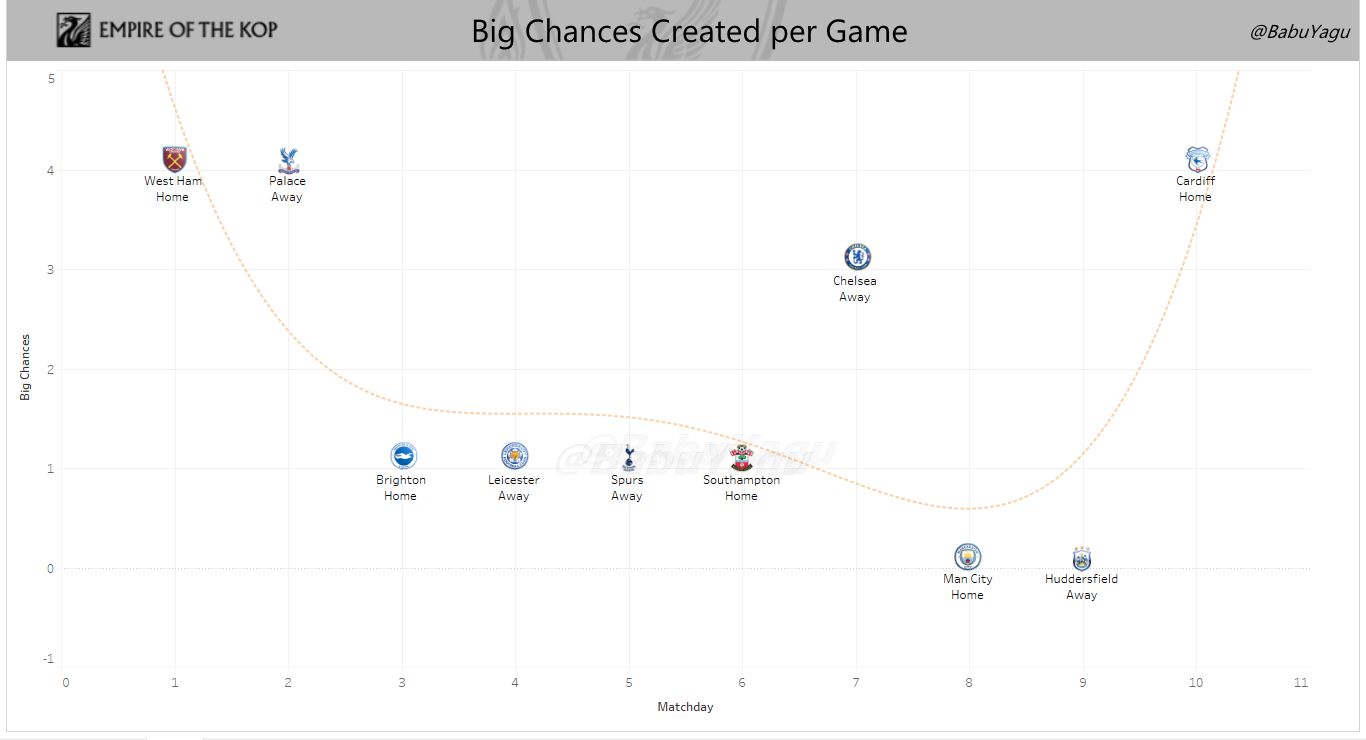 As you can see with the trend line above we have been grinding out wins despite struggling to open sides up since the opening weeks of the season. After the high of back-to-back matches of creating four per game, bar Chelsea, it has been one or zero every game since.
There are many possible reasons for this. The first which springs to mind, with this being Liverpool, is gegenpressing. It is, after all, 'the best playmaker in the world' according to Klopp.  This would go some way to explaining the Chelsea game where our chances came from forcing errors rather than creating chances in possession.
So the first question is, whether the amount we are pressing sides is correlating with the trend of big chances above.
Is Gegenpressing on the Decline?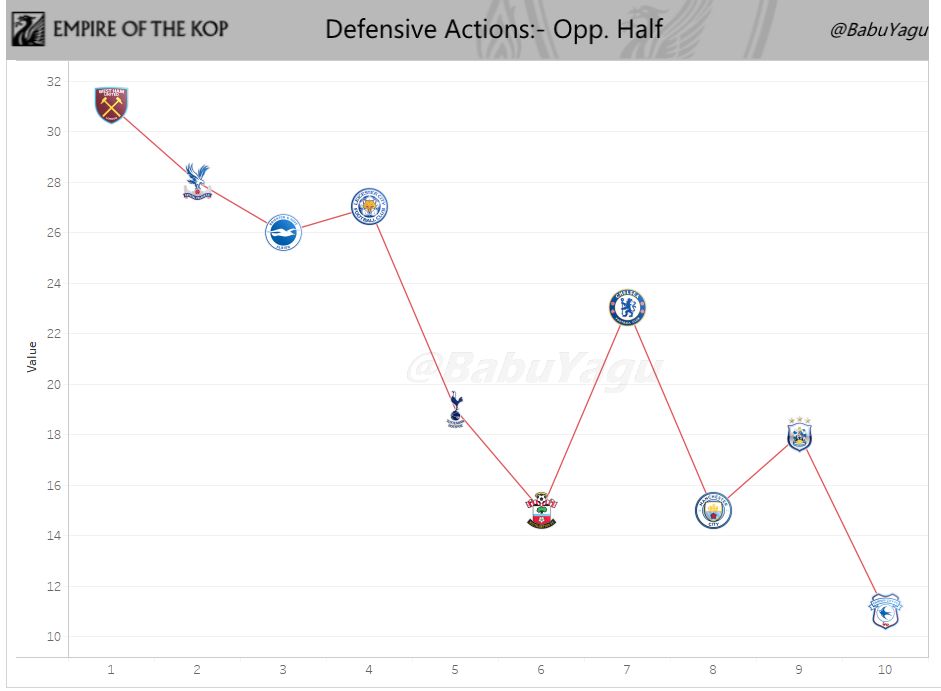 It is immediately clear that we are having fewer defensive actions in the opponents half almost from one game to the next. It also nicely explains the Chelsea blip above where a spike appears on both graphs. However, we must remember that correlation does not imply causation.
Indeed, after the initial glance it does leave us with some questions. Firstly, the big chances we created in the first two games of the season were not really from gegenpressing. In the West Ham, the first three big chances were all built-up from defence. The fourth was a corner scored by Sturridge.
Likewise, the first three big chances against Palace (including the penalty we won) all came from building up play in defence. The fourth was Mané's goal in injury time on the counter after successfully defending a Palace corner.
In addition, the game where we have the fewest defensive actions in the opponents half, against Cardiff last weekend, we again have four big chances.
This Ain't It, Chief
So we can safely say that gegenpressing hasn't been crucial to opening up sides this season, bar the Chelsea game. This suggests that against top sides it is still a viable, and perhaps our most potent, weapon. It is perhaps why Manchester City were unusually cautious when playing us too and why we failed to open them up in the ways we did last season.
Looking again at the games where we had a lot of success in creating big chances, it is noticeable the composition of the midfield included someone who could provide central penetration. Against both West Ham & Palace, it was Keita involved as part of the midfield three. He was actually involved in three of the four chances against West Ham and two of the four against Palace.
Then against Cardiff, we had a midfield two and Lallana was added to drift in between the lines in a similar fashion. Shaqiri was then added later in the game, who did exactly this to brilliant effect, popping up with the third goal.
When thinking of the chances being created in those games, short and long through balls were effective from central areas in opening up sides for the chance. So is there any correlation between the number of goals we can expect to score in a game (xG) and the number of through-balls and/or crosses we are making per game?
The Effectiveness of Crosses & Through-balls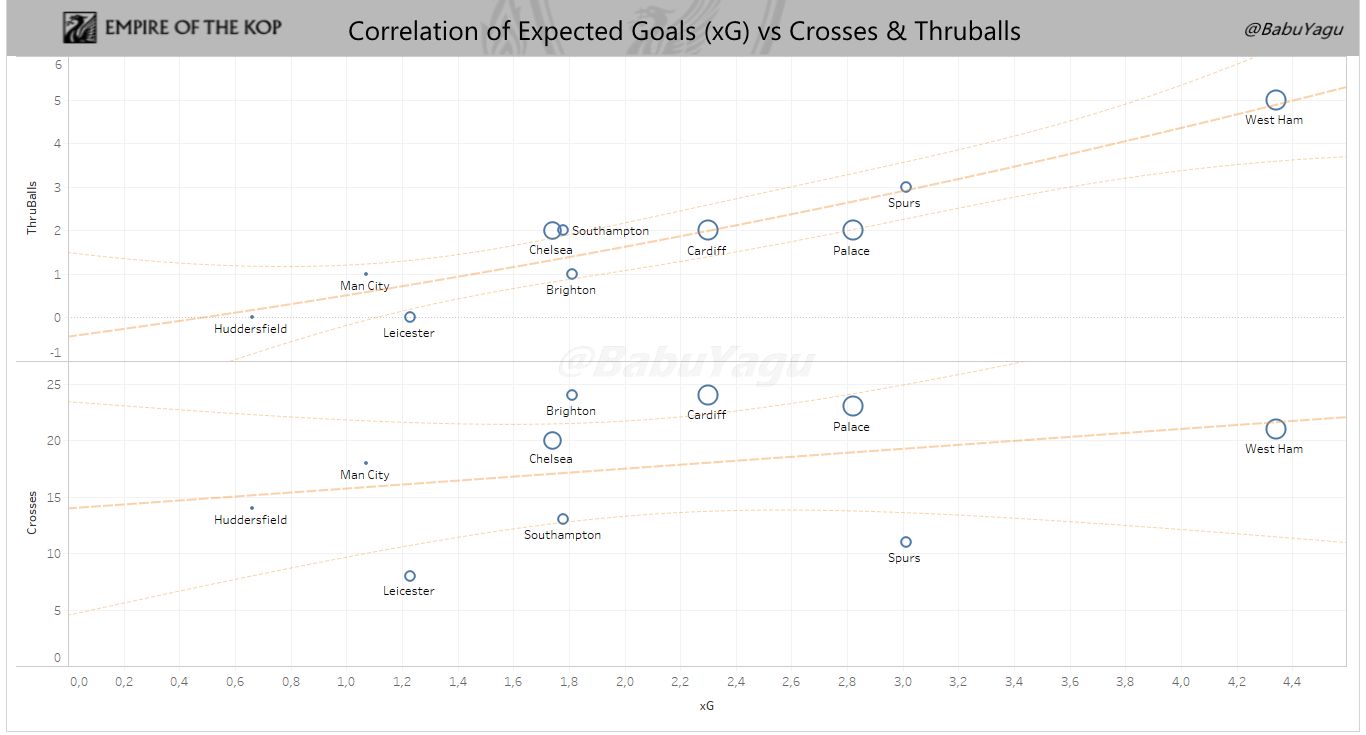 Here there is an immediate and strong correlation here between the number of through-balls we are making per game and our xG for that game. There is also no correlation between the number of crosses and our xG.
So perhaps the main issue preventing us from creating big chances was a lack of balance in midfield. Generally, the balance looked good in 2016 with Henderson sitting, Gini running & Lallana penetrating/creating. It also looked good also last season when Chamberlain replaced Lallana as the penetrative midfielder. Then initially this season with Keita as the penetrative player with Milner running & Wijnaldum sitting. When Keita began struggling and fell out of the side, our ability to create chances went with him.
It is noticeable when both Henderson and Milner are involved in our midfield, their tendency to drift outside the opponents shape to get on the ball results in us building up play more through the flanks. This naturally results in more crosses from the flanks and fewer through-balls.
Therefore, when our midfield needs to rely on these players, we lose a dimension in our attack to play these central through balls. Something that may be integral to our ability to open up sides, particularly those who play a low-block.
Who or What Changed?
It seems as though we have regained that ability to create big chances once more though as we have rediscovered that balance in midfield. Against Red Star Belgrade, we had five through balls, an expected goals of 4,44xG and created a whopping NINE big chances.
The double pivot of Fabinho and Wijnaldum are both comfortable in playing inside the opponents shape. They have press resistance to receive in, and escape from, pressure and then find our players in between the lines.
This does look very familiar to Klopp's strongest sides. A number #6 who can dominate his zone both on the ground and in the air (Bender/Kehl). A supporting midfielder adept at linking play (Gundogan/Sahin). Then at least one player who will play between the lines (Gotze/Kagawa/Mkhitaryan).
I suspect this is what Klopp had in mind with his pursuit of Fekir in the summer who looks perfect for the role also, more so than the central roles in a 4-3-3. The good news, he seems to have found a formula that works for him once more.
The better news would be that he seemed intent on making it even better.