---
Jurgen Klopp admits Xherdan Shaqiri is understanding of the decision to omit him from the Liverpool squad travelling to face Red Star Belgrade.
The club arrived at the decision to leave the Swiss international at home on Merseyside in order to avoid fuelling further political tensions.
Shaqiri has been subject to fiery backlash from Serbia fans over his Albanian-Kosovan heritage, which he publicly paid tribute to during last summer's World Cup.
The feud stems from Serbia refusing to recognise Kosovo as an independent state, which has also led to Arsenal's Granit Xhaka speaking out on the matter having been born to Albanian parents.
Discussing Shaqiri's omission, Klopp told Liverpoolfc.com: "We have heard and read the speculation and talk about what kind of reception Shaq would receive and although we have no idea what would happen, we want to go there and be focused 100 per cent on football and not have to think about anything else, that's all."
"We are keen to be respectful and keen to avoid any distractions that would take focus away from a 90-minute-plus contest that is important for football and only football. So for that reason, Shaq is not involved and he accepts and understands this. Shaq is our player, we love him, and he will play for us a lot of times, but not on Tuesday."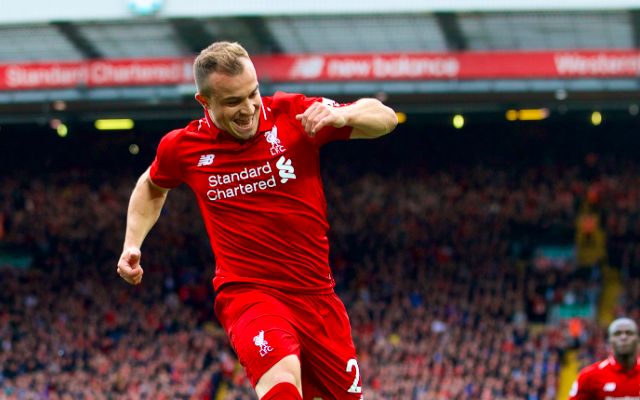 SEE MORE:
Liverpool star labelled 'Footballer of the Year' frontrunner ahead of Eden Hazard
Red Star fans were banned from entering Anfield for Liverpool's recent 4-0 win in the first Champions League meeting between the two sides.
This was part of a punishment for the club after fans invaded the pitch and set off fireworks following their 2-2 draw with RB Salzburg, which saw them qualify for the group stages of the competition thanks to away goals.
As something of a minor preview for what may be awaiting Shaqiri in Belgrade, the small selection of supporters that did manage to gain entry into the stadium were heard jeering the summer signing every time he touched the ball.
Liverpool will meanwhile be without skipper Jordan Henderson again due to the hamstring problem that saw him substituted at half-time of the 1-0 win over Huddersfield.
In a welcomed fitness boost, Naby Keita and Dejan Lovren have both been named as part of the 21-man squad after seemingly shaking off their respective injuries.