---
David Beckham insists Jurgen Klopp's celebrations during Liverpool's Merseyside derby win reflect what football should be all about.
The Reds boss has been charged by the FA with misconduct after invading the pitch to celebrate Divock Origi's 96th minute goal against Everton on Sunday.
Klopp burst from his dugout to hug goalkeeper Alisson having seen Jordan Pickford's calamitous error gift his side three points.
His reaction has since evidently divided opinion, with Beckham one of the latest to defend the German for doing what no manager in world football could be blamed for doing after such a thrilling finish.
Reacting to Klopp's charge on Instagram, Beckham wrote: "For celebrating🙈. Shows passion and what the game is all about… Last minute winner, who wouldn't do this? Even if it is Liverpool, let the man celebrate🤣."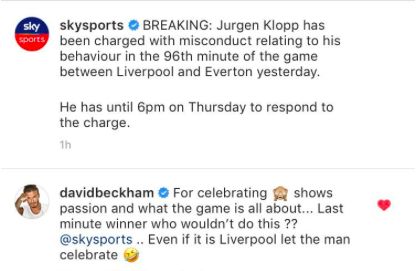 SEE MORE:
(Video) Mainz share must-watch Jurgen Klopp throwback after derby celebrations
Klopp was notably quick to apologise for his actions after the game in concern that he may have caused offence to Marco Silva and his players.
He told Sky Sports: "I have to apologise because I didn't want to be disrespectful but I couldn't stop myself. It just happened."
"The plan was not to run on. When I chose to stop I was close to Alisson. He was surprised! It was the last situation of the game. Both teams delivered an unbelievable fight."
To criticise him for behaving as he did is to overlook the passion and the raw emotion that makes football so much more than a sport for some people.
FA charge or not, it was undoubtedly worth it.