---
Virgil van Dijk showed his light-hearted side when helping Alisson get over his mistake during Liverpool's 3-1 win over Manchester United.
The Brazilian was visibly furious with himself after mishandling Romelu Lukaku's cross into the path of Jesse Lingard for an undeserved equaliser on Sunday.
His blushes were rightly spared when Xherdan Shaqiri came off the bench in the second half to score a late brace and extend the Reds' unbeaten Premier League record.
Replays captured Van Dijk as the first to lift his goalkeeper off the turf immediately after his blunder, with the Dutchman having evidently been able to see the funny side.
He told Liverpoolfc.com: "I said to him, 'We have no clean sheet because of you! Why did you ruin the clean sheet?'
"I made a joke out of it. He's been fantastic for us. It happens, everyone makes mistakes. You see it a lot… maybe I didn't react as well as maybe I could have. It happens sometimes. We had to all bounce back and we did."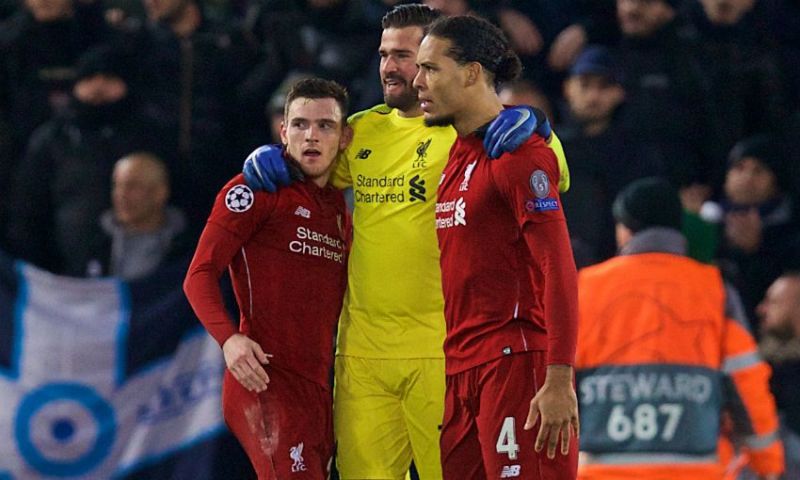 SEE MORE:
Liverpool 'haven't said' they want to sell forward – despite talk of January move
Alisson has been otherwise outstanding since his £67million summer move from Roma, keeping an impressive 14 clean sheets across all competitions.
The incident proved a perfect reflection of life between the sticks as a frustrating individual error followed on from the ecstasy surrounding his vital 92nd minute save in the 1-0 Champions League win over Napoli.
For Van Dijk to be able to poke fun at the situation in the manner he did is yet another beacon of the togetherness of this squad, not to mention to resilience and confidence flowing through it.
A key aspect to Alisson's influence has been his ability to recalibrate mentally and ensure any mishaps, whether minor or major, don't impact the rest of his performance.
The mistake went unpunished. All is forgiven and forgotten.