---
It was asked before kick-off whether this was the best or worst time for Bournemouth to play Liverpool. Judging by what followed, it was most certainly the latter.
A fierce Liverpool display confined Eddie Howe's side to a rather rigid role on a one-sided script played out in front of an electric Anfield atmosphere.
The Reds responded to successive draws exactly as they needed to, penning the visitors in their own half and showing zero attacking restraint.
Jurgen Klopp's front three restored some cohesion, there was a return of much-needed self-assurance at the back and Liverpool rediscovered the unrivalled intensity that has fuelled their success over the last year or two.
Bournemouth's suffocation was somewhat underlined early in the second half, with five Liverpool players swarming Adam Smith amid his efforts to carry the ball out from the back after stopping an initial attack from the hosts.
It marked a reflection of Liverpool's unrelenting approach, particularly underlining the all-action influence of Fabinho, Georginio Wijnaldum and Naby Keita.
If ever there was a clip to sum up Klopp's demands…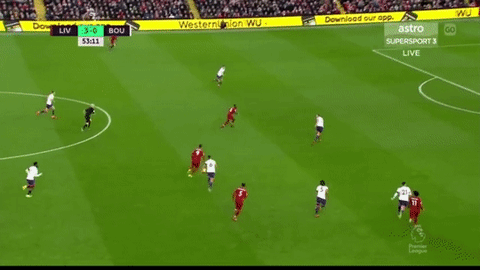 SEE MORE:
(Video) Carragher singing 'Allez, Allez, Allez!' is the best thing you'll watch today