---
It's Valentine's Day and Dejan Lovren finds himself on the wrong side of an emerging love triangle at Liverpool.
Hamstring could soon become heartstrings in regards to the injury that is currently keeping him on the sidelines at Anfield.
The Croatian was recently left at home for the Reds' warm-weather training camp in Marbella in order to continue his recovery.
In his absence, Andrew Robertson has been pictured caressing the now beardless face of Mohamed Salah, evidently much to the Egyptian's liking.
Such is Lovren's disapproval that the defender has taken to Instagram to make himself heard.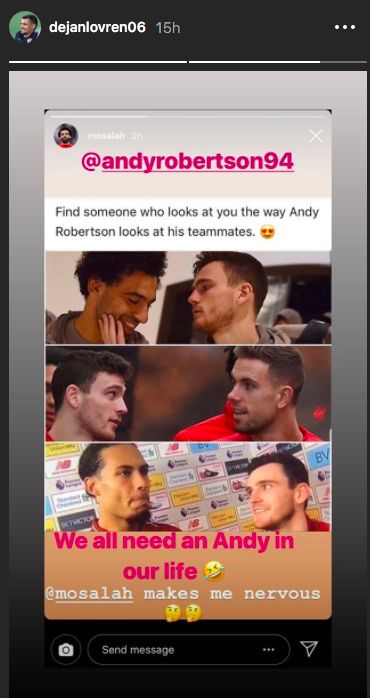 SEE MORE:
(Video) Alisson joins musician Jamie Webster for superb guitar session
Lovren and Salah have been somewhat inseparable since the latter's arrival on Merseyside back in summer 2017, with the defender helping him settle back into life in England.
Discussing their relationship back in October, Lovren told COPA 90: "From day one, we felt this connection."
"We have been talking a lot, we were talking about private things and we have a similar background, a tough life from the beginning."
This marks the latest hiccup in their relationship, following on from a picture Salah posted in December of him celebrating Fabinho's first Liverpool goal whilst a lonely Lovren watches on in the background.
As seen time and time again, however, the centre-back just can't stay mad at his close friend.