---
Liverpool's full-backs were at their very best when Liverpool trounced Watford 5-0. Trent Alexander-Arnold and Andy Robertson were quite simply unplayable.
This does come down to a few factors; the introduction of Divock Origi on the left wing did seem to allow Robbo an extra bit of room to operate. Something similar can be said of Trent along the right hand side too.
After watching such a performance it's unsurprising that there's been quite a bit of analysis done on our defensive (offensive) duo – and the statistics are very exciting.
It turns out that Trent and Robbo are the two most creative fullbacks in the Premier League this season – and even then it's by some distance.
Anfield Index are the guys with the numbers here. Robbo leads the way for the defenders with a contribution of eight assists this season and Trent is only slightly behind with six assists and one goal.
Robbo has an xA of 0.21 per 90 minutes of football and Trent has an xA of 0.23; these numbers are effected by how much football the lads have played this season: Robbo has 27 appearances and Trent has 20.
For the stats nerds – like me – here's a breakdown of the best attacking full backs in the league: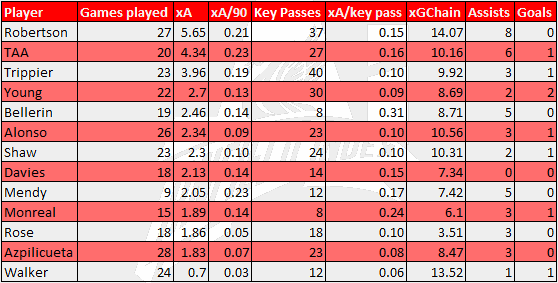 The positioning of our lads in this table is brilliant considering it's only Robbo's second season and Trent is still just 20-years-old.