---
Philippe Coutinho has been in the news for all the wrong reasons of late, but the former Reds star took to social media to congratulate Roberto Firmino for his brace against Burnley.
After scoring twice in the 4-2 win against Burnley on Sunday, Phil felt the need to message Bobby on Instagram.
He commented, "Joga muito…. Craque" – which very roughly translates to "Plays very ace." Coutinho finished off his praise for Firmino with two applauding emojis.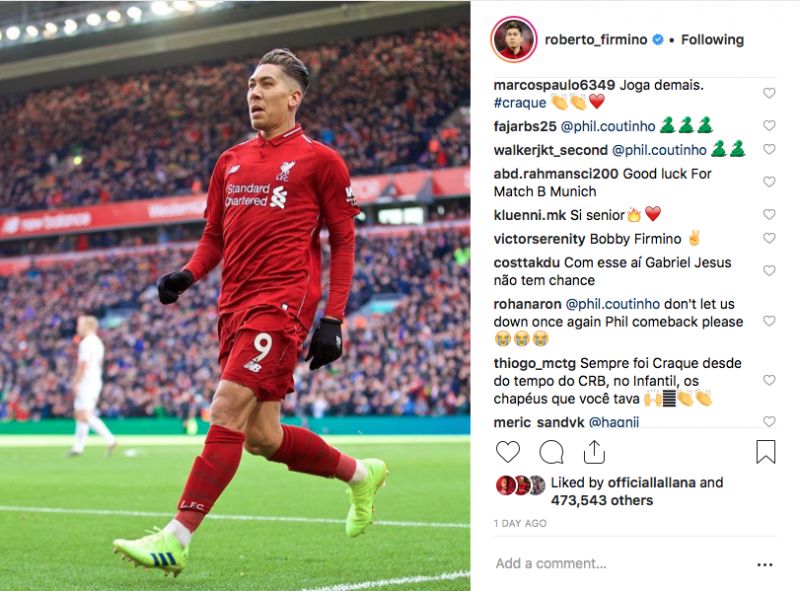 To be honest, we're not really sure what to make of this. We loved Coutinho when he was with us and his numbers were pretty incredible – 54 goals and 45 assists in just over 200 games.
But the way he orchestrated his move away to Barçelona left a sour taste in the mouth. A look at the comments on Firmino's Instagram post shows that there are a lot of fans are still not over it.
Coutinho was apparently booed off at the Nou Camp on his Saturday showing against Rayo Vallecano after being subbed with ten minutes to go.
The former Liverpool man has endured a tough few months at Barça and only has four league goals to his name.
He's struggled to live up to that massive £142m price tag and will never replace Andrés Iniesta.
Now, with talk of a move to Manchester United, it looks like Coutinho's fall from Anfield grace has accumulated a lot more velocity.