---
Since the draw was made for the Quarter Final stage of the UEFA Champions League, many Liverpool fans have been quietly confident that we would be seeing a Barcelona v Liverpool Semi-Final match-up. Now that match is on our doorstep and thoughts have turned to Barcelona, Lionel Messi, Luis Suárez, Philippe Coutinho, Ousmane Dembélé et al. How do we stop them? How do we hurt them?
How indeed!
Drawing Inspiration
As an avid watcher of Real Betis, there has been one particular game that has been stuck in my mind since the draw was made.
Back in November 2018, Real Betis travelled to Barcelona and shocked many with a stunning performance ending in a 3-4 victory for Los Verdiblancos. There was some luck involved, of course. Not least, when Marc-André ter Stegen reminded us of his early days at Barcelona with a howler, allowing a shot to go right through him.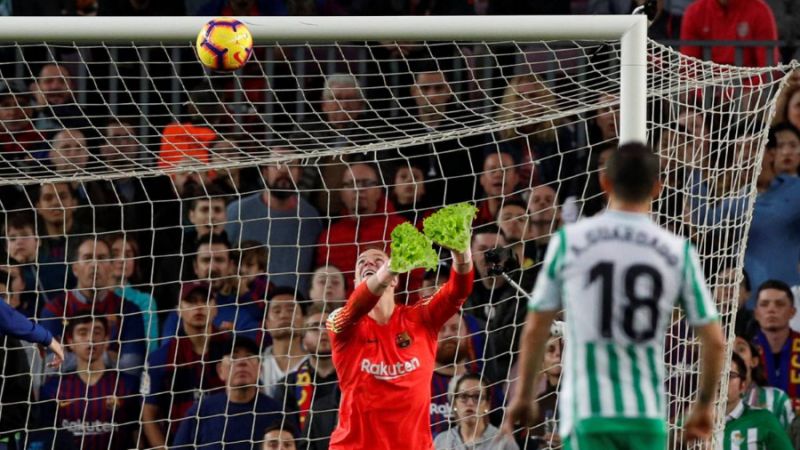 Los Béticos were a bad match-up for Barca that day, stylistically speaking. Quique Setién's side are brave in possession, particularly in the early build-up phase. They know how to solve problems tactically and technically on the pitch. As individuals under pressure, they can open up spaces and expose sides who press them high.
Their goalkeeper, Pau López, is comfortable in possession to be the free man, as are their defenders. Betis are excellent at transferring their freeman from back to front then exploiting the space that appears under pressure.
A good example of how Liverpool also attempt to do so, has been the forays into midfield by Joel Matip. As a central defender, you often find only one forward attempting to mark both central defenders. This is done to allow sides to match up 1-v-1 all over the pitch and have an spare covering defender in the deepest line.
The best of Joel Matip playing out from the back – 18/19 pic.twitter.com/HsYGWZJ6ZQ

— Harry (@HS_10Ftbol) April 22, 2019
This means for both sides, a central defender is the free man. As the attacking team, your aim is to transfer that free man up the pitch. So, for example, Joel Matip steps into midfield with the ball and this forces the opposition to close him down. As everyone is already 1-v-1 in midfield, this means any midfielder closing him down is leaving another player free. If they don't close Matip down, then he can just keep advancing until they do.
You then move the ball onto the free man this run has created. The opposition then need to close this player down also. This starts a chain-reaction in the opponents shape. As they move to close down each player, the free man transfers elsewhere in their shape. Also, by moving to close players down, spaces also start to appear.
Ultimately the aim of the attacking team is to create space and then exploit it. This is what Betis were ruthless at doing on the day. Inviting pressure, forcing Barcelona to close down the freeman in possession, then exploiting ruthlessly the space this was creating.
Another facet to their game is how they press then counter quickly, and in large numbers, looking to exploit any mistakes the opponent makes in their own 3rd under pressure. This is literally what Jurgen Klopp built his career out of in the Bundesliga. We also saw Barcelona, and particularly Sergio Busquets, struggle with this in the first leg against Manchester United.
One last thing to pay attention to in the above video is how narrow Barcelona's back four become when defending. Their full backs narrowed to compress the spaces between themselves and their centre-halves which Joaquín and Loren Morón were aiming to exploit. This allowed the Real Betis wing-backs far too much time and space in the high, wide areas of the pitch. Their midfielders couldn't get out to help solve the problem as it would leave a numerical advantage in midfield to Betis. The wingers for Barca didn't track back either.
This is where Barcelona may have a real issue against this Liverpool side. Salah and Mané are a far greater threat than any player Betis have in attack. They also like to narrow and therefore the entire Barcelona back-line may find themselves compressed into their own box. At times in the clip, you can almost fit their back-line into the 6-yard box!
This will then give the players responsible for most of the creative output in this Liverpool side, Trent Alexander-Arnold and Andrew Robertson, a lot of time and space in areas of the pitch they can do real damage. With our midfielders arriving on the scene at the edge of the box looking for cut-backs, not to mention the elite movement Sadio Mané in particular has shown to find space to be picked out with crosses in recent weeks, this Liverpool side could be a real nightmare of a match-up for Barcelona at the moment.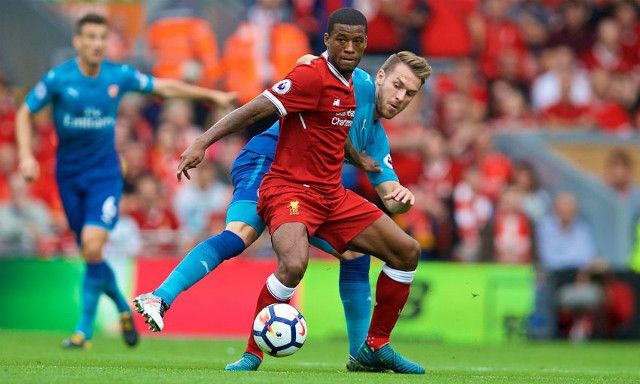 Midfield Battle
Press Resistance has become a buzz word in football as of late. It was something that was highlighted as an issue with our midfield after the Europa League final of 2016, when our team managed to get broken up into parts and ring-fenced from each other. The midfield was disconnected from the defence. The attack was isolated and couldn't get into the game. The full backs were isolated on the flanks and unable to move the play forward or in-field.
Our midfield duo on that day was Emre Can and James Milner. Players who may be effective in many things, and love a tackle, but they are definitely not press resistant.
Press resistant players tend to be on a high level both tactically and technically. Tactically because they need elite awareness. They need to know where the space is on the pitch and where every player is in relation to them at the moment they receive the ball. Technically, because they need to have the ability to turn, while under pressure, on the ball. They need to be able to drop their hips to give them a lower centre of gravity and therefore better balance to shield the ball allowing them to roll an opponent.
We then saw the same problem appear in the Champions League final last season. While many other things went on in that match which contributed to our demise, our midfield's inability to escape pressure, turn, get their head up and find the players ahead of them on the pitch was certainly a contributing factor.
Recently, Liverpool Assistant Manager, Pep Lijnders, mentioned that before the final, a conversation took place with Jurgen Klopp revealing a mutual understanding that their biggest issue as a team was in midfield. This lack of press resistance, which in turn limits their ability to stay compact as a side and negatively impacts on their ability to both progress the ball up the pitch and counter-press when it is lost, was clearly the main issue. In Fabinho and Naby Keita, as well as the targeting of Nabil Fekir, Liverpool are looking at the right players to solve this issue in the side.
Therefore the updated table to demonstrate press resistance using take-ons in the defensive half of the pitch is:- pic.twitter.com/XBBHYdBVUB

— BabuYagu ✍️⚽ (@babuyagu) September 10, 2018
The problem for Liverpool this season has been the time taken to bed those players into the side. The absence of Alex Oxlade-Chamberlain and, of course, the failure to sign Nabil Fekir due to complications in his medical.
Similar to last season with Chamberlain, Fabinho and Naby Keita now look more settled and involved in the first team. However, will Klopp trust them with a big semi-final at the Camp Nou? Is Fabinho 100% after his possible concussion?
So there is a worry about certain players who are potential starters in terms of their press resistance in midfield. However, the pressing and counter attacking traits which Barcelona struggled with against Real Betis are the hallmark of this Liverpool side. Despite the evolution of Klopp's side, we remain at our most dangerous when a team is attempting to pin us back and leaving space for us to exploit in behind them with Mané and Salah.
This means so much of this game could rest on the combination in midfield. We need a trio who can rattle Busquets, close spaces quickly to implement pressing traps in and around Barca high up the pitch. We also need that press resistance though. If Barca aim to pin us back, compress the pitch and turn the midfield into a tactical/technical battle in the same way Sevilla and Real Madrid did in the past – we need the tools in there to escape those situations and play out of pressure. You cannot get your head up and pick out runners if keeping possession of the ball is a struggle when you receive it.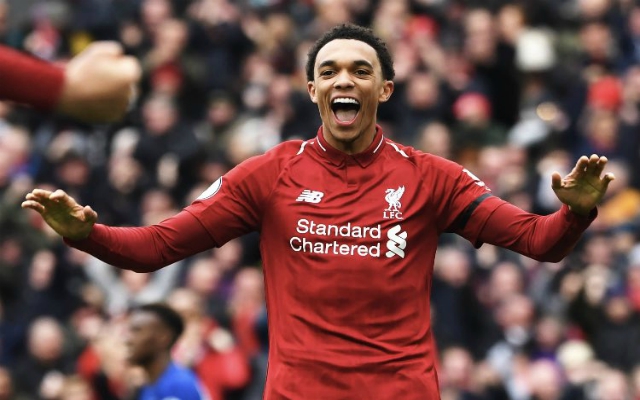 Stop Dembélé vs Exploiting Barca's left flank
This will be another key area of the pitch we need to get right on Wednesday night. Earlier in the season, Liverpool dominated PSG down that side of the pitch. Neymar had little interest in being an auxiliary full back that evening and it allowed Trent all the space and time in the world to hurt the Parisians down that side.
Will Klopp look to use Alexander-Arnold there again in similar fashion? Will Joe Gomez get a surprise inclusion to match the pace and physicality of Dembélé? We may even see Mané shifted over to that side of the pitch to offer some protection.
Regardless, we need the legs on the pitch to match someone like Dembélé on the counter. There will always be times when our full backs get caught ahead of the ball and the midfield need to drop into those areas to protect us against counter attacks. Against a player such as Dembélé, you simply cannot dive in to try and win the ball. Staying up, jockeying and trying to delay him until support arrives is the best way to minimize the damage such players will do to you on the counter.
Liverpool's shape and line-up
Trent is most likely to start as Klopp will want to use the space on the flanks to hurt Barcelona. Matip is also very likely to come back into the starting XI, as Barca's system will likely leave either of our centre backs as the free man while Suarez is pressing the other.
In midfield, Milner and Fabinho are well rested. Gini was brought off at the weekend, likely with a view to start here. Henderson and Keita played the full ninety at the weekend. Therefore one, if not both, will likely be rested here.
In terms of formation, there are two directions Liverpool can go in here, 4-3-3 or 4-2-3-1.
If Fabinho plays, we likely see the latter. He can struggle with the spaces either side of him when top players drift into them and look to switch the play across the half spaces quickly. It also prevents him stepping out and being aggressive if he knows the likes of Messi or Coutinho will quickly move into the area he is vacating to exploit the space.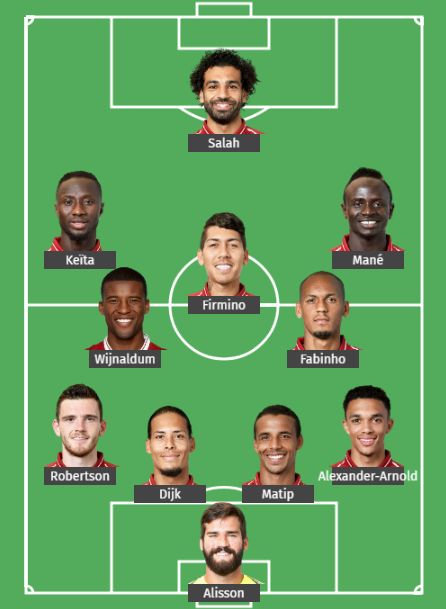 Therefore we would see a 4-2-3-1 with Gini (left) and Fabinho (right). This would provide excellent balance with the very calm influence of Wijnaldum on Messi's side of the pitch. Someone who doesn't dive in and will simply look to prevent Messi going past him while looking for supporting defenders to come in and take the ball.
If we were to start with that formation, it's likely we then see Keita in front of Robertson. Someone who will track back and help out defensively. Who will also tuck into midfield to prevent us getting out-numbered and who will come inside to encourage Semedo to narrow, allowing Robertson space to move into and exploit.
On the right, we would then likely see Mané start. This would offer Trent more protection than Salah would in that position to help deal with the threat of Alba and (likely) Dembélé. It also allows Salah to conserve his energy by staying high up the pitch rather than getting pinned back like an auxiliary full back or needing to chase Alba up and down the pitch all night. This should save his explosive energy for where we want him to use it most.
Alternatively, we may see the tried and trusted 4-3-3 formation. If either Milner or Henderson are going to start the match, we will likely see this formation used instead.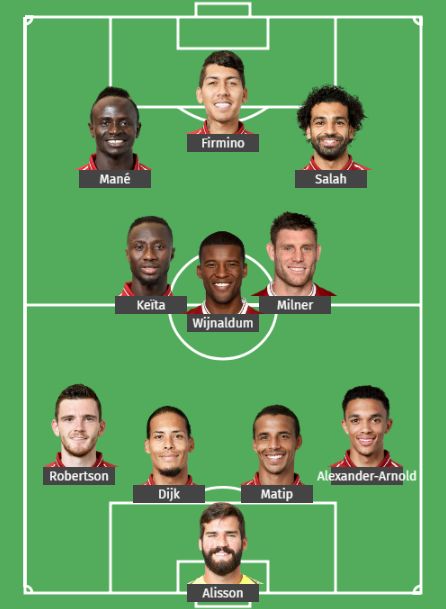 Firmino is likely to drop in and visit Busquets in midfield when Barca are in possession to disrupt their early build-up play. This will essentially give us a diamond in midfield at times. The two #8s would be responsible for moving wide when the ball is their side to support the full backs. The other two midfielders + Firmino helping us maintain a 3-v-3 in midfield against Busquets, Rakitic and Arthur.
This will mean we likely offer Barcelona space ball far side and encourage them to attempt more risky cross field balls in the hope we can pick a few of them off and quickly counter into the spaces around Busquets.
How to stop it getting Messi?
Lastly, regardless of how we play, we need a plan to minimize the impact of Messi on the game. This is easier said than done, of course. For Liverpool, this will mean not tracking him towards his own defence. While he is dangerous in deep positions with his passing – if he wants to move away from our goal in search of the ball to act as a deep controller during the game – he is less of a threat to us in those positions than playing in and around our box.
Messi highlighted the threat he can be from these positions in the build-up to Coutinho's goal against Manchester United just two weeks back. However, if you defend the way Manchester United did by giving up that much space between your lines to exploit, then it doesn't really matter where Messi is picking the ball up. He's going to kill you.