---
The Premier League is making some fairly sizeable changes to its rules ahead of next season – most of which seems fairly sensible.
We've included an image that outlines the key switch-ups, including the introduction of yellow cards for managers and the eradication of the old-school drop-ball!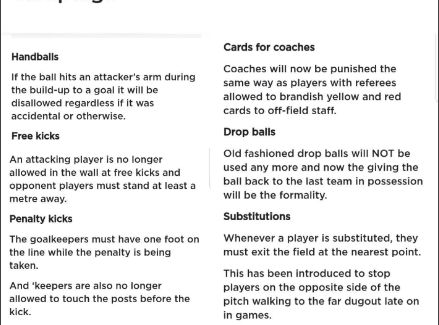 There's not a lot we'd argue with, in truth.
Making the hand-ball rule simpler is a good thing, although really, it needs to be changed in terms of the defender as well – as it currently makes no sense and is used inconsistently.
Drop-balls are fun, but quite pointless, so this is smart.
We don't see a massive problem with keepers touching the posts, but keeping them on the line until the ball is struck is fair.
Subs should leave at the nearest exit point, too – although we'll be intrigued to see how this makes fans behave as they're walking around the pitch.
The freekick rule sounds quite difficult to enforce, but yellow cards for managers is hilarious!
What's the difference between a booking a straight red? Does the boss have to turn around and show his number?!