---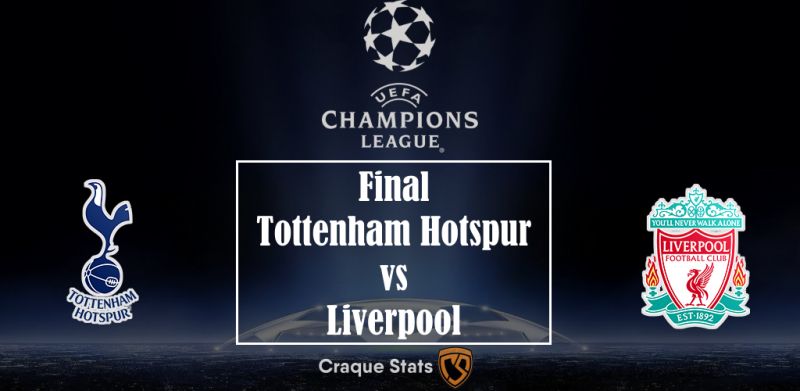 Having previewed the final, analysed the attacking stats of the two teams and assessed their play in counter-attacks and set-pieces, we now turn our attention the key creative players in each team.
After Liverpool's 2-2 draw with Sevilla last season, Jurgen Klopp stated that the "most important thing in football is creating chances".
He re-iterated his point earlier this season when defending Salah during his mini-drought. "If you talk about the team and it hasn't scored for two or three games, you say okay…. but as long as we create the chances everything is fine," Klopp said. "The moment we don't create chances that's when we have the problem. That's the 100% truth. It's not the answer people want to hear but it is the truth."
Therefore, let us take a moment to look at the game through the eyes of Klopp and try to understand who is responsible for 'the most important thing in football'.
Breaking Down Spurs' Chances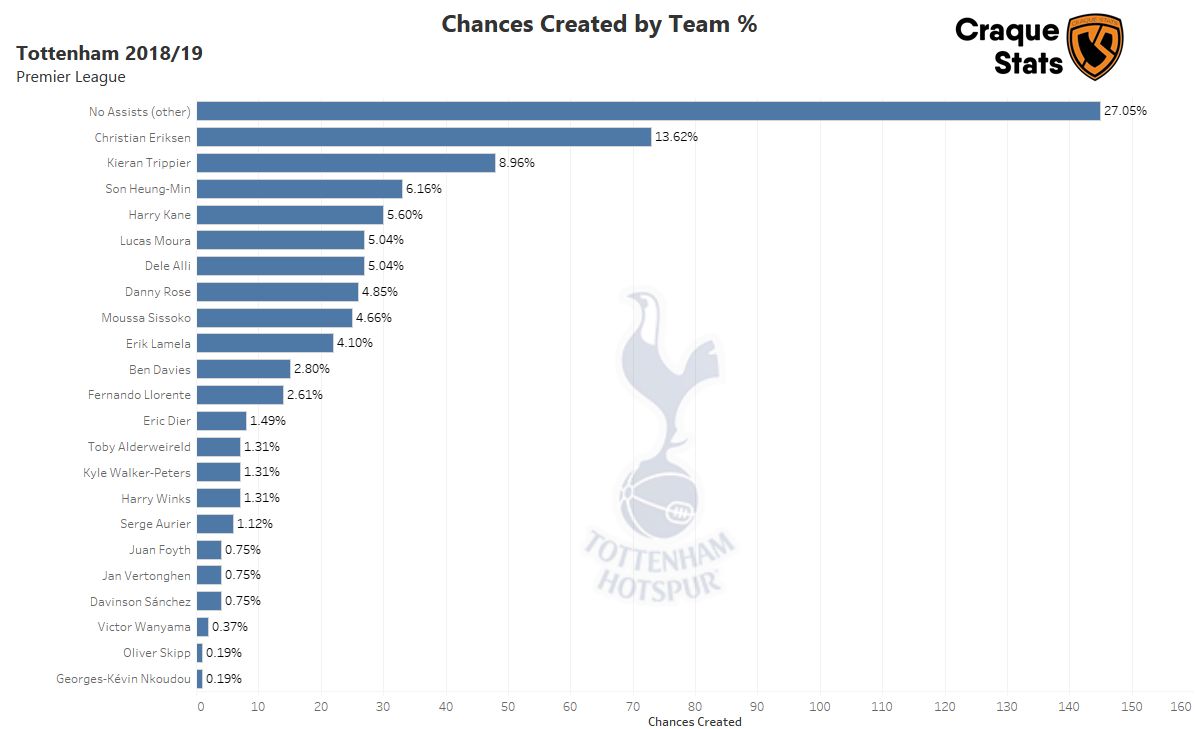 The first thing you will notice here is that 'nobody' is the best creator in every team you analyse. These are shots generated without any team-mate providing the pass to do so. These can range from Salah's wonder strike last season in the 2-2 against Spurs, to Firmino winning possession deep in the Arsenal half before slaloming his way through three challenges to score alone.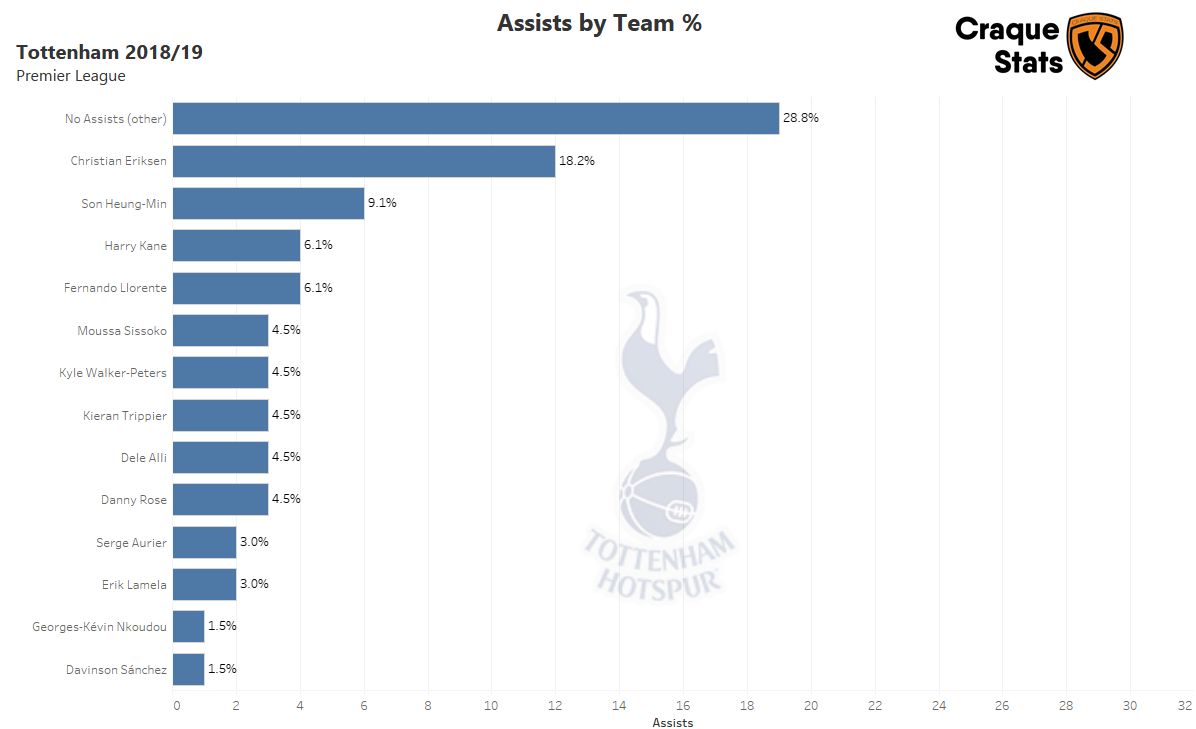 Or even Origi's insane winning goal in Liverpool's 4-0 win against Barcelona the first two goals were considered without a key pass. Henderson's shot rebounding to Origiisn't counted as such. Nor is Trent Alexander-Arnold's deflected ball into Wijnaldum for the 2nd.
This follows the same logic as a shot being deflected sometimes being counted as on own-goal. Should you get awarded an assist if you never intended to pass the ball to the scorer and it only got there via deflection?
It feels pretty harsh but these are the rules that data collectors for Opta and other companies are working by. At least the rules can be applied consistently and without bias though.
Tottenham's Key Creative Player: Christian Eriksen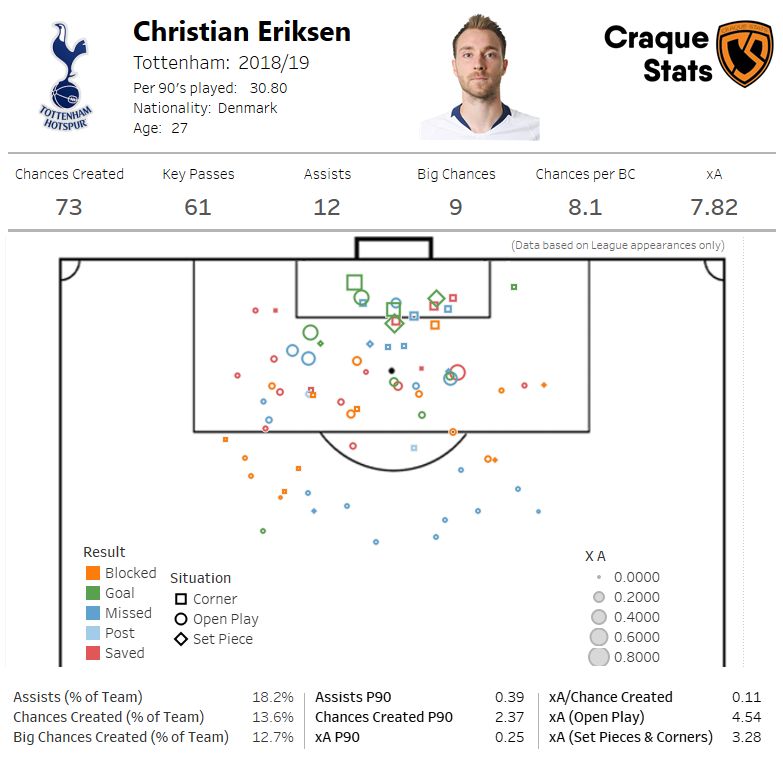 This is a map of every chance Christian Eriksen has created for Spurs this season. Note, this is the location the shot was taken from that he created, not the location from which he made the pass.
First, we can see a good mix of quality chances and small chances in here. He is getting the ball into the six-yard box consistently to create chances from point-blank range. Such chances typically give you the highest chance of scoring a goal.
We also see a nice mix of chances from open-play and set-pieces. He clearly isn't just a dead-ball merchant. If you look at his expected assist (xA) numbers at the bottom, we can see roughly 42% of his output will likely come from set-pieces.
He has hugely outperformed his xA numbers this season. This can suggest either an unsustainable purple patch or simply a better than average delivery technique. To explain the thought process behind that statement, first we need to think about the expected goals model used to try to add qualitative value to chances created.
When building any model, you have to input variables. The more variables you use, the more you are splitting your data. If you keep splitting your data, then you end up with a sample size so small that it will have no meaning.
For example, imagine you are assessing goals scored from crosses and you have 10,000 shots that fit your criteria. If you split them into along the ground, waist height and head height then you are breaking that data up three ways. Now imagine instead, you try to break the shots up into exact height off the ground in centimetres, you are then breaking the data up into ~200 groups.
Some of those groups will then have literally a handful of shots. So, you may have only three shots that were exactly seventy-seven centimetres off the ground and all of them were scored. Does that make it the perfect cross height? Or have you just ended up with a sample size so small that determining anything from it is meaningless?
At some point, you have to stop adding variables and just assume everything else is equal. Clearly it is not, but that is the limitation you face when working with data in trying to create an expected goals model. Choosing the most important variables without breaking the data up into oblivion.
So, in this case, perhaps the pace on the cross is ignored. Or it's trajectory, which is important as higher-arcs tend to favour the defending team. Or whether it is an in-swinger or an out-swinger. The pressure the crosser was under. All of these variables will impact on the quality of the chance that will be created. Perhaps this particular model only variables are that it's a cross and the location of the cross is arriving at on the pitch.
This doesn't make the output meaningless. It just creates a list of known blind-spots for the model where you will then use other methods to cover them, perhaps through human scouting.
This is no different than how humans have blind-spots in the form of cognitive biases, of which there are almost two hundred that impair us. Those who claim they are 'not biased' are perhaps worst of all, as they don't even understand the subject of human bias enough to realise their statement is actually impossible.
Hence why data has become so important in football, and particularly at Liverpool FC. It should never completely replace that human element. Instead, it should compliment it. Or direct it's focus even.
For example, the data records every moment on the ball of every match of every player. So if Jurgen Klopp wants to sign a new midfielder, what is an appropriate time to watch each of them? Twenty games? That is 150 hours of football. You could clip it into only his moments interacting with the ball. Is that the best way to see how a player would fit into a midfield unit with and without the ball though?
That is ignoring the question too of why those five? Do they just happen to be the five players he watched most? If he likes watching German football, does that limit us to only really seeing Bundesliga players? Would we then miss the likes of Aouar, van de Beek, Bruno Fernandes? What if he sees each of these players a handful of times in big televised games, but the players are not turning up every other week? What if he just ignores, or justifies the bad to himself because he simply likes the player in question?
Returning to Eriksen, how do we know whether his performances this season are repeatable?
The first thing is to look for consistency in his numbers. This is his fourth consecutive season with ten or more assists. Although, looking at his expected assists, we can see that he had 39.53 xA in his previous four seasons combined resulting in forty assists. Therefore, his twelve assists from 7.88 xA this season is quite an uncharacteristic over-performance from him.
It's therefore possible Spurs haven't been functioning as well this season in attack – which is normal given how much time Harry Kane has missed. He has been unable to create the same quality of chances and yet Spurs over-performance has seen them still convert a similar number of the chances he is creating to past seasons.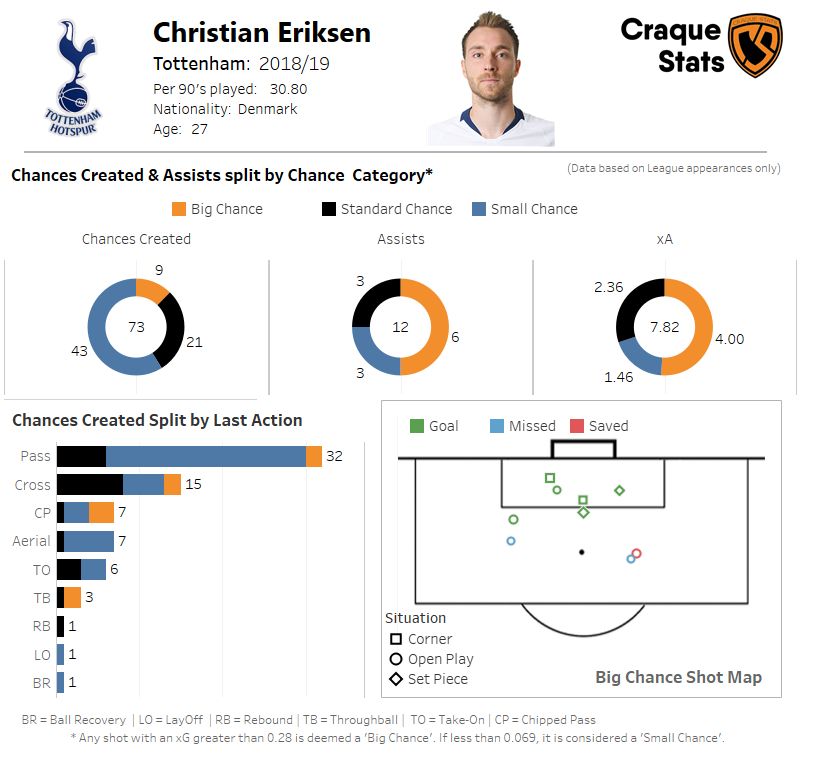 Looking now at the chances he has created split by action, we can see a good mix of actions. The crosses are mostly from set-pieces. We can see there is very few 'small chances' from crosses which suggests he isn't out on the flanks lumping the ball into the box hopefully. There is a lot of precision with his actions there.
We can also see a good number and quality of through-balls and chipped through-balls. These are actions typically seen in those prime positions penetrative players like to operate in centrally and in the half-spaces just outside the box.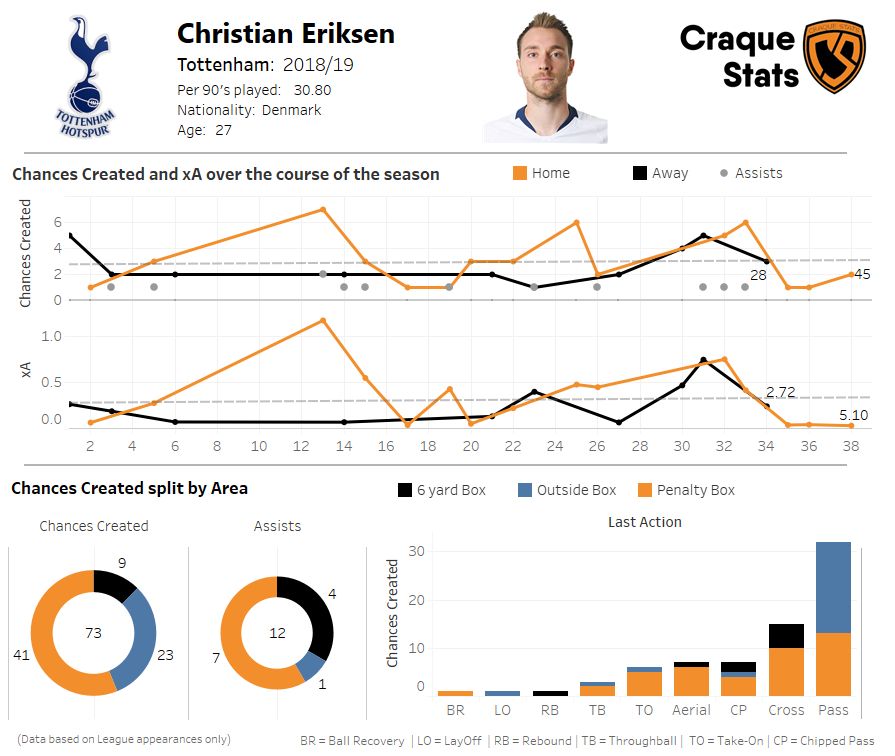 Lastly, looking at his actions over the course of the season, it is noticeable he has had a much greater impact on home games compared to away matches. Perhaps he is a player who thrives with the home crowd behind him.
Spurs were the 5th best side at home this season, in the Premier League. However, they were the 3rd best side based solely on away performances of all clubs. This suggests this isn't a problem Spurs had as a club and may be specific to Eriksen.
While the venue is neutral, we have often seen how the Travelling Kop finds a way to outnumber their opponents in major finals. Should this be the case on Saturday, with the Reds are roaring their boys on, will he cope with those circumstances well?
It is noticeable, for example, that he has only one goal involvement against Arsenal in fourteen north London derbies. Is he a player that will struggle in such a cauldron of noise?
Breaking Down Liverpool's Chances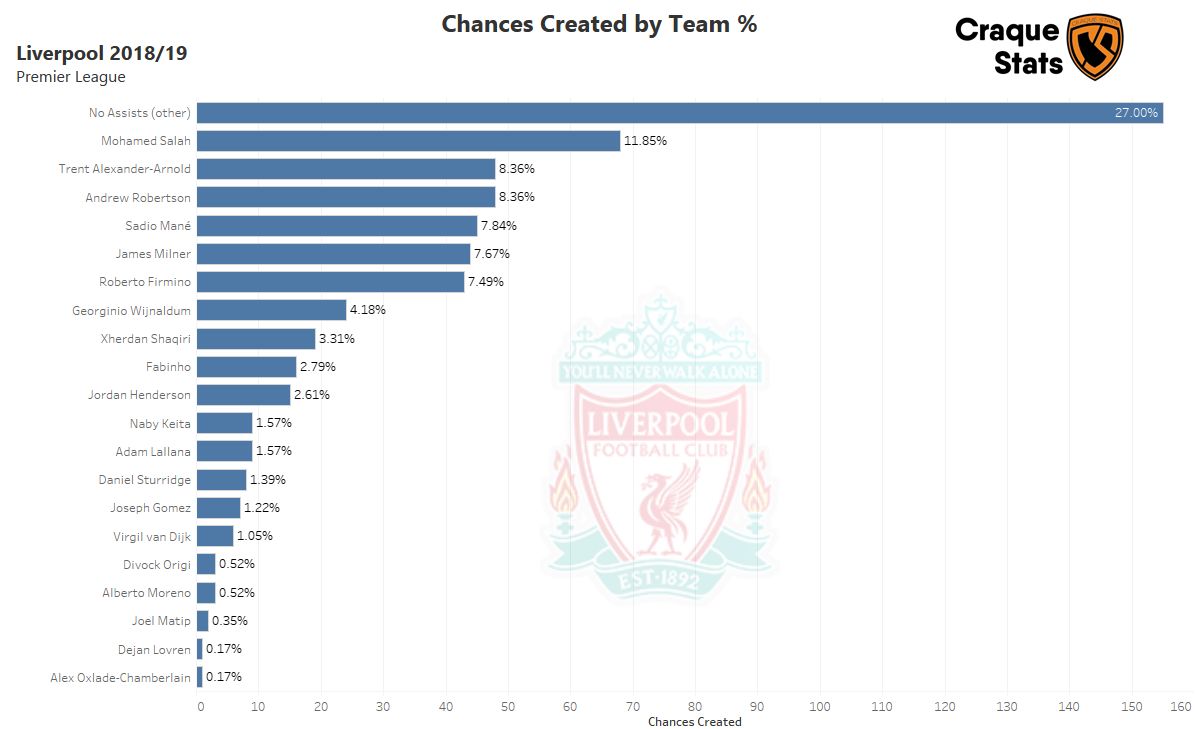 Now let's shift our attention to Liverpool.
The first thing we notice is there is much more of a shared responsibility for creating in this Liverpool team. While Eriksen was the stand-out creative player for Spurs, and their only player with more than six assists this season, we have Trent Alexander-Arnold, Andrew Robertson and Mohamed Salah all having a big impact on creatively for this side. .
This perhaps also highlights an interesting difference in the evolution of these two teams in recent seasons.
Only a couple of seasons ago, Spurs full-backs were being talked up as being the best in the world in terms of quality and depth. They had Walker and Trippier on the right, Rose and Davies on the left.
Since then, Walker has been sold for a world record fee for a full-back and Danny Rose has missed a lot of football due to injury. Now that he has returned, perhaps it is fair to say he does not look the same player as the one prior to these injuries.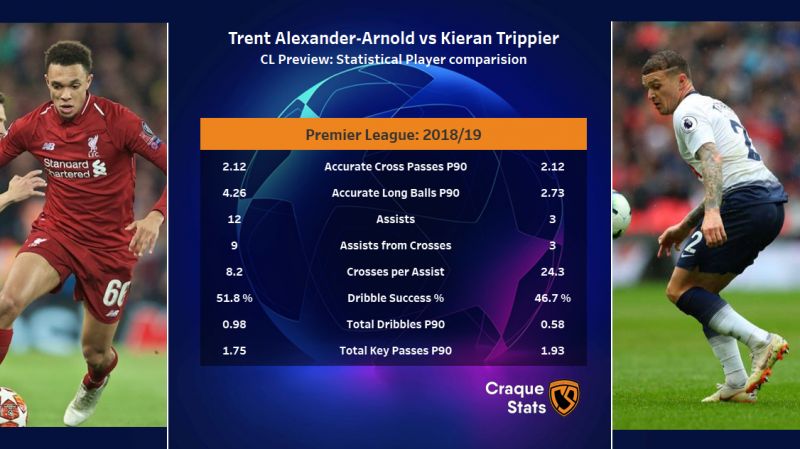 While Liverpool, on the other hand, have signed Andrew Robertson, moulding him into a world-class left back. Trent Alexander-Arnold has emerged from the academy with the similar quality and assuredness that we remember from the last local lad to break into the first team in that position, Steven Gerrard.
It also possibly highlights a primary difference between these two teams tactically. For Liverpool, the full-backs are more like laterals such as Cafu and Roberto Carlos for Brazil. They are key players in the finishing phase and expected to provide all of the width for their sides.
The midfield is more conservative, similar to that of Mauro Silva and Dunga, focused on protecting the attacks of Liverpool and not as involved in the finishing phase. So while Eriksen is clocking up far more key passes and assists than any Liverpool midfielders, the Liverpool full-backs are weighing in with more than most of the elite playmakers in Europe.
Key Creative Players for Liverpool: Trent Alexander-Arnold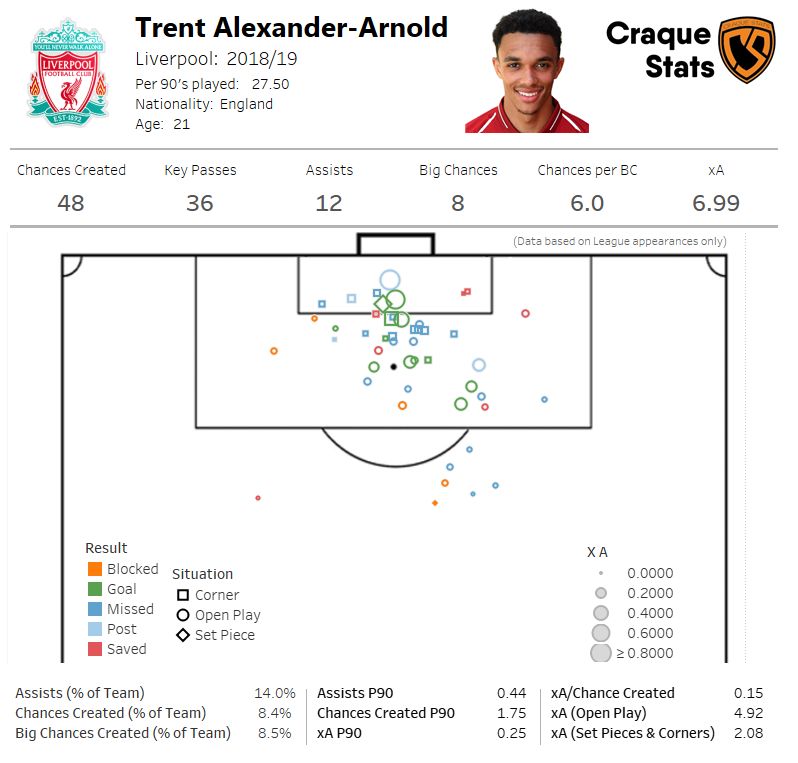 The map showing all the chances created by Trent is a beautiful sight. That nice tight cluster of chances between penalty spot and goal is the most lethal zone in football to take shots from.
We also see, similar to Eriksen, that he isn't merely a dead-ball specialist. Only 30% of his xA comes from set-pieces.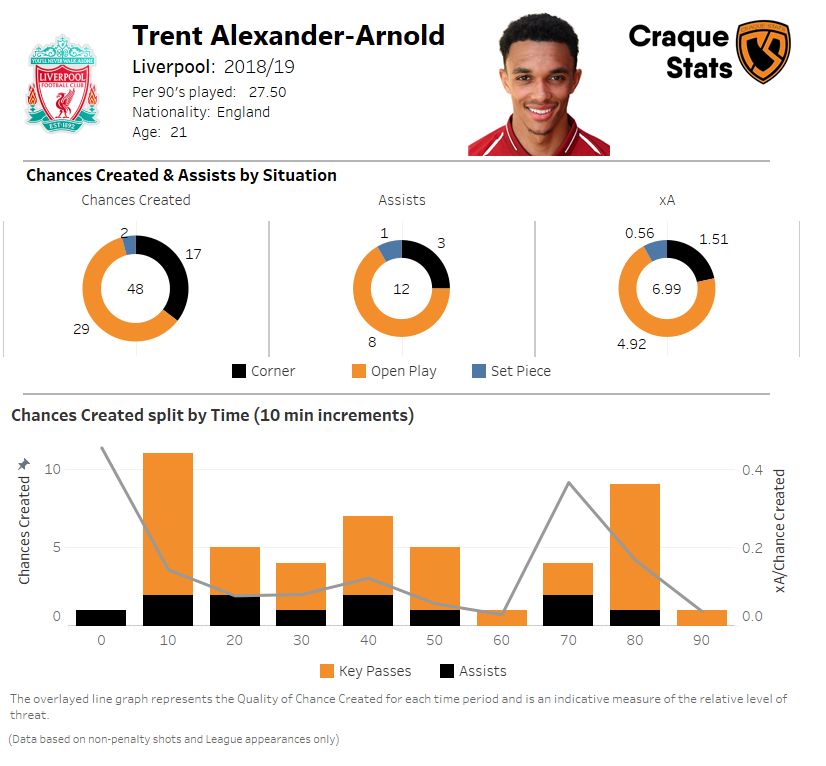 An interesting pattern also appears when looking at his involvement in the game over time, in the above graph. We see that in terms of volume of chances being created, and the quality of those chances, they peak at the start and towards the end of the match.
This suggests to me that Trent may be finding space at the start of the match in the wide areas. The opponent may be looking to stay compact at the start of the game. However, after spending some time being attacked relentlessly down the flanks, the opponents are adjusting to this. This opens them up more in the middle of the pitch.
We see similar towards the end of games when Trent's opposite number is perhaps struggling to track back as much or with the same intensity. Central midfielders are perhaps a little slower to get out and support.
Key Creative Players for Liverpool: Andrew Robertson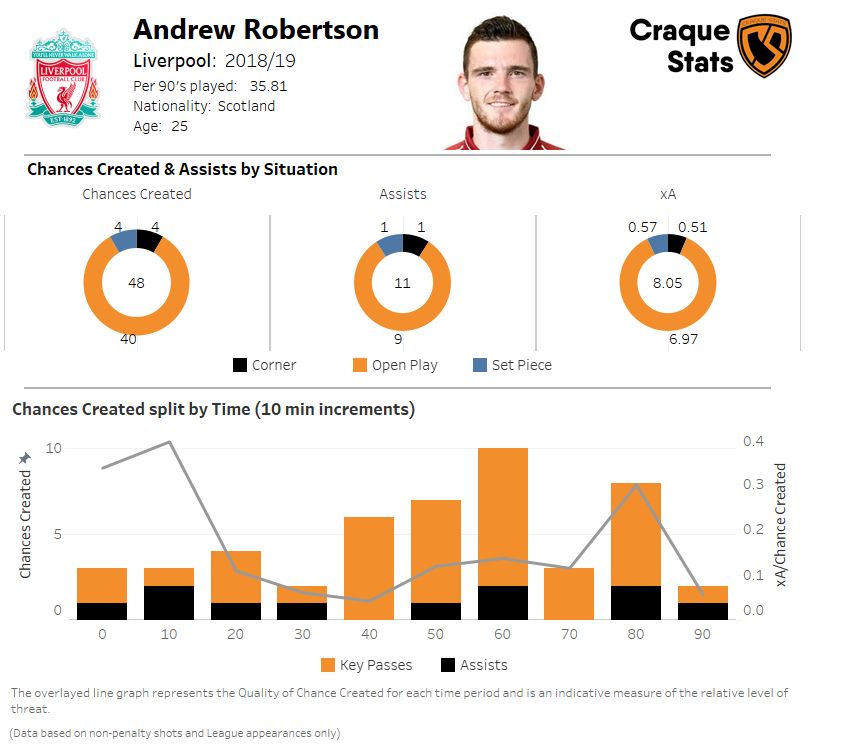 The same pattern is appearing here with Robertson in terms of the quality of his chances peaking at either end of the game. What is also noticeable is how Trent is creating much more down the right flank in the first half. Robertson, on the other hand, seems to start slower but has a much stronger 2nd half.
This may be another pattern to look out of in the game at the weekend.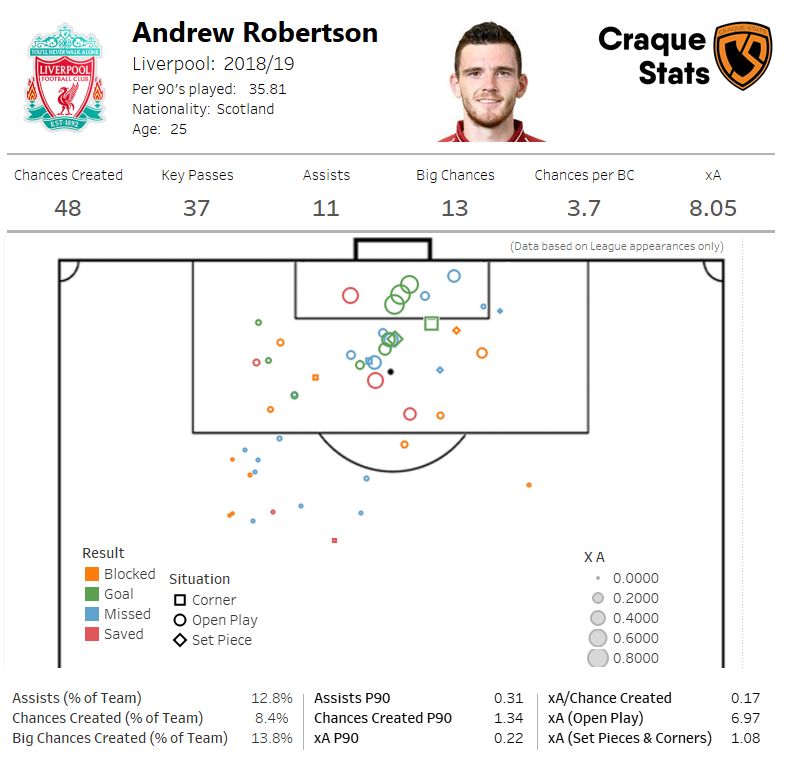 Robertson's creativity map is very much that of quality over quantity. His 3.7 chances per big chance is exceptional compared to Eriksen's 8.1 or Trent's 6.0. We are also seeing once again that nice cluster of chances between the penalty spot and goal.
Last but not least, we will look at the player responsible for creating the most chances and, remarkably, the most shots.
Key Creative Players for Liverpool: Mohamed Salah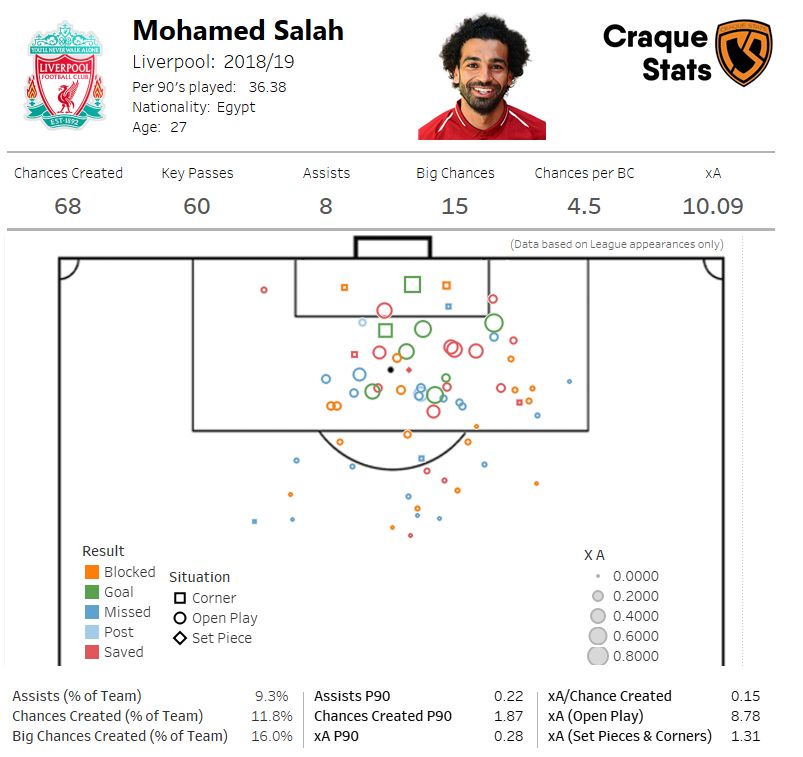 It goes without saying, Salah is an exceptionally dangerous player to play against. He has finished the season as Premier League top-scorer two seasons in a row. It was also revealed earlier in the season that while some other players have more dribbles in terms of volume, he is on another level in terms of effectiveness of his dribbles increasing the chance of a goal being scored.
We see here that he is also an exceptional creative player too. He has created fifteen big chances this season, which eclipses the nine that Spurs' most creative player has. You could argue he should probably have more assists given the chances he has created this season. Only seven of the fifteen big chances he laid on were converted by his team mates. Likewise, only one of the five chances he created in the six-yard box resulted in a goal.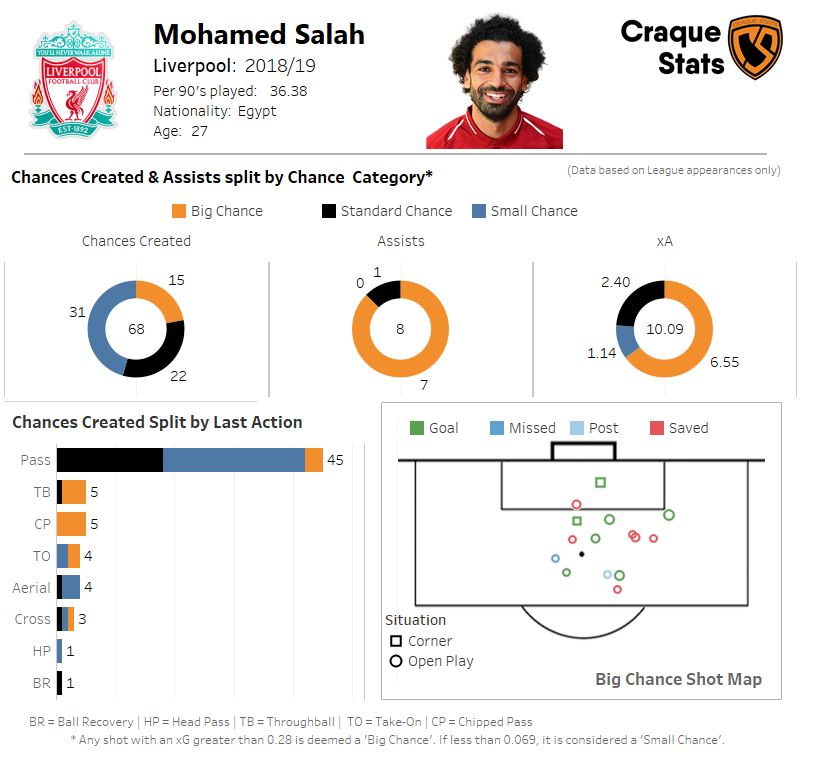 An interesting thing to note from Salah's numbers is how few of the chances he created resulted from crossing the ball. In contrast, he has much higher than average numbers of chances created from both through-balls and chipped-passes, both in terms of quantity and quality. Nine of the ten passes he created from these actions were big chances.
This suggests that whether Salah is lining up a shot, setting off on a mazy run or popping up between the lines like a more traditional #10 to pick out through balls and chipped passes over the defence, he is a nightmare to defend from any situation.
You can't help but feel that with him on the pitch for ninety minutes this year, the match will have a more favourable outcome!
* This is the third in a series of articles that will evaluate both Tottenham Hotspur and Liverpool, tactically and statistically, in the build-up to Saturday's final. Follow @empireofthekop  and @babuyagu to catch the rest of our build-up to the final.
The next part of preview will drill down on the goal-scorers for each side. All data and graphics used in this article are courtesy of @CraqueStats. *