---
 "I actually said to the boys before the game that it would be impossible, but because it's you, we have a chance."
                                    – Jurgen Klopp post-match Press Conferences, Liverpool 4-0 Barcelona
An impossible task only made possible by the sheer determination and willpower of his Liverpool players in believing they were not already beaten.
A never-say-die attitude? Stubbornness? Fearlessness? What is it about this group of players which made Klopp believe they could still succeed? That they could beat the side that he believes to be the best in the world, and overturn a three-goal deficit while doing so? Why does Klopp believe he has built a team that can do the impossible?
The Right Ingredients
The first step in making, building or creating anything at all is having the right materials to work with. The same is true for building a team capable of success.
Before Klopp arrived, you could split the players he would inherit into certain categories:
• High quality, high usefulness (e.g. Firmino)
• High quality, low usefulness (e.g. Coutinho)
• Average quality, high usefulness (e.g. Toure)
• Average quality, low usefulness (e.g. Skrtel)
• No future at the club (e.g. Benteke)

Quality is referring to the individual quality of the player. Usefulness, on the other hand, is specific to Klopp's system. Do the players have the physical, technical and tactical qualities he requires in the role they will play?
A goalkeeper rooted to his line, a central defender who struggles when isolated, a forward who doesn't press from the front. There will be some weaknesses and limitations with certain players that will make them ill-suited to playing for this team.
Over the following transfer windows, Klopp (and Michael Edwards) began a process of bringing in players exclusively of high usefulness to the team. Some of these players were an immediate and obvious success, such as Sadio Mané. Others, such as Karius, were perfectly suited to the system but their quality wasn't at the required level.
However, there is a fourth important, yet often overlooked, developmental pillar for footballers: Mental/Psychological.
Arsene Wenger on player development…

"It's very simple. You build a player like you build a house." pic.twitter.com/bV3B90XSqo

— Modern Soccer Coach (@msceducation) September 16, 2018
Clearly, as a coach, if you want to build a side of 'mentality giants', this is likely a building block that you treat with high, if not the highest, importance.
In the case of Mario Balotelli, Klopp had seemingly already made up his mind before Mario had returned from his loan spell at Milan.
 "Klopp doesn't know me, I spoke to him once, he told me to go somewhere else, work hard and then return"
                                    – Mario Balotelli to Sky Italia, October 2016
While this seems harsh from a manager who is renowned as a father figure to his players, a clue can be found in Jurgen Klopp: The Biography by Elmar Neveling.
Then we have the case of Mamadou Sakho. A player who was never really in favour under Rodgers but discovered his form under Klopp's tutelage in the Europa League run of 2015/16.
However, he took a medication without consulting the club, which caused him to fail a drug test for banned substance. Despite later being cleared by UEFA on review, he had missed Liverpool's run-in, including the final against Sevilla. Then, he was late for the outbound flight for the club's pre-season tour, missed a rehabilitation session on an Achilles injury and was late to a team meal. The final straw seemed to be interrupting the bosses' interview during the pre-season tour.
Sakho was sent back to England the following day and that was the end of his Liverpool career. Again, many will suggest it was harsh but Klopp clearly feels there was a lack of respect and professionalism. He wasn't a mentality giant in Klopp eyes.
Perhaps even more important than removing the players who lack the mentality you want, is recruiting only players who improve this quality within the team.
When the players voted for additional vice captains, in the absence of Henderson and Milner, it was two of Klopp's signings who were chosen: Virgil van Dijk and Georginho Wijnaldum. However, in Keita, Mané, Salah, Fabinho, Chamberlain, Robertson & Alisson, there were plenty of other options who have either captained their country, previous clubs, or have all the qualities you would look for in a leader on the pitch.
Even in the young players he has brought through, such as Trent Alexander-Arnold, you can see that the mentality is perfect for what Klopp wants in the squad. When Pep Lijnders was in charge of the U18 side, he made Trent the captain and built the side around him and Ben Woodburn in the #6 and #10 positions respectively. 'These are they key positions. Six and Ten', said Lijnders.
Klopp talks of Trent as the "perfect example, from day one" of a player who does everything right. In an interview with Unisport, Klopp stated "When he is not playing, he doesn't ask me why not. He knows that I thought about him, so he doesn't even need to think about this. That is pretty smart from him, to be honest".
However, we see the importance of this more in who we haven't signed. For example, after Julian Draxler signed for PSG, a player he had made a target to recruit, Klopp stated that "we believe that if someone needs to be convinced by money, then at one point – when you really need character – you will not get it."
When you cast your eye over Klopp's signings, there are no players who have had disciplinary issues since signing for the club. Also, no players publicly bemoaning a lack of involvement in the first team. Part of this, of course, is in maintaining a smaller squad that allows everyone to stay more involved. However, having only players with the right mentality is absolutely crucial to this.
Hence why, when you see the likes of Memphis Depay, Mauro Icardi and Wilfred Zaha linked with a move to Liverpool, some mental gymnastics need to be performed to explain why Klopp would break from typically avoiding players who have been criticised for their mentality in the past.
Preparation
Regardless of whether it is a player you inherit or you sign, they will rarely be immediately ready for optimal performance.
While there is little you can do to improve the technical level of a player at the point they are a first-team regular, there are improvements to be made tactically, physically and mentally with players after they arrive. Things aimed at pushing those fine-margins, if you will.
Tactical
It is something that seems to bewilder many fans, but footballers often don't automatically understand the game. There will be exceptions, of course; some players just have an inherent feel for the game. Generally speaking, it simply isn't a transferable skill in the same way that spending money doesn't mean you understand economics.
This is something we know to be true and have plenty of anecdotal evidence to support it. From the failed attempts at management from Thierry Henry, Gary Neville, Paul Scholes, Alan Shearer, Tony Adams and even one of the greatest players to ever kick a ball, Diego Maradona.
Similarly, pundits regularly fail to offer genuine insight in the game beyond 'back in my day' reminiscing. When they talk about life as a footballer, how they would feel in that moment, what would be going through their mind, or offer criticism from a professionalism point of view – you find yourself intrigued. However, often you find as soon as they need to offer analysis beyond that, they struggle.
They face similar struggles even when scouting or offering their 'hot takes' on players. Pele naming the likes of Nicky Butt, El Hadji Diouf and Hong Myung-bo among the best players in the world, being a famous example.
And yet whenever a player transfers from one team to another and it is suggested he made need time to adapt to a new team, coach, system, shape and tactical instructions – it is often met with derision.
The less a person knows on any subject, the simpler the subject appears, they offer simple solutions to complex problems and the more confidence they have that they are unmistakably 'spot on'. We see a lot of this in politics where individuals can present themselves as an expert on all subjects ranging from Global Warming to sound-induced turbine cancer.
So, when Klopp brings in new players, often a period of time will pass where he will be reticent to use them until they understand the system and his methods well enough to be plugged in, without a drop in tactical performance. This is particularly true in central midfield.
At Dortmund, during the early years when Klopp's transfer budget was between one to five million pounds net, he brought in Sven Bender as one of three big summer signings along with Hummels and Barrios. However, Sven Bender found himself playing for Borussia Dortmund II in the 3.Bundesliga division initially, while he adjusted to Klopp's system. He spent his first year in and out of the team. Klopp often mentions a similar story with Gundogan.
At Liverpool, we have seen a similar treatment with Robertson, Oxlade-Chamberlain, Shaqiri, Fabinho and Keita. In each instance, we saw people lining up in their droves on social media to write the players off. 'Klopp has finally signed a dud'.
In fact, to date, the only midfielder Klopp has signed who hasn't suffered from this adjustment period, is Gini Wijnaldum; Liverpool's most tactical midfielder. This makes a lot of sense too. He appears to be one of those players who simply 'get's it'.
Physical
If you are a fan of WWE, you are probably aware of a guy by the name Kurt Angle. For those of you who don't know, he won an Olympic gold medal "with a broken freakin' neck", in his words. We know this because he announces is every time he speaks. Literally.
While WWE is certainly more entertainment than wrestling, which understandably may see some of its 'cast' not respected as athletes, the Olympic namesake is very much a sport. In fact, in mixed martial arts, having a solid base in wrestling is considered essential. The likes of Dana White and Joe Rogan have often said it is the best base, due to the ease wrestlers can transition into other disciplines. Not to mention the high level of athletic ability and work ethic it produces.
So, being an Olympic gold medallist in wrestling is a huge achievement. To do so with a broken neck is just incredible. Perhaps many would have said impossible.
Which makes the question how he done so a pertinent one. Obviously, he was absolutely elite in his profession, but what gave him the edge is what he called 'fatigue training'.
As a Pittsburgh native, he was living in a part of the world knowing for having among the steepest streets in the world. Kurt would do a four mile run up and down the hills just as his warm up, sprinting as hard as he could up every slope. He would then repeat while piggyback or fireman carrying a friend while doing so.
Then, at the point he felt ready to quit, he would sprint up the hills with his friend pulling back on a bungee cord. He would do so until he reached a point of exhaustion and his legs started to shake. Then he would start his wrestling training.
His logic was this – no matter how good you are when you are fresh and ready, it wouldn't matter in a hard fight. It is how well you can perform when your body is wanting to give up that will dictate who will survive in those moments.
It worked too. In the final, whenever they had to reset to their positions, he would sprint back and get ready, never letting his opponent have a moment rest. Can you imagine how crushing that must be to your morale? You are absolutely exhausted and this guy is sprinting back into position like it is nothing.
When Barcelona walked out onto that Anfield turf just weeks ago, they weren't ready. They enjoy the La Liga pace of a game, where resets are more frequent and can be used to allow little moments of rest during the game.
Liverpool didn't give them those moments. The first 20 minutes of that game were absolutely frantic. Immediately from kick-off Mané is sprinting at Busquets, they are playing the ball backwards and one of Barcelona's first passes of the night from their own half was straight to a Liverpool player. They were rattled and we were still in the first minute of the match. The tone was set.
The aggression levels too were like nothing I had seen before from a Klopp side. I was genuinely terrified Fabinho would get sent off, or try to rip Suarez in two with his bare hands. Mild-mannered, quietly spoken Fabinho from the farms of Campinas, Brazil. You could almost hear the screams inside Suarez's head when the camera cut to his face.
After the match, Simon Hughes' article revealed the ball-boys had been instructed to get the ball back into play as quickly as possible. In doing so, those few moments rest Barca players want at resets continues to get eaten away. Not to mention, throw-ins are much harder to defend in the first 5 seconds the ball goes out of play. Once a team has reset their shape and sorted out their marking of opposition players around the ball, your chances of retaining possession quickly diminish. This seems like the sort of information that a club who employees a specialist throw-in coach would be on top off. Nothing is by accident. Little is left to chance.
The end result of not allowing a side to have those natural moments of rest in the game when the ball is out of play, is they need to find it elsewhere. You stop tracking runners every time. You stop making that run from van Dijk to Robertson to press the ball. You stop making that run in behind to stretch play and create space. You switch off in key moments when you need to be sharp.
When Wijnaldum scored the second on the night, he wrestled the ball out of ter Stegen's hands on the ground, then ran back to the centre circle. Mentally Barca were shutting down. He knew. Let's grab another before they can switch back on.
As the ball goes out of play in the 79th minute of the game for a Liverpool corner, the entire Barcelona team is facing away from where the corner will come from. Ter Stegen can be seen clapping his hands trying to wake his team up as the ball is already zipping along the turf towards Origi's right foot.
Nobody told Trent to do this. This wasn't some set-piece rehearsed in training. However, in drilling the players to always be ready, alert and knowing they would have the edge when their opponent was fatigued – they were ready to take advantage of those opportunities that would appear.
This isn't a one-time thing either. That wonderful 4th goal against Barcelona was merely the best example of it bearing fruit.
In terms of goals being scored from the 80th minute onwards, Liverpool lead the way in the Premier League. They have scored almost double in that time than their Champions League final opponents, Tottenham.
While having the mental strength and desire to keep going, actually being physically capable of doing so is crucial to succeeding. In pre-season, in Evian, it was revealed the players were participating in triple sessions. They were also training heavily before games. As a result, a lot of their pre-season matches, and particularly early ones, showed the players having heavy touches and struggling with their passing and shooting.
This all makes sense of course as I am sure we have all had that sensation of lead-feet when we are exhausted. Now, if you can run your opponent until they are feeling that way, yet you are able to play through it with no discernible drop in your own quality, what a massive advantage to have.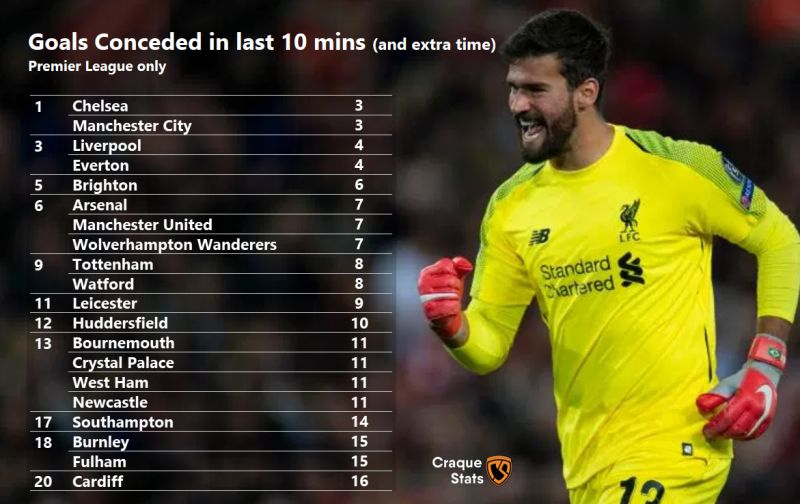 We see it at both ends of the pitch too. Despite being so aggressive in the pursuit of goals at the end of games, this isn't reflected at the other end of the pitch where they have conceded just four goals after the 80th minute this season. Only Chelsea and City can better this, with three.
Even more interesting here will be the fact their opponents, Spurs, have conceded double the amount that Liverpool have in that time. They are the worst of all the top 6 sides towards the end of games, with a goal difference of just +1. While Liverpool are the strongest side in the Premier League at the end of games, with a goal difference of +14.
This very much feels like Liverpool have been building up to this moment all season. The frequent periods of personal rest and relaxation allowed to the players, such as Salah travelling to New York, or Wijnaldum visiting Memphis Depay in Lyon. The hot weather training camps in periods without games. The focus on managing the little details to increase the speed of play and reduce the opponent's opportunity to rest during the game. The 'fatigue training' at the start of the season. This side is physically capable of running an opponent into the ground and then picking them off in those seconds they switch off due to fatigue. We are at our sharpest when others as gasping for air.
Mental
The mental side of the game is still the one people under-estimate the importance of. It's hard to quantify. Usually the only times people will pay attention to it is when something goes wrong. Like when Wilshire was out partying with a cigarette on the go. Or when Bellamy was chasing Riise around the hotel with a golf club. Or even that time Balotelli was throwing darts at youth team players.
There is something obvious to point to in those moments; the problem is there for all to see. However, there are other equally important aspects to this which are not immediately apparent and often overlooked.
Fear is a good example. It can be a powerful motivator or absolutely debilitating. Andre Gomes described how overpowering it was, which essentially saw him hide both on and off the pitch.
It is also seen in the current trend of players needing press resistance. Without it, a player can be prone being panicked into make poor decisions due to a fear of being caught on the ball.
A good example of this is the goal Liverpool conceded to Leicester when Alisson got caught in possession. While the clear and obvious error everyone will remember is that of Alisson, almost every touch leading up to it was an error where the team act as individuals playing 'hot potato' to avoid being the one to get burned. A series of poor decisions sees Alisson receive the ball under pressure with no angle to play out. He takes an unnecessary risk to try and keep possession and it cost us.
Once one player looks afraid, it can spread throughout a team. Likewise, one player acting as a calming influence in those moment can spread through the team in the same manner.
Naby Keita telling everyone to calm down while he still on the ball. Just shows how suited he is in our midfield within the past week. pic.twitter.com/oXFmGyJdgA

— Samuel 🇪🇸 (@SamueILFC) April 14, 2019
The above clip occurred in the 63rd minute of our win against Chelsea back in April. This clip went viral on twitter where opinions on it ranged from 'that means nothing' to it being the highlight of the match and showing great game management.
Regardless of your opinion on this, our passing had been very erratic from 53-63 minutes. In those ten minutes, we gave the ball away ten times and had just 39% of the possession. Henderson had the lowest passing accuracy at that time with 60%.
In the ten minutes that followed, we had 70% of the possession. We did, indeed, calm down and started to control the game more.
Perhaps the most important thing to understand about fear is that it is normal, it is human. If you demand that players are fearless, then you are asking the impossible and not really helping them to deal with it. Instead, it's better to confront it, deal with it and use it to your advantage. Use it as a motivator rather than trying to forbid players from feeling something that is perfectly human.
"Staying focused on your own situation helps in all sports. All parts of life actually. [Not] looking left & right, worrying what he is doing, what they are doing."
                                    – Jurgen Klopp, 18 January 2019
This is another crucial thing Klopp is instilling in his squad. To stay properly focused. When Loris Karius was under attack from the Nevilles his message was clear; the only opinion that should matter to the players is his and that Loris knows what his opinion is.
The morning before the 2nd leg of the Barcelona game, Liverpool had a set-pieces training session. Klopp asked his players if they wanted to discuss Manchester City's 1-0 win, due to a wondergoal by Kompany, the night before, which effectively sealed the league title for City. Nobody was interested – they were focused on the task at hand.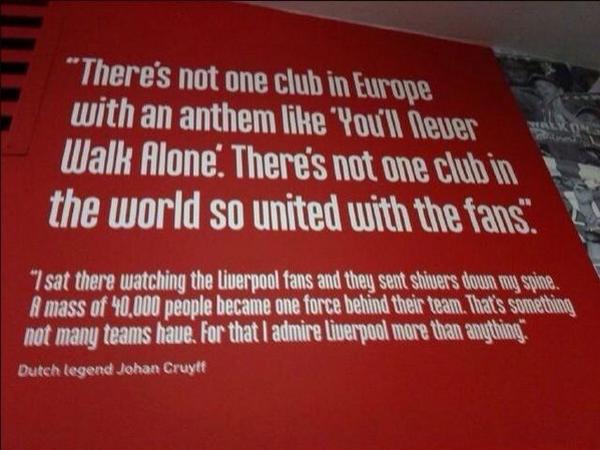 He has also empowered the crowd at Anfield, as well as the travelling kop. Starting with that line everyone remembers from his first interview, for Liverpool fans to turn from 'doubters into believers'.
A month later, he stated he 'felt pretty alone' as he watched the fans leave while his side were trailing 1-2 at Anfield to Palace.
Fast forward one month again and he is on the pitch with his team acknowledging their part in his side snatching a 2-2 draw against West Brom following Divock Origi (who else?) scoring a 96th minute equaliser. The fans had stayed in the game, right to the end, and Liverpool were able to snatch a point thanks to this.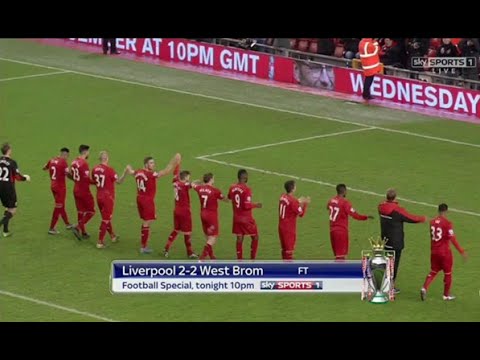 Coming back now to the post-match press conference after the 4-0 victory over Barcelona, when asked if the result would be the same if the match was played in an empty stadium, Klopp's answer was clear. "Not a chance," he continued, "if you are to describe this club, then it is a big heart. Tonight it was pounding like crazy."
"When I saw the boys after the game, with tears in their eyes… it's football and they are professionals… this club touches you like crazy, you feel much more than [with] other [clubs] in these moments"
Perhaps the most powerful motivator of all is one of revenge, injustice or of unfinished business.
"Whatever you had in the past, it helps, but you need to be ready for this game."

It's been a memorable season but we need YOU one last time. 💪🔴 pic.twitter.com/rrzGfcXl7t

— Liverpool FC (@LFC) May 31, 2019
There was plenty of this bubbling under the surface of the game against Barcelona. However, it was harnessed in the correct way. There was no violent challenge in retribution for Suarez's antics aimed at Robertson in the Camp Nou. Or for taking him out of the game before half-time at Anfield.
The crowd lashing out at Suarez and Coutinho every time they got on the ball didn't get the better of one of our players seeing them get scythed down.
It was channelled into energy by the players and used to keep the tempo of the game as high as the volume inside Anfield.
By the time the score-line reflected how Busquets had already looked in the first minute as he kicked the ball straight to a red shirt, Suarez's face told the whole story.
To paraphrase the words of BabuYagu from the Mighty Boosh TV show:
"You could see it in his beady little eyes as he looked at the Anfield crowd, he was thinking 'oh I created that monster with my shithousery, and now it's killing me, my own beastly creation' The sweet irony. I think he was saying that, although it was a couple of weeks ago now and in hindsight, he could have just been s****ing himself."
Klopp has also talked about that sense of unfinished business. He was singing about it at 6am the morning after the defeat in Kiev, in a video that subsequently went viral.
The players have mentioned it numerous times also, not least captain Jordan Henderson.
This all paints a picture of Klopp as someone who knows the devastating impact that negative emotions can have on the team's goals and ambitions. He also knows the power of his words and how to capture a moment and frame it for his players in a positive narrative that they can take with them as motivation to succeed.
Instructions
If you read any books authored by soldiers, particularly in the special forces, there are two concepts that will be very familiar to you.
Plan missions in phases
What-if scenarios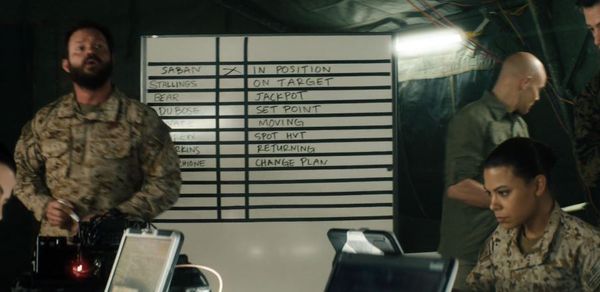 Break tasks down into phases & sub phases
The basic idea of the first is to not look at any objective in its entirety. It can appear overwhelming – especially as special forces are typically tasked with the impossible. Instead, break it down into stages, or phases. Very achievable, bite-sized pieces.
So, from a footballing perspective, the objective is "achieve 100+ points next season". Now, from a professional sporting point of view, this is essentially asking the impossible. You are talking greatest team performance in the history of sport levels of achievement here.
Instead you break the season down into a series of manageable bites. Perhaps looking at the season in batches of 3-5 games, while keeping the players focused only on the next game.
Stress the league table is irrelevant. It can be ignored until the final game of the season. Knowing who is where, and how many points and goals they have in comparison won't help your mission: win the next game.
You can see how Klopp used this approach with the 2nd leg of the Barcelona match for example. Speaking in the post-match press conference, Klopp stated that:
"Winning against Barcelona is one of the most difficult things in world football. Winning against Barcelona when you are three-nil down makes it not easier. Having to score four goals and not being allowed to conceded made it more difficult, so we didn't really think about it, to be 100% honest. We tried to build on the performance in Barcelona, on all the good things we did there, and tried to win the game step-by-step."
Essentially, breaking the game down into manageable goals. Treat each 15 minutes without conceding as a checkpoint that has been achieved. Treat each goal scored as a checkpoint achieved. Keep the message positive – the plan is still on track.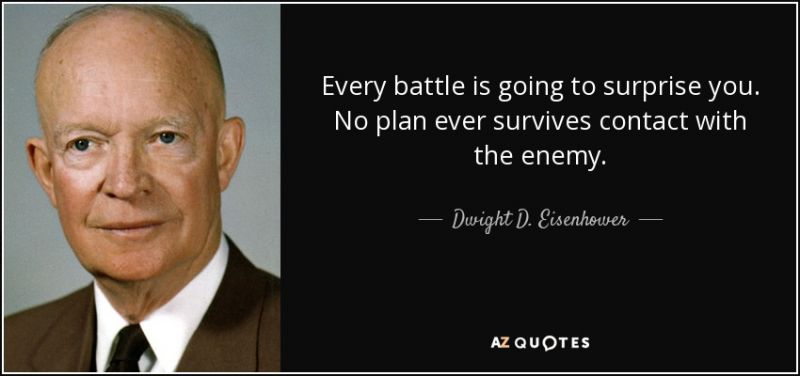 What Ifs
This is essentially contingency planning.
The mission is to ambush a car, grab a high value target, leave the immediate area, tab across country to the rendezvous for extraction. Once you have your plan above, you then walk through the plan in a rehearsal. The team-leader will stop at every stage and ask "what if there are 3 cars instead of 2?". "What if we have a man down?". "What if the target isn't in the vehicle?". "What if a car escapes through the ambush area?"
It is impossible to anticipate every potential problem. This isn't the aim here. It is to ready people to react to set-backs in a positive way. To find a quick and simple solution and keep going.
It also creates the expectation that things will not go according to plan. Then, when you encounter problems, you are mentally ready for the fact you will need to quickly react to set-backs and deviate from the original plan to get the mission back on track. Otherwise, set-backs can stop people in their tracks. 'Wait, this wasn't supposed to happen this way'.
When Klopp's Liverpool faced Dortmund in 2015/16, you can be sure part of Klopp's plan wasn't to go two-goals down in the first ten minutes of the match. But we reacted positively, we adapted and we overcame the problem to complete the mission.
This is something Barcelona failed to do. Whatever plan they had coming into the game, they were not prepared at all for the set-backs they encountered and simply shut-down on the night. When Wijnaldum scored the second on the night, he knew this. He wrestled the ball out of ter Stegen's hands on the ground, then ran back to the centre circle. Mentally they were shutting down. Let's grab another before they can switch back on.
As the ball goes out of play in the 79th minute of the game for a Liverpool corner, the entire Barcelona team is facing away from where the corner will come from. Ter Stegen can be seen clapping his hands trying to wake his team up as the ball is already zipping along the turf towards Origi's right foot.
If you are not prepared for set-backs, you will not react to them when you encounter them.
Conclusion
Faced with clubs in a healthier starting position in terms of squad quality, depth and financial resources, Klopp identified early in his tenure that one area he could conquer his opponents was in mental strength.
He needed to get the right ingredients, to harness the power of the city of Liverpool and then mould them into a squad with the strength to overcome what others would believe impossible.
Even little things in framing the players perspective on things. 'One match at a time'. Telling Gini he is the 'secret weapon' from the bench against Barcelona. Or in constantly stating this will be this team's first European Cup. The first anything is so special. He has this team wanting it so much they would run through a wall to get it.
Right now, it feels like Klopp has prepared this side physically, tactically and mentally for every situation. He is within touching distance of achieving one of the greatest feats in sport.
He just needs his team to reach out and grab what they have earned.
"This is what football does to you. This is what Liverpool Football Club does to you."

Off to watch the Reds in a ninth European Cup final, #LFC fan Stephen Monaghan shares his emotional journey so far… pic.twitter.com/F3PsRCMUIh

— Liverpool FC (@LFC) May 30, 2019