Sadio Mane's first couple of years as a professional footballer weren't as sparkling as netting ten plus goals per season in Austria and England.
The Senegalese international first plied his trade as a professional footballer at FC Metz in France. He moved on to Red Bull Salzburg in 2012.
During Sadio's time playing in France, the Metz team – and an eighteen year old Mane – was visited by a Chinese photo-journalist.
The winger asked the reporter to take his photograph so he could show his mother. This is what he posted on Weibo (Chinese equivalent of Twitter) in 2012:
"This man is called Sadio Mane. I met him when I visited my friends at Metz last year. Mane was scouted at a suburb in Senegal. When I first met him at the club, he's like a Japanese [man], greeting whoever he met with a 90-degree angle.
"He saw I got a camera, and he asked me to take a picture of him because he wanted to show his mother. That's why this photo was taken.
"I asked him for his email address. He shook his head. He only gave me address of the club (Metz). At last, he asked "It's free, right?""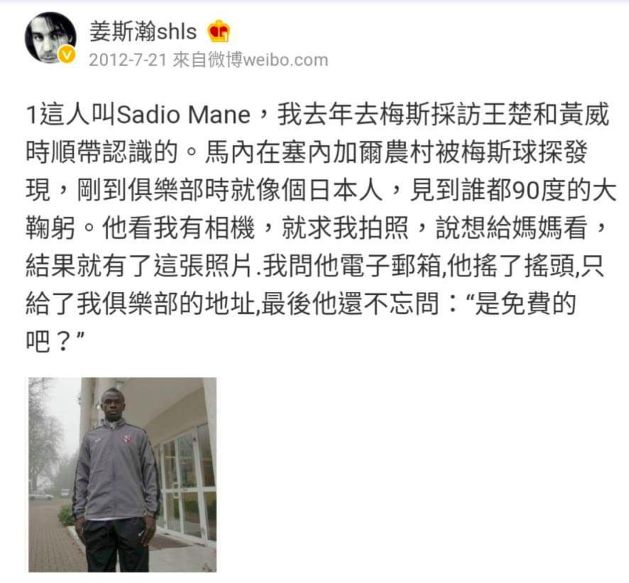 This story shows just how far Mane has gone in the last seven years – he can now show his mother a photo of himself with the Champions League trophy.
The attacker's humble beginnings really helps to put things in perspective. Metz were relegated to the third tier of French football in Mane's last season.
Thank you, Ivan Chang, for getting in touch and sharing this story with Empire of the Kop.