---
Whoops…
Neymar has bigger fish to fry right now than worrying about Liverpool – but we honestly wonder when players will learn not to criticise our team in the press – as they always end up looking rather silly!
In summer 2018, the Brazilian was asked to name the likely top four finishers in the Premier League, and couldn't manage to do so without disrespecting Jurgen Klopp's Reds.
According to Tribuna, Neymar said that, 'Liverpool are not good enough. They will not finish in the top four this season. Man City will win the title, Man Utd second, Chelsea third and Tottenham fourth.'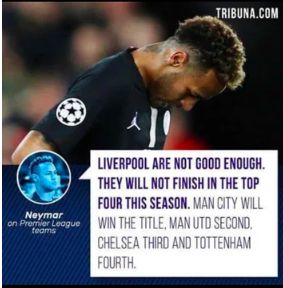 The forward was on the losing side at Anfield in the Champions League, and then had to watch us lift the trophy after his side were embarrassed in the Last 16 by Manchester United.
Now he's facing rape charges in his native Brazil and is missing the Copa America due to injury.
Liverpool on the other hand are still celebrating no.6, which was collected in Madrid in quite glorious fashion last Saturday.
We're not sure we'll come off cloud 9 before the start of the next campaign!