---
In just 18 months, Philippe Coutinho – whose star was always rising with the Reds – has seen the brightness of his career diminish under the lights of Camp Nou.
Now, a curious piece has been published via talkSPORT, which theorises how Philippe Coutinho would fit into Jürgen Klopp's XI if he were to return to Anfield. We don't think he'll be back any time soon.
It's worth taking a look it, however, even if it's just to imagine how Klopp could set the Reds up with an attacking midfielder.
But there's the rub: we're not sure that Coutinho would get back into this team even if all parties wanted it. Setting up with a energetic and enterprising engine room, our midfield might be too much for him now.
Liverpool's highest goal scorers in the last 5 years. (All competitions)

14/15: Gerrard – 13 goals
15/16: Sturridge – 13 goals
16/17: Coutinho – 14 goals
17/18: Salah – 44 goals
18/19: Salah – 27 goals

Salah also won 2 Golden Boots, PFA POTY and the UCL since arriving. pic.twitter.com/aWIbWUVt3M

— Senor (@EnRouteAnfield) June 7, 2019
Let's take a look at the goals scored by our midfielders:
James Milner (7), Xherdan Shaqiri (6), Georginio Wijnaldum (5), Naby Keita (3), Fabinho (1), Jordan Henderson (1).
That's 23 goals in total across all competitions, bearing in mind that we were without Alex Oxlade-Chamberlain who scored five and assisted eight in his debut season last term.
By no means a terrible return, but with rumours linking us to Sporting CP's 32-goal Bruno Fernandes, perhaps Klopp is looking to add free-scorers to the middle of the park.
Read more:
Carragher claims Coutinho can come back to Anfield – on one condition
Coutinho left the Reds for £142 million back in January 2018 – but of course he seemed to threaten to leave the previous summer. His antics frustrated some Reds, but very decent early season form in 2017 did make it somewhat more bearable.
As the talkSPORT piece makes clear, the 26-year-old has only managed five goals and two assists at Barça this season, mainly playing on the left-wing.
They quite rightly mention that there's no way he's ousting Sadio Mané from there.
While, the other option would be playing the Brazil international in Xherdan Shaqiri's now-rare appearances in a 4-2-3-1. However, as we mentioned, Klopp's insistence on a gegenpressing 4-3-3 makes that idea unlikely.
Their final suggestion is the most intriguing, if not the most madcap: a 3-4-2-1, with Phil and his compatriot Bobby Firmino behind a centre-forward in the form of either Sadio Mané or Mo Salah.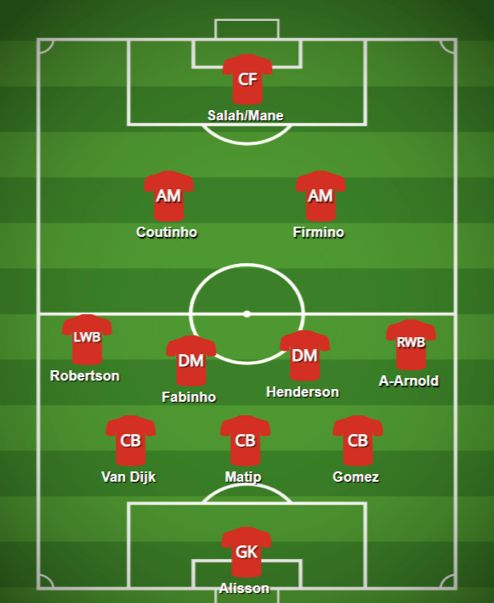 They call it the "Wildcard" option and it's certainly that and then some. We doubt many Reds would consider dropping one of Mané or Mo to shoehorn the prodigal son into such an odd line-up.
That, coupled with the amount of midfielders we already have at the club, makes this seem like an highly unlikely scenario, barring a mid-game strategic, or forced, tactical tweak.
We play best with a solid, three-man midfield that gives Trent and Robbo license to maurade down the flanks. It's the platform and fulcrum for our success this season and we see no reason to stop with it.
Although some have suggested re-signing Coutinho would be a good idea, his cost, damaged reputation, and the success of our newly-crowned European Champions means that we think we've evolved in his absence.
If the Reds do want to invest in further creative or offensive options, they'd do better to put the funds into new, fleet-footed competition for the front three.