---
According to a poll conducted by the Liverpool Echo, 68% of Reds fans would want to see Philippe Coutinho back at Anfield (as of Tuesday morning, though the vote went live on Monday evening).
After tens of thousands of Reds were polled on the topic, that's just over two thirds who have voted pro-Coutinho by agreeing with the statement: "Yes absolutely, bring him home."
21% claimed they wouldn't want to see the club re-sign the 27-year-old after "he made his bed."
While 11% were ambivalent on the issue.
The Echo claimed they were flooded with repsonses to what is a contentious issue at Liverpool. The total £142 million fee that Barcelona were charged for his services saw the Brazilian's transfer rank as the world's third-most expensive in history.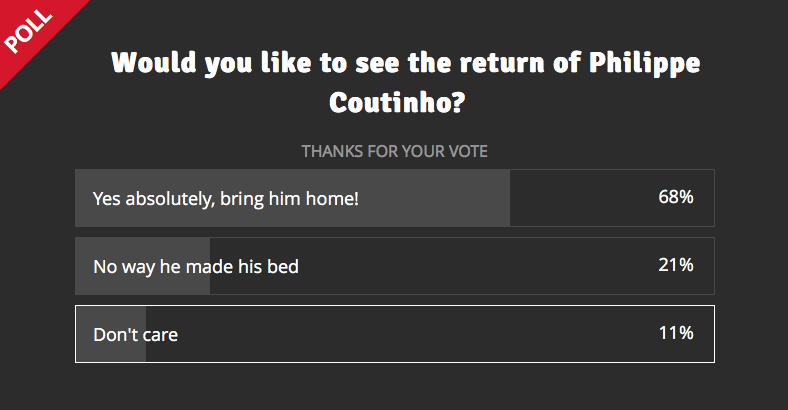 Read more:
Neymar tells PSG he wants out, which could spark Coutinho chain reaction – Sky Sports
After failing to replicate his form at Camp Nou, since leaving Merseyside in 2018, Coutinho has recently been linked with a departure from the La Liga giants.
A hot topic has had its flames fanned by combustible comments made by his agent, Kia Joorabchian.
"Obviously if he were to move back [to the Premier League], it would have to be Liverpool, but at the moment I think it would be difficult and it would be up to them," he claimed.
At the current juncture, neither Jürgen Klopp, nor the club, have made any suggestions they would sanction the re-signing of their former favoured son, but this ballot shows that there are many fans who would love it if they were to do so.