---
Everything we have seen and heard from Liverpool, including Melissa Reddy's exclusive interview with Jurgen Klopp in New York this week, suggests Liverpool are targeting a quiet transfer window this summer.
If Twitter is anything to go by, this is widely seen by fans as a mad decision. Having just won the Champions League and come within a solitary point of winning the league, is now the time to invest to give us that little extra we need? To be the difference in a game to turn one point into three; to become League Champions instead of runners up or, as Shankly put it, "nothing".
So let's take a moment to analyse the situation from Liverpool's perspective and understand why they believe doing nothing may be the best approach to improving upon last season.
The Premier League
The Holy Grail for Liverpool fans: the Premier League trophy has become conspicuous in it's absence from the trophy cabinet of Liverpool Football Club since the tournament's re-branding, in 1992. This is undoubtedly the one Liverpool fans desire to win most coming into the 2019/20 season.
It has also become increasingly competitive over the years with at least one of the newly promoted clubs spending over £100m in each of the last two seasons. The average net spend for a Premier League club during the 2018/19 season was £49.7m.
By comparison, in Italy's Serie A the average net spend per club was £15.2m, Spain's La Liga's was £6.4m, while all other top leagues in Europe such as the German Bundesliga, French Ligue 1, Dutch Eredivisie and Portugal's Liga NOS all made a net transfer profit during the year. You need to go back eight years to 2011/12 to find the last time the Premier League's average net spend per club was lower than £15.2m.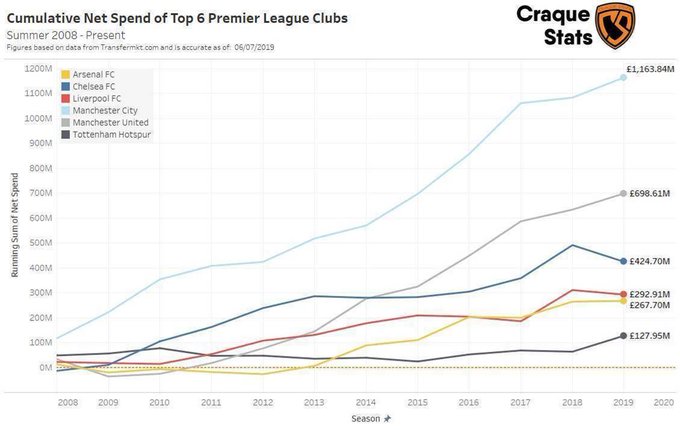 All of this suggests that, to merely keep pace with an average Premier League side, you need to be spending an average of £50m net per season. Of course, that is the average of the total net spend of all twenty Premier League clubs. Above, we can see the biggest spending clubs over the last ten years are those commonly referred to as the 'Big-Six' by the media. Manchester City, Manchester United, Chelsea, Liverpool, Arsenal and Tottenham Hotspur.
The Big-Six or Big-One?
While this likely comes as a surprise to absolutely nobody, the disproportionate amount spent amongst those six clubs may be. As we can see here, in that time, Manchester City have a net transfer spend of approximately £50m more than Chelsea, Liverpool, Arsenal and Spurs combined.
This is consistent even when looking at just the last few seasons when Manchester City were spending from a position of strength having already won or finished runners-up in four of the previous five years.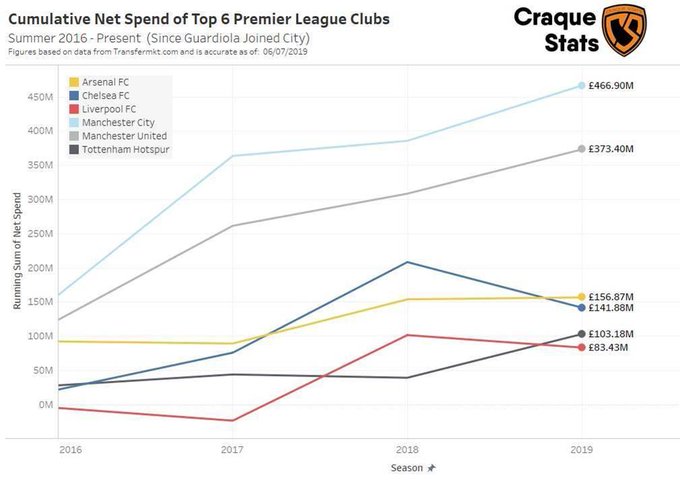 So while a £50m net spend per season is perhaps needed to keep pace with the average Premier League side; to keep pace with this Manchester City side, you would need to be spending an average of more than £130m net per season on your squad. This is something Liverpool have only managed to do once, which coincided with Liverpool's greatest ever total points while pushing eventual champions, Man City, right to the end.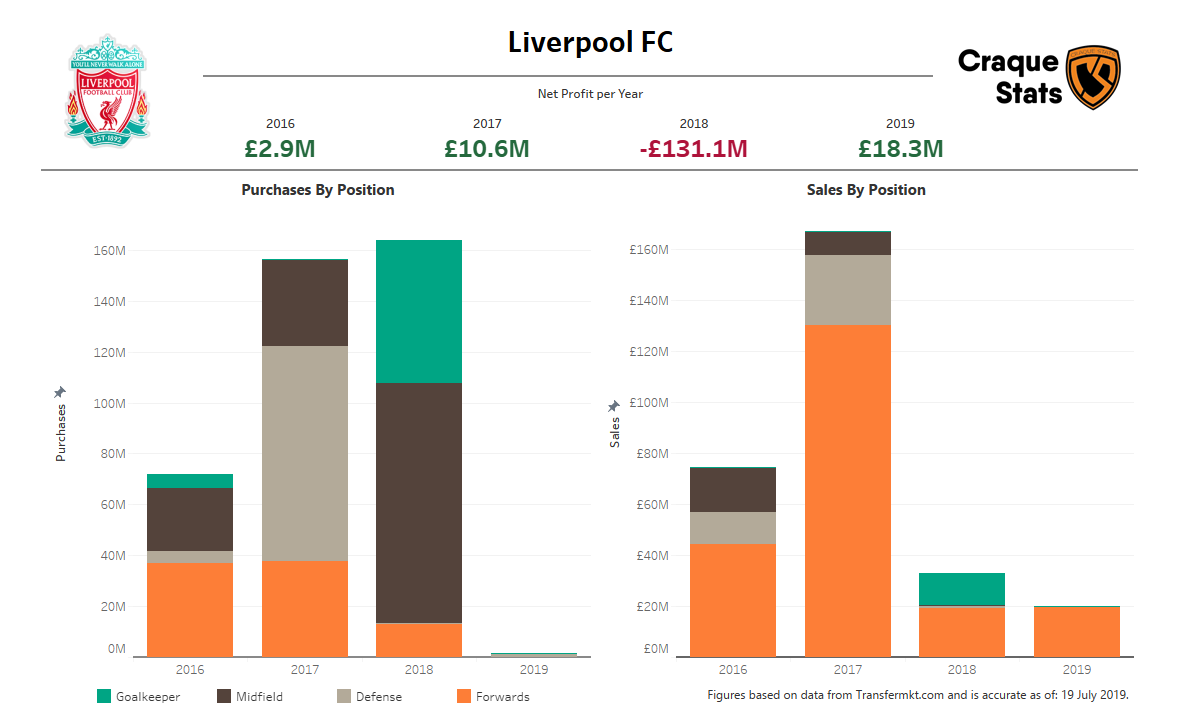 How to Keep Moving Forward
However, there are problems with trying to measure a concept such as 'improvement' with any individual number. This would be an accurate measure if the only method of improving a team was through buying players. While there is undoubtedly some truth in this from a coaching perspective – purchasing better players results in the manager having more quality available to work with –, this isn't the only way to improve your team. In fact, for a proper coach, it is usually the last option.
Players naturally improve towards a peak physical age of 24-29 years of age. After which, you typically start to see a decline in their abilities. Therefore, young squads, such as that of Ajax's Europa League finalist side of 2016/17, will improve each season just by keeping together the guts of the squad.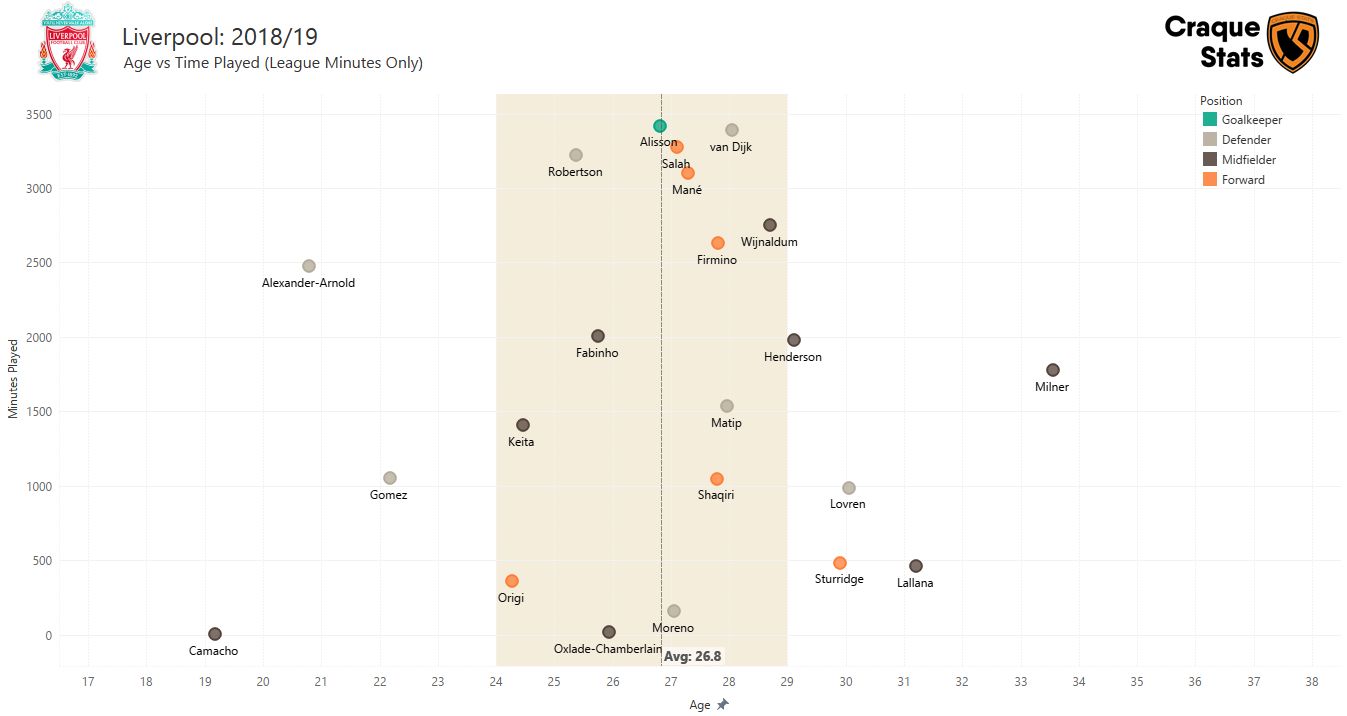 The Revamped Midfield
As we can see from the above, Liverpool have put together a young squad which is moving towards its natural peak age as a group. The only player with significant minutes last season, at an age where you would expect to see a yearly decline, is Milner. Although, it would take a brave man to suggest so considering he is killing the lactate tests each summer and looks like he could be cast in the next instalment of the Expendables.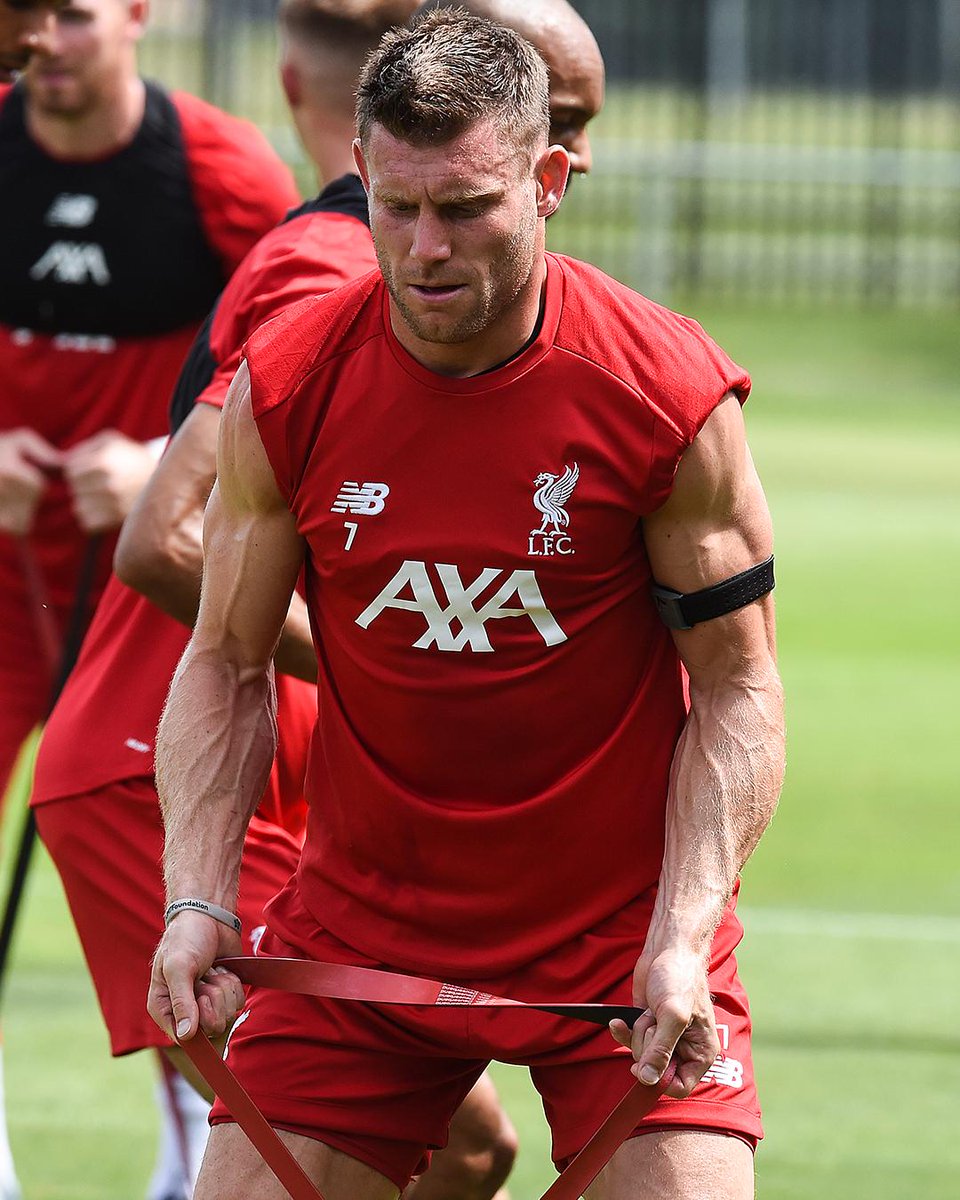 Liverpool have invested heavily in midfield over the previous two seasons. Which means, if and when we start to phase out Milner (or Henderson, or Wijnaldum), we already have a young core of midfielders ready and willing to eat up those minutes in Fabinho, Oxlade-Chamberlain (both 25) and Keita (24).
A Forward Line Lacking Investment?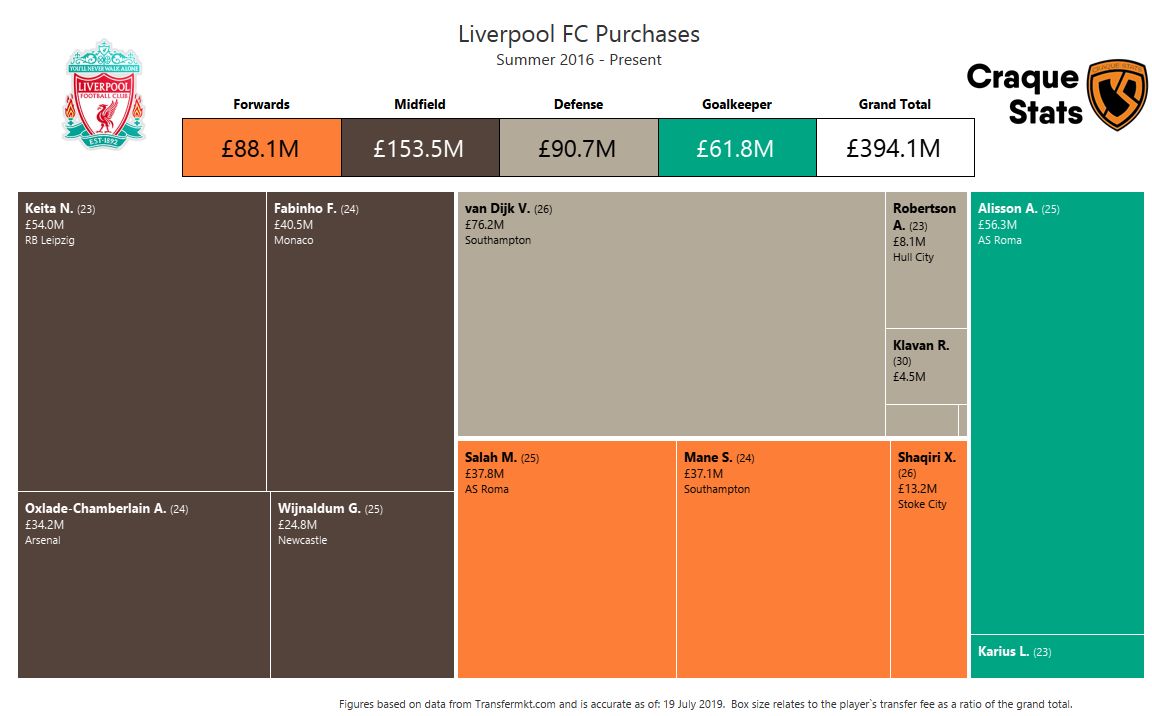 Perhaps the main concern will be the fact that our four main forwards – Salah, Firmino, Mané and Shaqiri – are all aged 27 and will need some fresh blood ready to replace them. Maybe this would have been the best time to start that process, just as we did with midfield, by recruiting and gradually bedding-in their eventual replacements in the years before we need them.
While most sides invest heaviest in their forward line (forwards accounted for 41% of all transfer fees paid since 2016), based on the above, we can see that Liverpool have actually invested more on defenders and almost double the amount on their midfield compared to the £88m (or 22% of their total investment) spent to bolster the forward line since Klopp's arrival.
Although, it is possible that Liverpool's perspective here is that they are already doing so without spending transfer fees. A new long-term contract to Divock Origi – a player who is only now entering those peak years mentioned before – may turn out to be a master-stroke.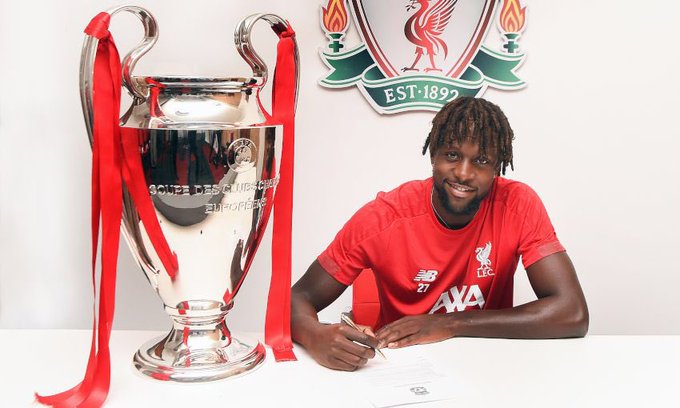 It could be that Rhian Brewster's change of heart, having seemingly had his head turned by the promise of first team football in the Bundesliga, is the most important signing of all. He was hammering in back-to-back hat-tricks in the final stages of the U17 World Cup, en-route to winning the Golden Boot award. He is someone we have waxed lyrical about on this site in the past.
The Emergence of Rhian Brewster
There are many who believe he is a Jordan Sancho level talent who just needs minutes on the pitch to prove it. Could he be the heir to the throne of Fowler and Owen? An academy striker who manages to translate his goal-scoring from youth team to the highest level for the Reds? We have had many false dawns from Craig Lindfield and Adam Morgan to Krisztián Németh, who tore through the U23 Premier League having joined us from our Hungarian feeder club, MTK.
This time, it just feels different.
This is without even mentioning the likes of Harry Wilson – returning after a successful loan spell at Derby – or Bobby Duncan and Paul Glatzel, who scored more than 60 goals between them at youth level for the Reds last season.
As fans, we are naturally nervous about relying on kids. They are unproven and we have seen many hyped up to be the next big thing, only for them to fade into oblivion. Suso, Pacheco, Bruma, Ibe, Rossiter, Teixeira, Ilori, Luis Alberto, Markovic: all young players who we believed would change the fortunes of the club just as soon as they can break into the first team. That time just never came.
Again though, this feels different. Do we finally respect the backroom setup at the club to produce such players? Or is it simply Klopp's track record for seeing world class potential and nurturing through, as he did with Mats Hummels, Nuri Sahin, Mario Gotze and, of course, Trent Alexander-Arnold already in Red?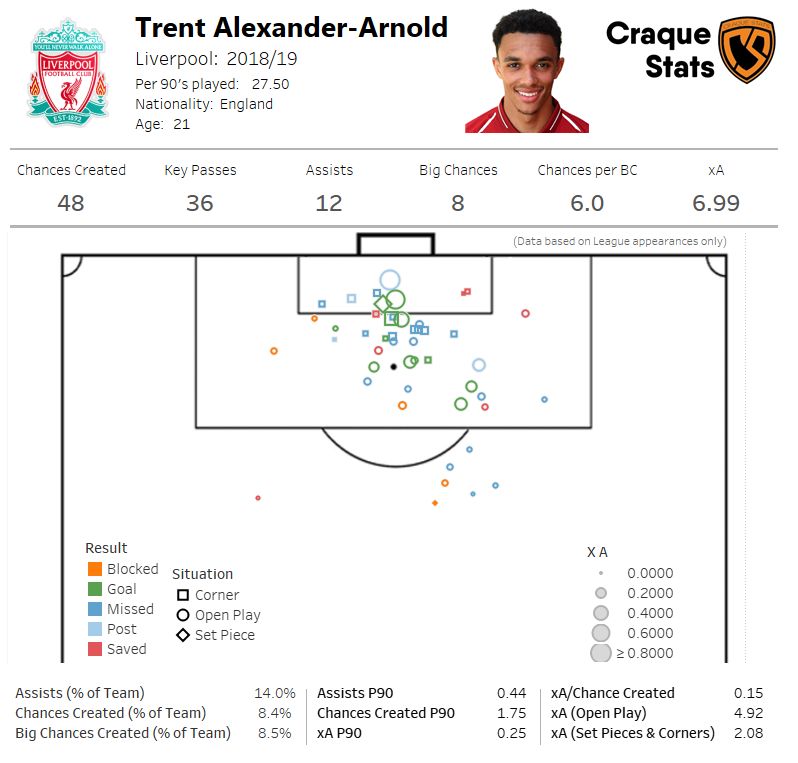 Klopp Just 'Gets' Goalscorers
One under-mentioned string on Klopp's managerial bow is his ability to spot a top level goalscorer. At Dortmund, he started out by plucking Lucas Barrios from the Chilean top flight for around £3m. Sure, he had scored goals in South America, but how often does that fail to translate to the top European Leagues? Yet he got more than twenty goals in each of his first two seasons at Dortmund.
Klopp believed he could do even better. He signed Robert Lewandowski, again for a little over £3m, who went on to score 202 Bundesliga goals in 290 games for Dortmund and Bayern. How many would have predicted that meteoric rise from a kid ploughing his trade in the Polish Ekstraklasa?
He also snapped up Pierre-Emerick Aubameyang and helped him along the path from being a guy who was yet to have a 1-in-2 season to someone capable of banging in 39 goals in 49 games.  Even though Auba's best years came after Klopp departed Dortmund, he saw the talent and believed he still had levels to go.
At Liverpool, he has guided Roberto Firmino to his best ever goal-scoring season in his career. He has doubled Sadio Mané's output from eleven goals a season at Southampton to twenty-two at Liverpool last season.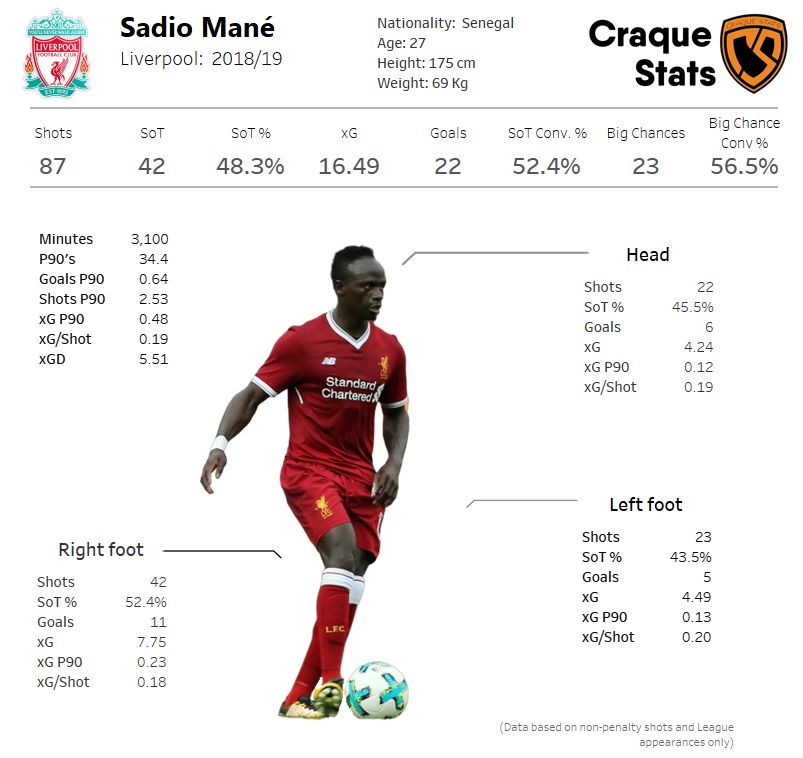 His greatest success may be Mohamed Salah's conversion, from a high-output winger in Italy to one of the most dangerous footballers on the planet, as he shattered almost every goal-scoring record at the club while riffling in forty-four goals in fifty-two games in his debut season.
So if Klopp believes he can nurture Origi, Brewster or Wilson into a elite goalscorer, who are we to argue, given his track-record?