---
Can you remember during Alex Oxlade-Chamberlain's debut season at Liverpool, when he stood up for Coutinho in a post-match interview – when an interviewer was harassing the Brazilian about his potential move to Barcelona?
Well, it appears the Englishman still has a lot of time for his former colleague, who's just joined Bayern Munich on loan for the campaign after failing to make the grade at Camp Nou.
BT Sport posted an image on Instagram, asking if Coutinho could 'prove himself' in Germany – but Ox simply claimed he doesn't need to prove himself to anyone.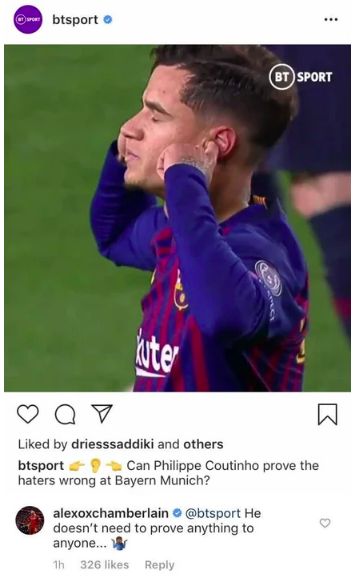 In many ways, he's right. Coutinho is the third most expensive footballer of all time. He's played for Brazil, Inter Milan, Liverpool, Barca and now Bayern.
His skill-set and ability to score beautiful goals is insane. He's no longer a red, but just because Ernesto Valverde didn't know how to use him, it doesn't mean he's anything other than fantastic.