---
Collaborative Post
Let's face it, the 2018/19 season was filled with intense emotions for Liverpool fans across the world. Every match could have pushed the club one step closer towards the Premier League trophy or one step back.
While it was not meant to be, LFC proved to the world they were a force to be reckoned with in football. Plus, if the club's recent performance at the FA Community Shield is anything to go by, Manchester City best not get too comfortable as the league champions.
Read the reasons why LFC will win the Premier League 19/20 season.
The Strongest Squad
Just when you thought you couldn't love a manager as much as Rafa Benitez, Jurgen Klopp comes along with his loveable personality and exceptional football knowledge. Thanks to his effective leadership, LFC secured its sixth Champions League title, as he has managed to create a perfectly balanced squad.
While many non-LFC fans might argue that Liverpool is reliant on Mohamed Salah and Roberto Firmino, you would be smart to remind them that Liverpool knocked out Barcelona in the Champions League semi-final when both players were ruled out, as Divock Origi and Georginio Winaldum brought victory back to Merseyside once again.
Say what you want about LFC, but true sports fans would be foolish to deny that Liverpool offers one of the most well-balanced squads in all of Europe. Jurgen has managed to not only develop a strong defensive line-up, but they offer an attacking front that's almost clinical in nature and a rather creative midfield. Also, few clubs can compare when it comes to reading a game prior to kick-off and developing skilful tactics for every half.
As the Premier League season will require every club to play a total of 38 games, they will each need to have clever tactics and a strong squad that can be rotated without diminishing quality. While many teams fall short in both, the well-oiled machine that is Liverpool seemingly offers both attributes that could lead them to victory this season.
A Superb Home Run
Football fans would be wise to back LFC when they are playing at their stadium of Anfield, as they will likely receive the best sporting odds when they are on their home turf. The statistics speak for themselves, as Liverpool had an impressive 40-match unbeaten streak at their home ground in the last Premier League season. In fact, they haven't been beaten at Anfield since April 2017, when Crystal Palace won 2-1.
Cheered on by the crowd, who loyally belt out the club's anthem of "You'll Never Walk Alone", it's not hard to see why the talented players roar to victory each time they step into the stadium.
Form Issues from Other Clubs
Mediocre squad development and poor form are currently contributing to many a Premier League club's downfall. While Liverpool FC and Manchester City undoubtedly feature their strongest squads in recent years, other big teams are struggling to compare.
While the likes of Tottenham Hotspur, Arsenal, Chelsea and Manchester United are still big competition, it seems almost unlikely they'll be able to match LFC and Man City in terms of style and quality in the 19/20 season. While it would be foolish to underestimate the above teams, it is likely either Liverpool or City will be securing the Premier League title come May.
Last season's statistics speak for themselves. While Liverpool were pipped to the title by one point, Chelsea were 26 points away from lifting the trophy. So, with the top six failing to provide LFC with realistic competition, it is possible Klopp will have his revenge on Guardiola this season by helping Liverpool to win their very first Premier League title.
Disappointment Will Inspire Hunger
Finishing the season just one point behind Manchester City was heart-breaking for LFC fans across the world. While the Champions League win alleviated some of the pain, it's likely the disappointment will inspire hunger inside Jurgen and his red men.
It almost seems unfair that Liverpool have yet to be crowned Premier League champions. After all, they have recorded a whopping 97 points in as little as 38 games, which is the highest tally for a club not to win a Premier League title. It would, therefore, be silly to believe the Reds haven't got what it takes to lift the trophy come May.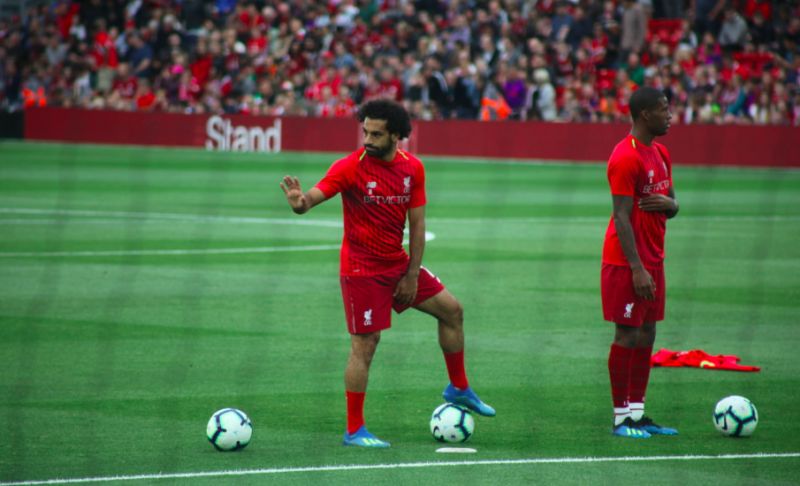 Caption: Mohamed Salah
The Terrifying Trio
Liverpool FC has plenty of reasons to feel confident heading into a new season. After all, they have the terrifying trio that is Mohamed Salah, Roberto Firmino and Sadio Mane, who enjoyed a combined 69 goals last season. If the players manage to replicate their success once again, the Premier League title might be written in the stars for the club. In fact, it wouldn't be surprising for all three players to be nominated for the Premier League Golden Boot award once May rolls back around.
Maintain Momentum
LFC fans will remember well that the club was six points clear last Boxing Day. While it was impossible to stop Manchester City's perfect run throughout the season, both Jurgen and the players must learn from last season's small mistakes and aim to maintain their form both before and after the festive period. If Liverpool reach a similar position this season, it's unlikely Klopp will allow them to fall short again, as both he and the players will undoubtedly be determined to take Manchester City's crown.
A new season will provide a new opportunity for both Klopp and the squad to finally bring the Premier League title home to Merseyside. The Reds have proved they have what it takes by securing their sixth Champions League title, and the Premier League trophy feels so close that fans could almost touch it.
Due to Liverpool's well-balanced squad, home game advantage, and the force of the terrifying trio on the pitch, there could be no stopping LFC this season. In fact, the only club that is standing in Liverpool's way of lifting the trophy is seemingly Manchester City. Yet, LFC have what Man City don't: a hunger to prove they are worthy of being coined Premier League champions.