---
The pass-maps and touch-plots below for Liverpool's games against Southampton and Arsenal demonstrate the vast improvement in our performances over the two matches.
Pretty much everyone is familiar with pass-maps by now thanks to the likes of David Sumpter and Sander Ijtsma. The images display players' average positions on the pitch and the number of passes exchanged between them. Touch-plots just show when and how often players touched the ball in the game.
Liverpool vs. Southampton (17 Aug)
Against Southampton, Mo Salah was an island that only Alex Oxlade-Chamberlain occasionally managed to reach. A gulf existed between Salah and Trent Alexander-Arnold that neither player was able to bridge.
There were important mitigating circumstances for the below-par display at St Mary's, of course, namely travelling to and from Turkey just days earlier to play a tough game that went to extra-time and penalties. But this still makes for pretty grim viewing.
The touch-plot reinforces just how isolated Salah was.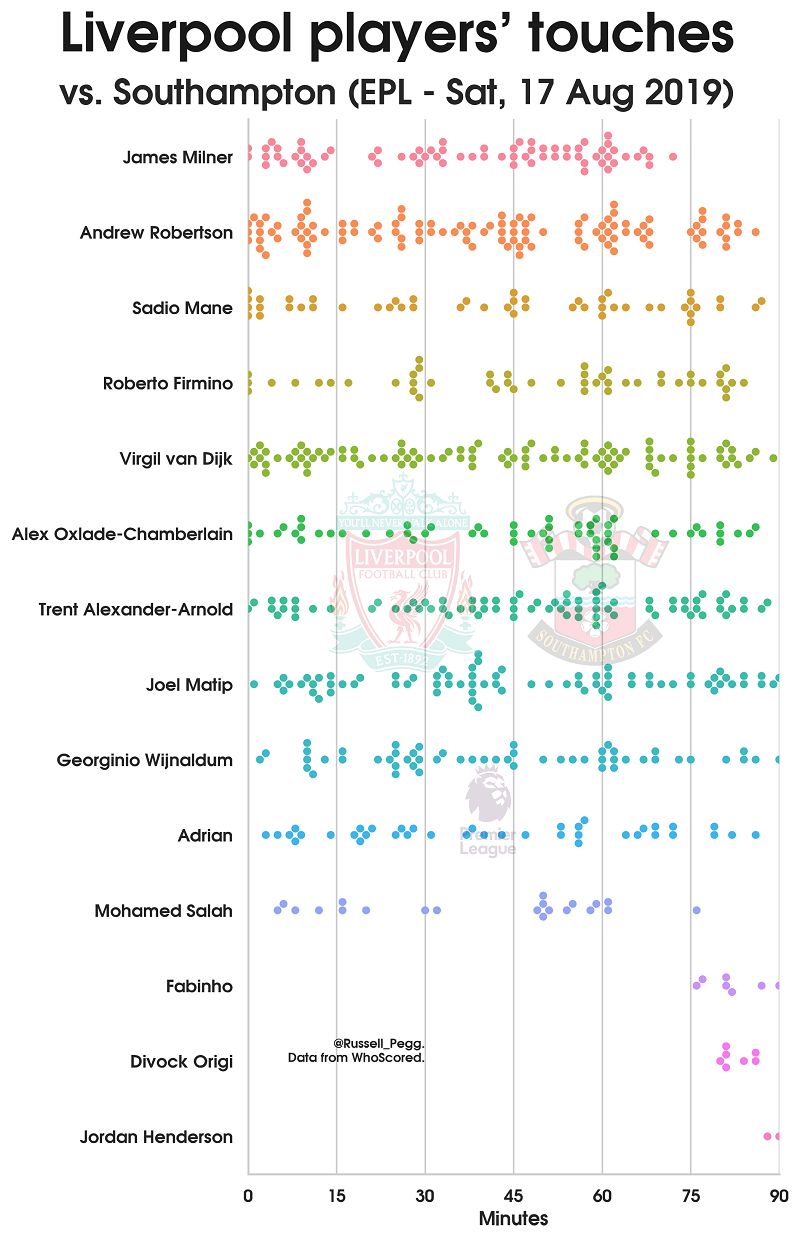 Salah averaged 50 touches per 90 in the EPL last season. The lowest number of touches for him in a Premier League game that he started in 2018-19 was 28, away at both Leicester and Tottenham. He managed just 21 here.
In contrast, the involvement of both Bobby Firmino (48 touches against an EPL average of 60 per 90 in 2018-19) and Sadio Mane (51 touches, just below his league average of 53 p90 last term) was much closer to their usual levels.
It's also clear that Trent Alexander-Arnold – with 79 touches – was less involved than Andy Robertson with 115.
And while you'd be hard pressed to find a centre-back in world football who can pass as well as Virgil van Dijk, there's still no way you want him to be seeing that much of the ball.
Liverpool vs. Arsenal (24 Aug)
The transformation for the Arsenal game is a pleasure to behold.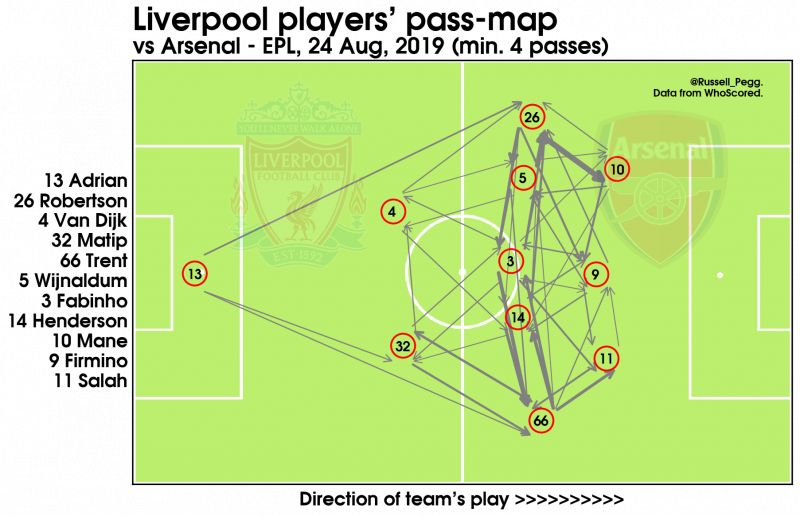 Everyone bar the goalkeeper and centre-backs had an average position well inside the opposition half.
Most importantly, there was good connectivity between the players who are arguably our best creator – Trent – and finisher – Salah. The latter was also found regularly by both Firmino and Fabinho.
Salah more than doubled his involvement to 56 touches, while VVD's fell from 97 against Southampton to 34 here.