---
Sadio Mane has helped to ease Liverpool fan's fears, with a light-hearted response to James Milner joking about hsi angry outburst against Burnley.
The Senegalese star was substituted ahead of the final whistle at Turf Moor, and he appeared to flip out at Mohamed Salah's decision to not pass the ball moments earlier.
Mane's reaction worried supporters, as he's one of our very best players and a bust-up with Salah – another of our very best players – would be far from ideal.
James Milner took to Instagram not too long after the game to make a joke about the situation. The midfielder suggested that Mane was wound up because the Yorkshireman hadn't been brought off the bench.
Mane responded, in jest, agreeing with the midfielders sentiment.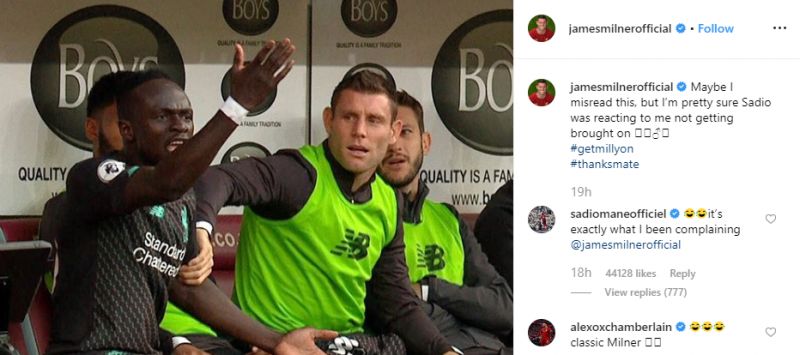 The response from our star forward will no doubt ease supporters' fears that there's some serious bad blood between him and the Egyptian winger.
Opinion
Just as a little aside from the point of this article, I want to talk about Milner's reaction to Mane's outburst.
When Sadio walked off the pitch, clearly emotional, the midfielder immediately moved himself over to the forward to help comfort him. Bobby Firmino and Joe Gomez also did something similar.
It just goes to show how closely-nit our squad is, and I think it's brilliant.