---
There's lots of stuff that makes us dislike Manchester City.
But this is simply on another level.
The Sly Blues have been found out to be paying social media influencers to come to games and speak up the non-existent Etihad atmosphere.
Here is a 100% genuine advertisement in regards to this season's Champions League: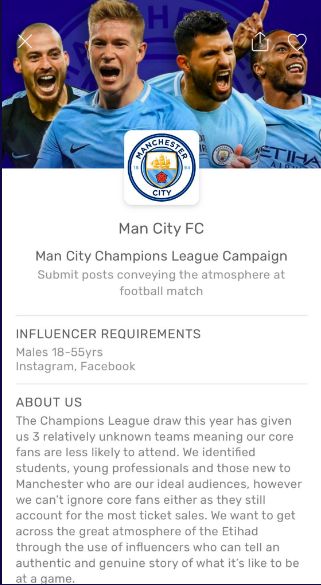 We're not sure what turns our stomach the most, in all honesty. The fact they have the cheek to call their Champions League opponents, 'relatively unknown' clubs?
The fact they suggest 'core fans' won't go to watch their side against smaller teams?
The manner in which they state, without irony, that the role is to promise an 'authentic and genuine' story?!
Madness.
Empire of the Kop can also reveal that this isn't a new thing for City. Last season, the club paid American influencers who had no idea about the club to come to the Etihad for the Liverpool game and post videos on their social media channels. They gave them free stuff, money and paid for flights to and from the game. 
So, so grim.