Andy Robertson was the unlikely goal scoring hero against Wolves and it led to wild celebrations from the whole squad, including an unusual celebration with Curtis Jones that has certainly caused some debate.
The Scouser was clearly happy to see the Reds take the lead and he expressed this by grabbing the neck of his captain for the day, leading to an image where it looks like he's strangling the Scot.
The captain of his nation uploaded this picture to his Instagram stories, alongside the caption: 'Get your hands off me now 😂😂❤️' which shows that this was all taken as a joke.
READ MORE: Konate's brilliant seven-word post to Harvey Elliott after Wolves heroics
In response, our No.17 first uploaded the same picture with the message: 'Sorry brother 😭 you know I love you ❤️❤️', before re-posting the original message from the left-back and responding with: 'This how happy I was to see you score 🤣❤️❤️ what a guy!'.
The image certainly doesn't look great on the academy graduate but it's clear that it's a split second occurrence that was captured at just the right moment, leading to some comical interactions.
This just shows how much it means to both of them to be involved in such a huge moment, something the celebrations after Harvey Elliott's deflected effort also provide an insight on.
READ MORE: "Still not sure" – Gabriel Agbonlahor shares bizarre thoughts on Ibou Konate
Going a goal down, playing the early kick-off after an international break and missing several key players, this was always going to be a tough match and the victory felt all the sweeter after the hard work that had to be put in.
Let's hope there's plenty more moments like this in the season, although it's probably best if there's less strangling from now on!
You can view the image and posts of Jones and Robertson via Instagram: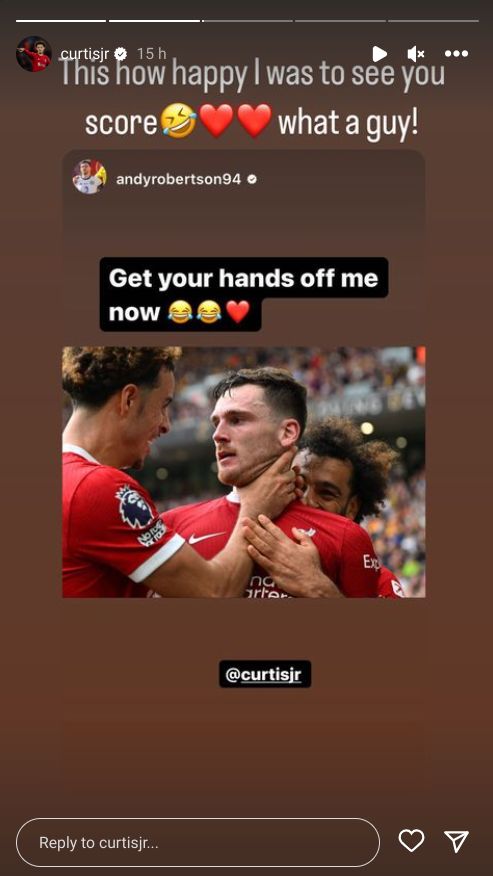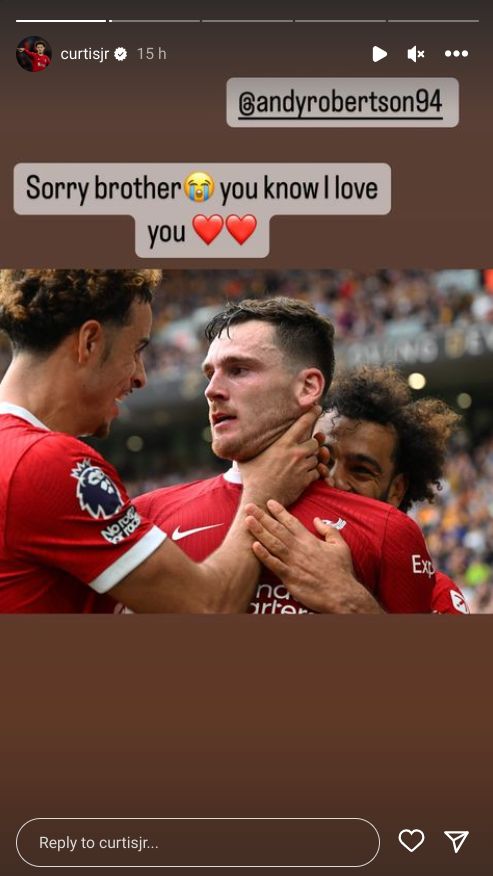 #Ep90 of The Empire of the Kop Podcast: EOTK Insider with Steve Kay – Goncalo Inacio NEXT?🎙️