– Yashasvi Diptivilasa (@yashasvid)
Rambling Reds
4 goals. 68% possession. 32 shots. 10 shots on target. You would think this was Pep Guardiola's Barcelona playing, not Liverpool. Especially not the Liverpool we've become accustomed to seeing and moaning about for the past three years.
Except it was, wasn't it. That was an absolutely magnificent performance. There was no dropping off of performance in the second half, no being pegged back for long periods (or at all), no late penalty heroics from Miglonet to ensure the points, no scruffy 1-0 and then ride out the game. This WAS death by football as envisioned by Brendan Rodgers. When we didn't have possession, we were pressing for the ball constantly. When we had possession, we knew exactly when to play it forward and when to play keep-ball. We exploited the full width of the pitch and cut them through the middle. We kept a clean sheet and our goalkeeper had absolutely NOTHING to do in the entire game. We finally scored from a corner thanks to an exquisite corner by our Captain Fantastic. This was THE complete performance. Yes, I know, it was only Fulham, but Liverpool has struggled to put away teams at Anfield since 2008-09.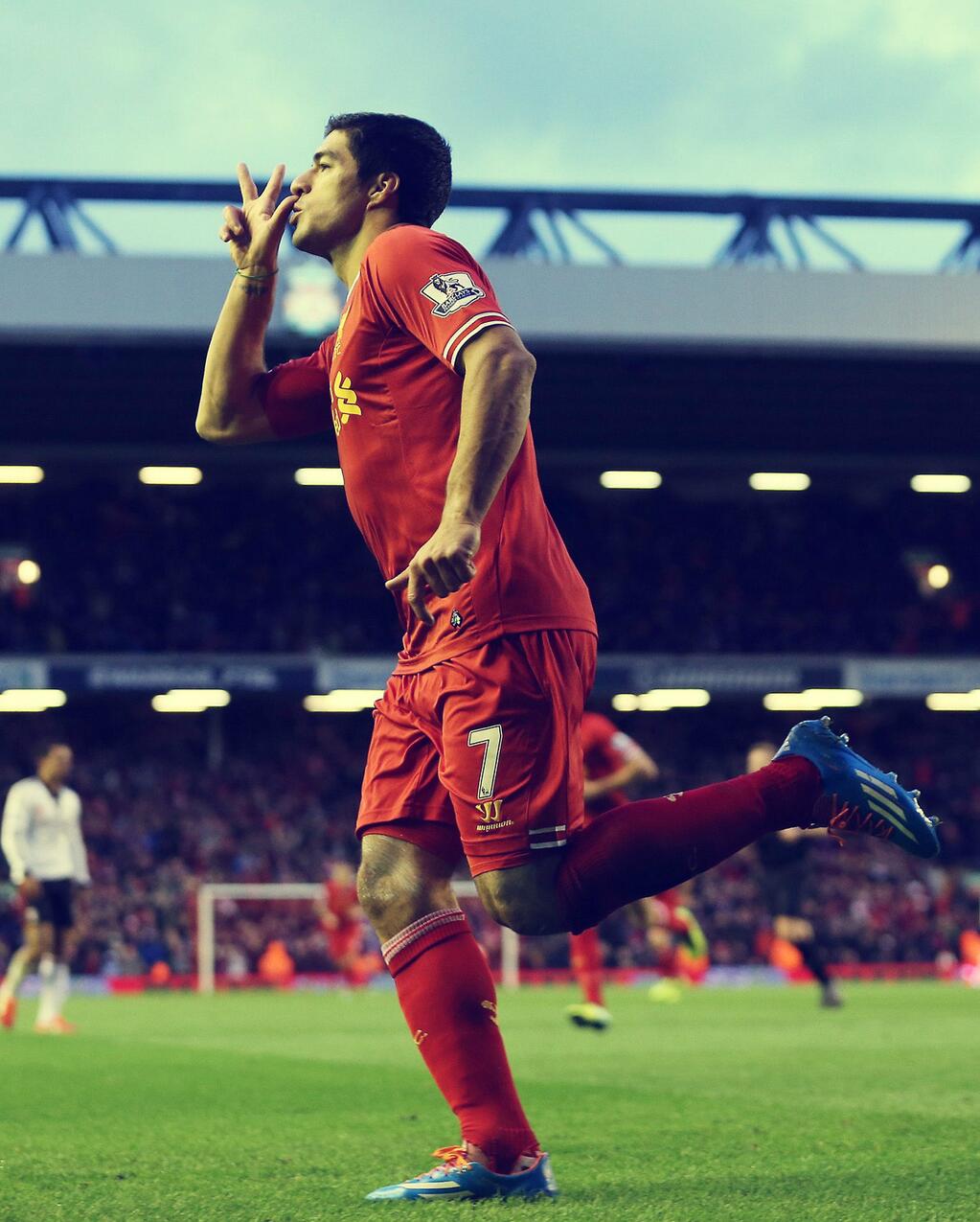 Jordan Henderson was absolutely royally, regally magnificent. He was sharp with his passing, grabbed an assist for Suarez's goal with a slide-rule pass that left Fulham defenders for dead and crucially, pressed the opposition high up the pitch ceaselessly, covering probably every single blade of grass! Glen Johnson was magnificent on his return from injury, providing a constant goal threat and outlet on the right and offering genuine width. Steven Gerrard was at his imperious best, setting the tempo of the game like only he can and delivering some absolutely blinding balls into the box. Martin Skrtel and Daniel Agger looked back to the pairing of two seasons ago, when they were probably the best center back pairing in the Premiership. Coutinho was a vital cog in midfield, always available to receive the ball and making those little darting runs behind defenders. And obviously, we have by far the finest front two in the league. The SAS, cheesy as the term sounds, is giving defenders throughout the league nightmares!
But yesterday's magnificent performance was even better than it actually was. One simple reason – bouncebackability. The memories of three painful seasons are yet to go. Rodgers alluded to it himself after the game, saying, "when I first came in here, there was vulnerability in games like this – there seemed to be nervousness around the group for some reason." Well, has he gotten rid of that and how! Liverpool have now won the league game immediately after a league defeat for the ninth time in a row! That speaks volumes about the character of the side Rodgers is trying to build. It is also key to all hopes of turning Anfield into a bastion of invincibility yet again.
Rodgers is also playing it extremely smart in trying to avoid all talk of Liverpool being in the running for the title. We all know it is wildly optimistic, to say the least, but we  need to at least keep taking advantage of slip ups by others. By neither ruling Liverpool in or out of the title race, Rodgers is not only keeping pressure off the players, but is also not displaying a lack of ambition. This is a fantastic manager, if I ever saw one. Rodgers will the first to admit that he needs a better record against the top sides in the division, but winning the remaining games should itself get us into the top 4. For a start. Another utterly pointless international break and then roll on Everton!
PS: Photo credit to @MostarLFC