By Adwait Dhuri (@addykted_)
The just concluded summer transfer window was fruitful for Liverpool FC with bringing in some star names upfront and adding much needed defensive enforcements along with industry and experience of our new Vice-captain James Milner, already looking like the best business from our transfers. Many fans wrongly moaning about our net spend in transfer window being lower than a promoted club means a bad transfer window just shows the impatience on part of those fans and clearly ignoring the stadium expansion plans undertaken by the club which will be fruitful in long term. Still think we could have added a defensive mid to our ranks, but guess not letting Lucas Leiva now the senior most player at club leave on loan was right thing, although a pretty wrong decision in first place and did question our manager.
Speaking of manager who was lucky to be still at club after last season's shambolic end, still looks to have not changed his ways and keeps repeating the same mistakes again and again, like making players play out of position, wrong substitutions and the worse favoring mediocre players signed by him over the supposed committee signings. And although this season Liverpool FC have a much stronger squad compared to last seasons yet some old man has a different opinion based on single performance which shouldn't be a marker for whole season. How will our beloved club fair will be dependent on many things like always but performances on pitch and subsequent finish in league table will the marker of how much progress we have made after last season. With new players brought in we again face the transition phase that teams goes through for these new players to gel in squad and managers to try out best possible formation and starting lineups. Now with the squads for both league and Europe being declared we have good idea which players might be preferred in lineup but with so many formations already being tried by our manager in last match alone it's still early days to decide which formation will suit best to our strengths.
The Formation:
4-3-3 was the most favored formation of our manager when he first arrived at club with his possession based philosophy and tika-taka, and still looks like a go-to formation for Liverpool FC with Christian Benteke upfront our big new Number 9 and was used to varied effect in our first 4 games with slight variations of 4-2-3-1. Then manager opted to change to back 3 defense in second half when Hammers came to Anfield to nullify the supposed aerial threat of lone striker which still resulted in a goal due to questionable defending without adding much offensively and with almost all of EPL teams playing with lone striker upfront having 3 center-backs isn't the best solution in league.
With a high profile departure in summer we now only have a single out and out winger in our ranks the rest of attack comprises of number 10's, which means we can play these players in wide areas but they won't be as effective in stretching the game for our midfielders to run into or provide telling crosses into opposition box. Not to forget in 4 strikers Liverpool FC has a good variety upfront along with Brazilian Firmino also able to play just behind striker or as a number 10 and there will be an added concern to our manager to provide good share of playing time among them.
Which leaves us with 4-4-2 Diamond formation used to good effect by Liverpool FC few season ago but was defensively a headache due to not good enough fullback and an ageing Gerrard used as quarter-back who at times was not able to provide enough cover to our defense. But this season with the players bought by our club it seems 4-4-2 Diamond can be effective both defensively as well as offensively. Below is the 4-4-2 diamond formation with the strongest players at their respective positions although our manager may think differently, with this formation we can play most players in their favored positions like Milner who wants a central role, Coutinho as CAM where he can affect game more rather than from out wide, Lucas providing defensive cover in front of our shaky defense and most importantly a strike partner to Benteke upfront who can be a willing runners for him as well as strive on knock downs provided by the big Belgian.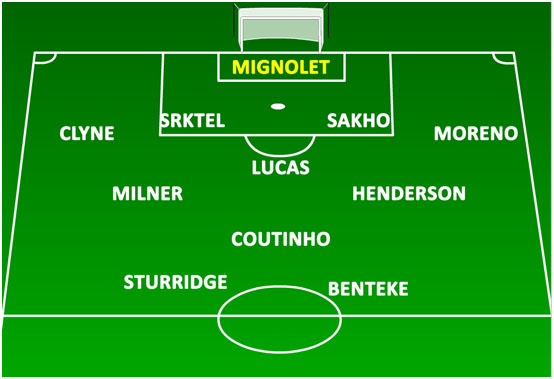 Defense:
Even after spending considerable amount of money of defense Liverpool FC have been shaky at back this season too.  While lot has been said about how Lovren isn't suited to start ahead of Sakho and rightly so, one thing missed by most fans is that Liverpool FC have not looked to upgrade Skrtel in any manner over past many transfer windows. We brought Kolo Toure to replace retired Carra and invested in Illori who never got a look-in from the manager, Joe Gomez has had a good start to his top flight career and maybe be looked upon as long time successor to Skrtel but how many times he will be played in his preferred position by our manager this season remains to be seen. In Clyne we have a dependable RB but cover at fullback positions still looks short with Flanagan not yet fully fit and Jose Enrique out in cold. Hopefully some academy graduates will get a look in during cup ties and will grab the chance with both hands.
Midfield:
A position which manager needed to strengthen in summer although we have a decent enough personnel we could have added a little more variety into the engine room. With just 5 senior Midfielders in squad with 2 already sidelined due to injury manager may be forced to utilize the U21's more often this season which might be good thing for development of these young players. We also saw Lallana deployed in midfield and did a decent enough job late in game which might be a good option for him as season progresses with the sheer attacking talent we have in forward positions. Remember how Rafa Benitez used David Luiz as defensive midfielder during his time at Chelsi, our manager can use Sakho as a possible option in midfield but then again don't think he will try anything like this.
Attackers:
Sturridge back fit and training has been a big boost to club he was sorely missed last season, the way he links up with Benteke will decide how our season shapes up in coming months. Sturridge can lead our attack on his own with support from Ings/Origi or he can play along with Benteke providing manager with variety of options upfront and opposition defense with double threat of pace and power to deal with. But the reluctance of manager to use two strikers upfront in the first 4 matches looks baffling especially with Benteke isolated upfront at times due to lack of service made our attack look toothless. Both Ings and Origi can operate in wide forward positions as well and may help in stretching the game against stubborn defenses. In Firmino we have signed possibly the next most exciting Brazilian player and he provides manger with variety of options upfront with able to play in all 3 forward positions, as a support striker or as a number 10. Ibe has been somewhat of a disappointment to many fans since a lot was expected from our next teenage sensation but he has time on his hand to improve on his last years strong performances and could have been loaned to a Premier League side to get playing time. It was sad to see Markovic leave on loan after just a single season that too in which he was played most of the time out of position, could have been good option to bring off bench late in game with his pace and decent technique and should have been loaned to a Premier League side if manager thought he wasn't ready for physicality of league it would have been good for him as well might have helped nick few points off other teams for us like Borini did few seasons ago.
Manager:
It was refreshing to see Liverpool players use time wasting tactics at Arsenal although a thing which many of us fans hate to see but sometimes players need to do things which are necessary in particular match especially away against big teams. It was nice to see our manager make our players do such things and then he just blew it away at home when he brought on a defender when the team was trailing 2 goals instead of one of the 2 strikers which were on bench. His such questionable decisions, reluctance to have faith in players at his disposal and alienating some players in squad effectively making them leave club just because of his big ego have played big part in poor results for club and also put job his under serious consideration by club owners at end of last season.
Even after getting full backing from owners and spending handsomely in transfer market buying players he wanted, as a manager he still feels doubtful as someone who can take Liverpool FC back to its glory days especially in Europe where he has clearly looked out of sorts whether it be last season's group stage exit in Champions League or even Europa League troubles from his first season. Surely as Liverpool FC manager he will get full backing from us supporters but unless he mends his ways and get good results soon he may just put his own job and clubs ambition to return to European elite in jeopardy. Until then Y. N. W. A!!!