'Who's this coming on?' I was asked by my West Ham fan dad as a forgotten Divock Origi shouldered the responsibility as Jurgen Klopp's final roll of the dice.
I chuckled ironically as I briefed him on the Belgian's stagnancy on Merseyside this season, almost in foolish ignorance to the cinematic twists engrained in the DNA of this Klopp-led Liverpool.
Sporadic murmurs of the striker's name upon his introduction had been amplified to songs of worship by the end of an extraordinary 12 minute cameo.
In this week's Hollywood script, Origi and Liverpool delivered agonising punishment for those that made the ill-guided decision to leave their seats before the final whistle.
Having seen so many of these players already print their name in Reds folklore under Klopp, you couldn't shut away a tiny inkling that Origi, who had managed just 11 first team minutes prior to Sunday, would play a part in any late drama.
Eyes widened at the sight of him bursting beyond Yerry Mina shortly after his introduction, hands gripped heads in disbelief at his close-range effort hitting the crossbar, the Kop erupted as he pounced on Jordan Pickford's freakish error to snatch a win.
The winner plucked a strange reminder of the final scene in Happy Gilmore, when time seems to slow down as the ball ricochets between an impossible route and somehow winds up in the hole.
A third goal in his last four Merseyside derbies marked deserved closure on the memories that have haunted him since this very fixture two-and-a-half years ago. Liverpool's 4-0 win over the Toffees back in 2016 was tarnished by a horrific Ramiro Funes Mori challenge cutting short the brightest spell of Origi's career. This was redemption, in the most bizarre of circumstances.
"I just believed in myself. It wasn't easy," he said.
"I just try to enjoy the game, whenever I come in I try to help the team, and I'm happy I could do it in this way today."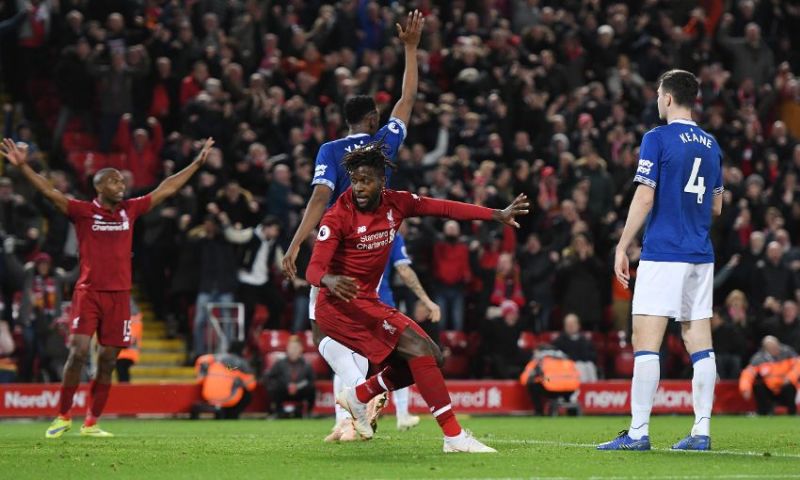 SEE MORE:
Gomez compared to two Premier League legends
There was something gloriously nostalgic about Origi of all people giving the green light to flying limbs and Everton misery.
One of the original pieces of Klopp's Liverpool jigsaw channelling the euphoria, the drama and the sheer dumbfounding that was promised by the German's résumé at the time of his appointment. One of the original sketches on Klopp's Liverpool blueprint giving the new lads an 'access all areas' insight into the magic of this club and the privilege they have of striving to uphold it.
This was special. Special, is this club. Klopp's celebratory sprint towards Alisson said so. The jubilation in the terraces said so. Everton's most impressive derby performance in years going unrewarded said so.
As for the boss. The carnage was beautiful. He invaded the pitch on behalf of every Liverpool fan around the world, with a momentary blind eye to any impending FA charges in the name of raw emotion and the kind of ecstasy that fuels the 'football is more than a game' argument. Criticising his reaction would mean overlooking what this sport is about. There should be no arguments against any manager in world football running riot as he did after a 96th minute derby winner.
Marco Silva's men were good, really good. From the distinct sense of cohesion and direction to their unflinching attacking ambitions, it was a performance contrary to the inferiority and caution of past Everton teams. And yet, they made the short trip home with nothing to show for it. This was as accomplished an Everton derby display as many will be able to remember, and that's what makes it even sweeter.
If there was anything for those in Blue to cling to, it's that the mayhem among Reds inside the stadium and at pubs long into the night was in partial respect to their admirable efforts.
All that said and done, a historically one-sided narrative lives on. Everton still haven't won at Anfield since 1999. They still haven't won a derby since 2010. Liverpool still haven't lost in the Premier League this season and now boast five injury-time winners against their famous foes.
Liverpool were as they have been for much of the campaign so far. Calculating, balanced and patient in their wait for decisive chances. Again, they also lacked conviction in the final third and the kind of overpowering intensity that shredded opponents last season. It's for grit and passion prevailing over technical dominance that glossed the three points.
For a moment, Manchester City were forgotten, Liverpool's second-placed position was forgotten, the Premier League title challenge was forgotten, Wednesday night's clash with Burnley was forgotten. We got to enjoy it without the variables and purely as a derby spectacular to rejoice over for a lifetime.
It's a Christmas tale Reds will never tire of telling.