It's been a case of so far, so good for Liverpool in the early weeks of 2023/24, with 10 points gleaned from a possible 12 to leave the Reds third in the Premier League table.
It marks a welcome contrast to the equivalent stage of last season, when Jurgen Klopp's side had picked up only five points and were already playing a catch-up battle they couldn't quite win by the campaign's end.
The mood music is much happier now than 12 months ago, but the tone for the remainder of this term could be set in the next four weeks, with the Merseysiders facing no fewer than seven games in a 23-day period, having had just four matches in a similar timeframe prior to the international break.
In addition to trying to maintain their lofty top-flight position, Liverpool also get their Europa League and Carabao Cup campaigns underway before the next pause to the club season.
We've already come out the right side of some tricky-looking early fixtures, winning against Newcastle and Aston Villa, but three of the Premier League's current top six await over the next month, two of those away from Anfield.
Let's have a look at our next seven games, along with a comparison to this period of last season and how we fared in corresponding fixtures in 2022/23 (where applicable).
READ MORE: 'I've got you…' – Troy Deeney mocks former Liverpool tank over incident from 2015 clash
READ MORE: Liverpool gem who Klopp dubbed a 'top boy' could soon get first appearance of the season – report
Liverpool's results from corresponding games in 2022/23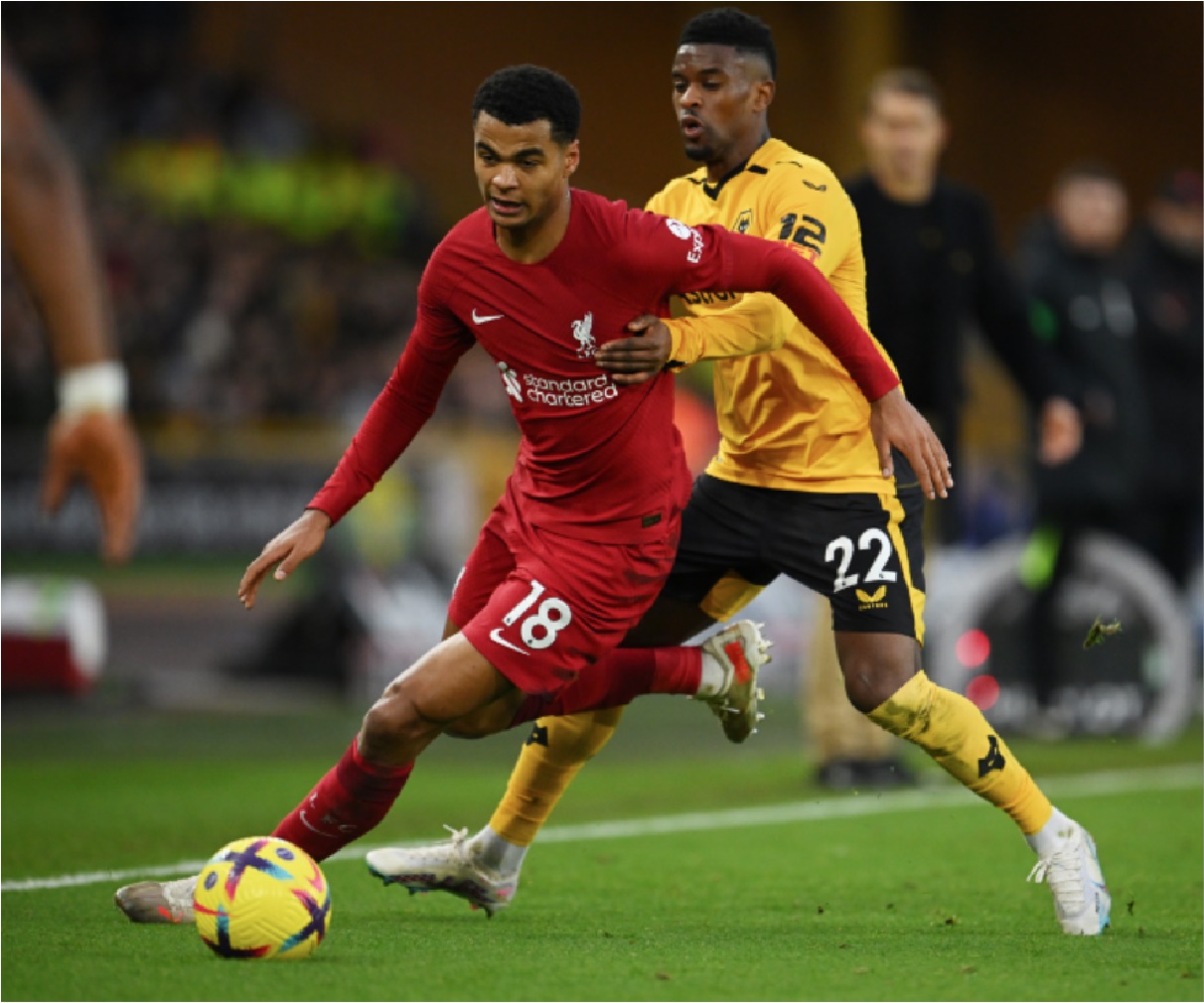 The seven-match run begins with a Premier League visit to Wolves next Saturday, and surely it can't be any worse than we last visited Molineux in February. On that occasion, a 3-0 hammering left us with only one point from four top-flight matches at the start of 2023 and marked our fourth loss in seven games inside the first 35 days of the calendar year.
On 21 September, Liverpool begin their Europa League campaign with a trip to Austria to face LASK, with that being the first-ever meeting of the two clubs. Klopp will be hoping for a better result than the one with which we commenced our European run last season, a 4-1 thrashing away to Napoli in the Champions League group stage.
Three days later, the Reds are back at Anfield to welcome West Ham, and a repeat of the 1-0 win over David Moyes' side from last October (courtesy of a Darwin Nunez header) would do nicely.
Next up is our entry into the Carabao Cup and another home clash, with Leicester making the trip to Merseyside, just as they did in that competition two seasons ago, when a thrilling 3-3 draw ended with the Reds triumphing on penalties and going on to lift the trophy. The Foxes' last visit to L4 saw them beaten 2-1 in the Premier League at the end of 2022.
September ends with Green Day's Billie Joe Armstrong being awoken from his slumber and Liverpool heading to London to take on Tottenham. It was a fixture we won 2-1 on our previous trip to that part of the capital, a first-half double from Mo Salah last November ensuring that we took the points home.
After that run of four matches in 10 days comes a welcome five-day breather until our Europa League clash against Union Saint-Gilloise at Anfield. It marks the second season in a row in which our first European home game pits us against opposition from the Low Countries, having beaten Ajax 2-1 (thanks to Joel Matip's late winner) this time last year.
Our final game before the October international break is a Premier League trip to Brighton. Our most recent top-flight visit to the Amex Stadium was calamitous, losing 3-0 in January. Then the FA Cup draw sent us back there a fortnight later to be beaten again. Thanks, chaps!
Liverpool's results from corresponding period in 2022/23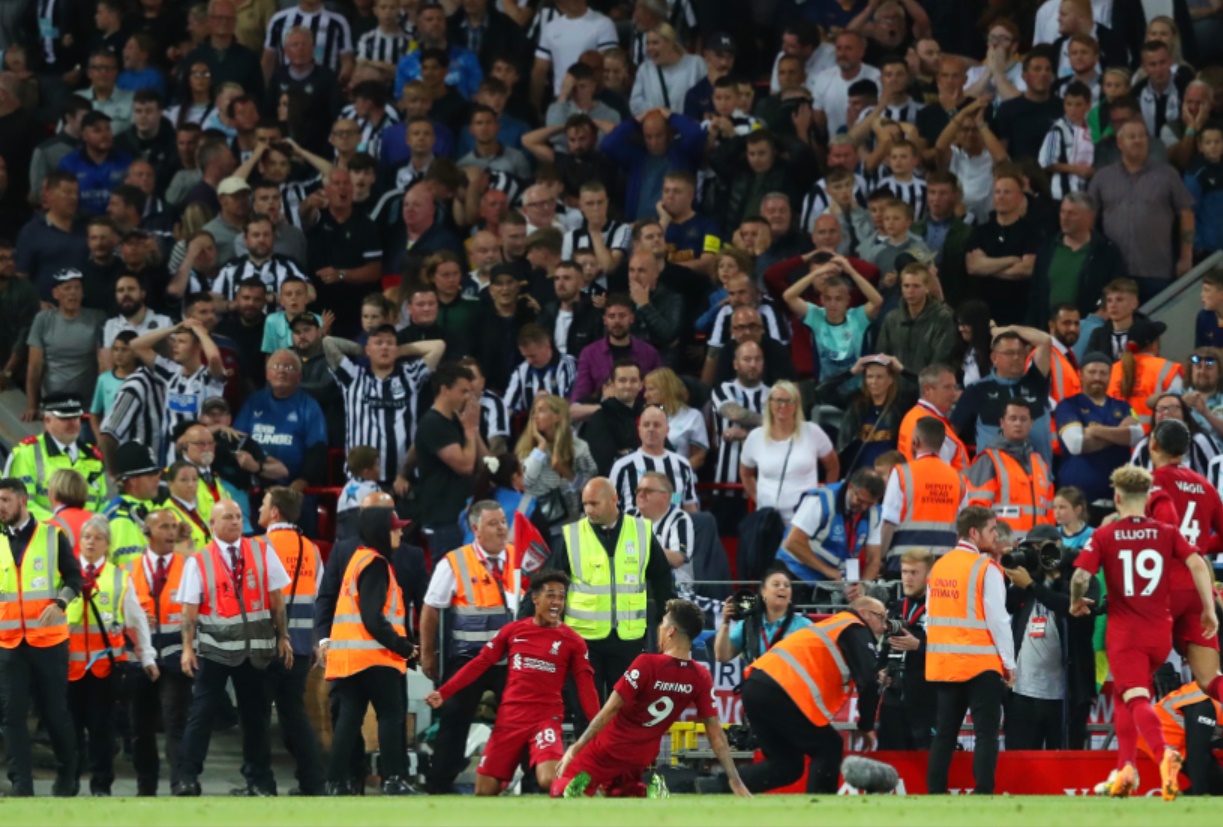 Due to the winter World Cup playing havoc with the club schedule for 2022/23, there wasn't an October international break last autumn, so instead we'll look at our fifth to eighth Premier League games, Carabao Cup third round clash and first two European matches.
Following the first four top-flight assignments of the campaign, our subsequent four games also saw us having to settle for five points. The last-gasp win over Newcastle at Anfield (Fabio Carvalho in the 98th minute and all that) was followed by draws away to Everton and – with postponements arising from the royal funeral seeing us not play a league match for nearly a month – at home to Brighton, before a 3-2 defeat at Arsenal.
We've already touched upon Liverpool's first two European games from last season, the hammering by Napoli and late home win over Ajax.
At the third round stage of the Carabao Cup in autumn 2022, we were also at home to Football League opposition. On that occasion in November, shortly before the World Cup, we needed a penalty shootout to see off Derby Country, with Caoimhin Kelleher yet again proving our spot-kick saviour in the tournament he absolutely loves.
Concluding thoughts
In the equivalent period last season (matches five to 11 in all competitions), Liverpool won three games (Newcastle, Ajax, Rangers), drew two (Everton, Brighton) and lost two (Napoli, Arsenal), claiming six points from the first nine on offer in Europe but collecting only five points from a possible 12 in the Premier League.
If the Reds' results from corresponding fixtures (or the equivalent stages for the cup competitions) last term are to be mirrored over the coming weeks, we will win twice and lose twice in the top flight, bounce back from a losing start in the Europa League and scrape through in the Carabao Cup.
That return would take the wind out of our sails after a bright start to this season, especially if we were to lose heavily at Wolves and Brighton again and suffer defeat in our first European match, with no disrespect to LASK.
Saturday's trip to Molineux is a must-win, with the following three league games all looking difficult on paper. Still, the manner in which we've started the campaign means we should be striving towards maximum points, and anything less than eight from those four matches would undoubtedly mark a disappointing return.
Even a heavily-rotated line-up should have enough to get past Leicester, who we thrashed 4-0 in pre-season, as well as LASK and Union SG in Europe. Nonetheless, every opponent must be treated with the utmost respect, and the sudden surge of games will likely test our squad depth to near its limit.
The period between now and 8 October could potentially set the tone for the rest of the campaign. Slip-ups could see us lose pace with league leaders Manchester City and give ourselves a mountain to climb in the Europa League.
Conversely, a return of 10 or 12 points in the top flight and winning starts to the two cups could set us up nicely to attack the remainder of the season from a position of great strength.
#Ep89 of The Empire of the Kop Podcast: EOTK Insider with Neil Jones🎙️