At last! Liverpool reportedly have their sights set on Aston Villa midfielder Fabian Delph as the long term replacement for Steven Gerrard. But is the 25 year-old really the answer to Liverpool's problems, or is this simply another example of Brendan Rodgers clutching at straws?
The Villains' midfielder is certainly a quality player. There's no doubt about that. He has energy and skill in abundance, reads the game well is a player in the Gerrard mould per se. The Mirror reports that Rodgers is lining up an approach in January for the England international who is out of contract next summer. There are arguments for and against this.
For: Despite Villa manager Paul Lambert's claims that Delph is not going anywhere, the fact that he's refused to sign a new contract would indicate the player himself has other ideas. For a player of his age, ability and current status one would argue he needs to be with a higher profile club if he wants to maintain said status.
Although the West Midlands outfit is only two places below Liverpool they don't have the potential for a title challenge or participation in the games highest competitions. Despite the current showing from the Reds, they do have a financial clout and stability that Villa are seriously lacking right now. Even more so in view of the fact that owner Randy Lerner has put the club up for sale. I think privately, Lambert knows the writing is on the wall and really it's simply a matter of cash in now or risk losing him for nothing at the end of the season. The question would only be the price. With this we have the other side of the coin.
Against: Rodgers has hardly endeared himself to his paymasters or fans alike this season with his constant changing of tactics which have arguably led to the worst run of results in recent times. Granted he's been unlucky with injuries to key players… Well, one in Daniel Sturridge, but his inability to suitably strengthen the team's leaky defence has seriously damaged a reputation that looked bullet proof this time last year. In my opinion, FSG would be daft to sign off further funds in January. Considering over £200m has been pissed away since the 41 year-old took the hot seat in 2012. Only Daniel Sturridge and Philippe Coutinho have been undoubted successes – at a combined cost of around £20m. Thats 10% in egghead statistical language.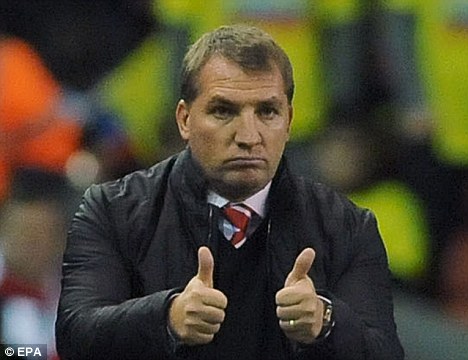 There's also the small matter that Liverpool have – excluding old father Gerrard – nine midfielders at the club and this excludes those out on loan, it begs the question: How many players do you want Brendan? Being the father of a 20 year-old at university, I can only sympathise with John W. Henry. He must be sick of picking up the phone to Rodgers and his famed Transfer Committee. "How much do you want now!?" I can imagine the conversation. The difference is, I don't have to finance my son to the tune of £10-20m every time he rings. Well, not up to now anyway!
Included among that embarrassment of midfield riches the club has is one Emre Can. A 20 year-old German U21 international who many would agree doesn't appear to be short on talent. The question has to be asked why he's not given more responsibility than running down the clock as last-minute substitute or simply to help the team to hold on to a draw having thrown away a perfectly good lead. Money has been spent on the boy and it's about time Rodgers stopped talking Uncle Stevie up and concentrated on a genuine preparation for life without a player who turns 35 in May.
If you're a wily soul, you'll have notice that I've focussed more on the Against than the For. So it's not rocket science to guess which side of the fence I'm on. As good a player Delph is, he's not the answer for Liverpool. It's about time Rodgers stopped f*cking about chucking good money away on good players that sit on the bench game after game and don't develop. It's no wonder the man is under pressure. Alas, it's of his own doing.
Liverpool played a blinder yesterday. with the LFC File suggested 11. The best I've seen them play in seemingly ages. This is what we want Brendan. The 3-4-3 may just be what the team needs. As usual though, their undoing? That Liza's Bucket of a defence they've been relying on for the last two years. The problem was not the midfield so why look to Delph? He won't help us. The fact remains that the defence needs sorting and sorting quickly.
Bruce Grobbelaar rightly said the other day that a team that concedes 52 goals (as Liverpool did last season) should never finish in second place. The man is right of course. Rodgers should know this. At the current rate of 24 Goals conceded in 17 games, the team is on course to concede 53 goals this season. So with that in mind, what use is Delph going to be? All things considered, not much.
Follow me on Twitter: @Mrbengreen