---
Jamie Carragher was very clearly part of the Remain voting camp ahead of the very recent EU referendum, with the Liverpool legend clearly not happy with the outcome.
He took to Facebook to vent his frustrations, blasting the Leave voters for their decision to back "[Nigel] Farage, Boris [Johnson] & a recession".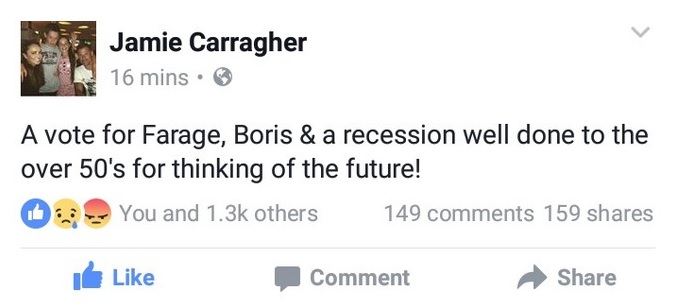 With the UK shocking the world by narrowly voting for an EU exit (via The Telegraph), the internet has absolutely exploded. As the vote was so close there is naturally a huge part of the population now voicing their concerns about the whole thing, and Carragher is clearly very, very concerned.
While we actually know very little about how a Brexit will impact us, it's generally thought that a pretty big recession is set to hit. The value of the pound had already fallen even at the prospect of leaving the EU (via The Telegraph), and there's real fear that things will only get worse now the vote is confirmed.
SEE MORE:
Liverpool transfer news
Unfortunately, if you scare enough people into thinking there will be a massive recession, then they will stop spending, stop boosting the economy, and consequently create (or at least worsen) the recession themselves. Hopefully the results of a Brexit aren't as bad as many fear, but we'll have to wait and see what happens.